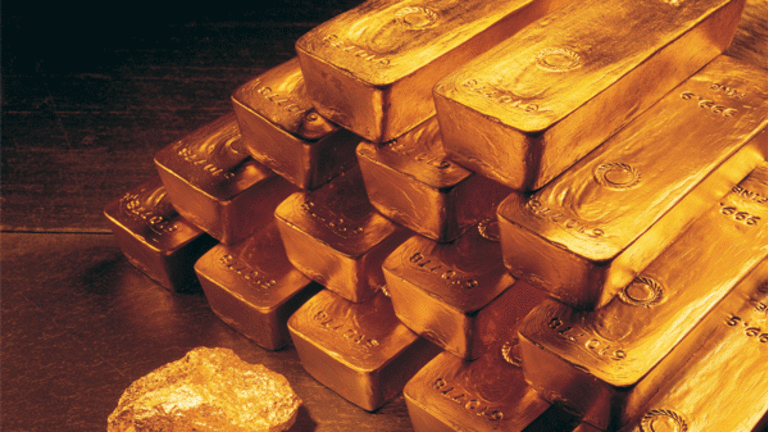 Gold Prices Settle Higher on Greek Debt Deal (Update 3)
Gold prices were volatile Thursday but were able to eke out a gain after Greece secured a debt deal and as the Bank of England pumped more money into the system.
NEW YORK (
) --
were volatile Thursday but were able to eke out a gain after Greece secured a debt deal and as the Bank of England pumped more money into the system.
Gold for April delivery added $9.90 at $1,741.20 an ounce at the Comex division of the New York Mercantile Exchange. The
has traded as high as $1,755.50 and as low as $1,728.30 an ounce while the spot price was down $5, according to Kitco's gold index.
ended 21 cents higher at $33.91 an ounce while the
was 0.15% lower at $78.57.
Gold prices had a volatile day Thursday after news broke that Greece has secured a debt deal, which would implement austerity measures and secure its second bailout of 130 billion euros. Gold prices were volatile on the news initially popping, then giving back gains then moving firmly higher but then closing off their highs. Once gold crossed the $1,750 its also possible that buy stops were triggered where traders buy gold at this predetermined price. This buying no doubt duked it out with profit takers who were looking to lock in gains.
The question still remains -- is this enough to save Greece or will the country have to leave the euro? "Early enthusiasm waned as more realities set in," says George Gero, senior vice president at RBC Capital Markets, "much of the rally was short covering as buy stops were elected all the way up to $1,750 area. Greece still has to come to a bond swap deal with private bondholders and the European Central Bank to help its debt load.
On the one hand, if Greece is forced to leave the euro the currency could rally, "it's like trimming the cancer off," says Phil Streible, senior commodities broker at RJO Futures, and would most likely support gold. Although if risk appetite returns in full force, gold might be forgotten as a safe haven asset. If Greece leaves the euro and all hell breaks loose and the euro plummets, gold could sink along with it at least in the short term. Mario Draghi, head of the ECB, already said in a press conference today that the economic outlook remains "uncertain" and "downside risks remain."
Also supporting gold was the news that the Bank of England added to its quantitative easing program by 50 billion pounds bringing the total to 325 billion pounds. The central bank left interested rates unchanged at 0.5% while the European Central Bank left its rate at 1%. Gold prices rose slowly after the news, but many experts had been expecting a bigger pop in the price with central banks unabashedly pumping money into the system.
Vote: Where will gold prices finish in 2012?
"The reality is is that it's all about the euro," says Streible, "with the fragile state all of Europe is in right now, any sign of quantitative easing, or QE, is probably too little at this point ... more types of stimulus plans means more spending cuts are soon to follow." More stimulus can trigger a rush into gold as a hard asset, an alternative to the paper currency being devalued, but austerity measures bring in the deflation worry, where gold tends to selloff initially.
Rick Trotman, senior research analyst at MLV & Co., thinks that gold prices will do fine this year. "I don't expect a blockbuster year but ending the year between $1,700-$1,800 an ounce is realistic." Trotman does think that if Greece secures its second bailout and nails down a debt deal it would really depend on how good or bad that deal is. "If everyone is really happy with it, gold could trade down," he says, "but if it looks good then Portugal will decide to step up to the plate as well hoping to get a really good deal and gold would trade up on that."
Trotman also says gold will start looking to the U.S. presidential elections in November. Trotman suggests that if the polls keep leaning towards President Obama that that would be good for gold as "Democrats would spend a lot of money," as the dollar is devalued gold rises in response. "A Republican President would be bad for the price of gold," asserts Trotman.
James Steel, analyst at
HSBC
in a recent 2012 gold outlook report says that it's not just the U.S. going through an election cycle. "The political process will result in the election or selection of a hose of leaders in countries that represent more than 50% of the world's GDP." The political upheaval ranges from the U.S. to France to Egypt to Russia. "Uncertainty about changes in government may boost safe-haven demand for gold, in our view."
Another wild card playing out for gold Thursday was the news that inflation in China rose to a three month high at 4.5%. The higher reading is good for gold as it might push consumers into buying the precious metal as a safer place to invest as real interest rates are a negative 1%. However, the higher reading might also confirm the central bank's reluctance to lower interest rates, to firmly commit to a loose monetary policy.
China has been pushing its banks to lend more into order to avoid a hard landing, or strong slowing of growth. M2 supply in the country, cash in circulation plus savings, checking and any travelers checks, grew 13.6% at the end of 2011 to 85.16 trillion yuan. This trend will need to continue to support strong gold buying. The country imported 427 tons of gold in 2011 and consumed 787 tons.
were mixed Thursday.
Kinross Gold
(KGC) - Get Report
was flat at $11.08 while
Randgold Resources
(GOLD) - Get Report
was 0.41% higher at $115.03.
Other gold stocks,
Agnico-Eagle
(AEM) - Get Report
and
Eldorado Gold
(EGO) - Get Report
were trading mixed at $35.07 and $13.96 respectively. .
--
Written by Alix Steel in
New York.
>To contact the writer of this article, click here:
Alix Steel
.
Related Articles:
Do Gold Prices Have Room to Rise?
Disclosure: TheStreet's editorial policy prohibits staff editors and reporters from holding positions in any individual stocks.