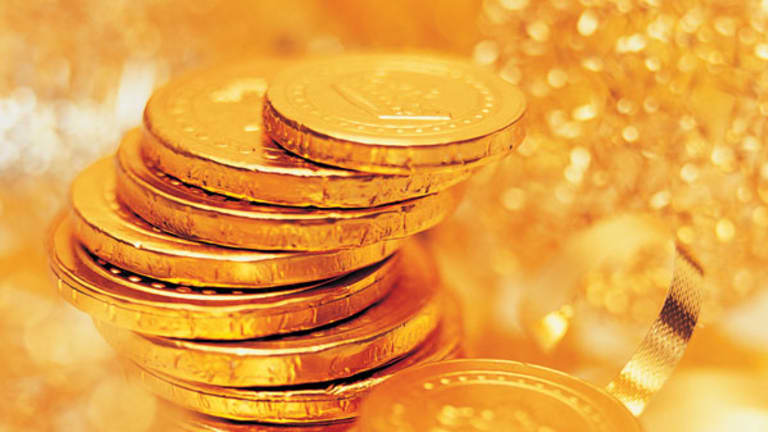 Gold Prices Gain After Wednesday's Selloff
Gold prices rise after Wednesday's selloff due to institutional liquidation.
Gold prices rise after Wednesday's selloff due to institutional liquidation.
NEW YORK (
) --
Gold prices were gaining Thursday as investors slowly returned to the yellow metal after Wednesday's selloff.
Gold for February delivery was adding $8.90 to $1,727.70 an ounce at the Comex division of the New York Mercantile Exchange. The
gold price traded as high as $1,731.20 and as low as $1,720.10 an ounce, while the spot price was up $5.80, according to Kitco's gold index.
Volume for February delivery surpassed December futures for the first day as a large part of Wednesday's drop in prices was due to institutional liquidation prior to Friday's first notice day, when physical delivery of the yellow metal must occur.
"Bounce from year end advanced selling yesterday is now contingent on fiscal cliff, headlines, the dollar versus euro or yen, and tomorrow's vote in Germany on Greek bailout," noted George Gero, precious metals strategist at RBC Wealth Management.
Silver prices for March delivery was gaining 48 cents to $34.25 an ounce, while the
U.S. dollar index was dipping 0.06% to $80.24.
Thursday marked the first day that the largest volume on silver future contracts moved to March delivery. It had previously been for December delivery, just like gold.
Senate Majority Leader Harry Reid (D., Nev.) said to reporters on Thursday that Democrats were still waiting for a serious offer from Republicans. Though the comments may not sound promising to some investors, it's important to note that Reid was bearish Tuesday on progress.
With talks on the so-called fiscal cliff -- when tax relief measures and deep spending cuts will automatically go into effect at the beginning of 2013 -- in the early stages, it is difficult for markets to assess what exactly may happen in the negotiations.
Some market analysts have suggested that Americans are witnessing a stage of political posturing
, in which lawmakers are bolstering approval from their base supporters.
"I'd be surprised that we get something resolved by the end of the year; we've been telling our clients 'don't plan on it,'" said Frank Fantozzi, chief executive of Planned Financial Services, in a previous interview. "So I think the compromise is going to come in the first quarter ... what the president will probably do with the help of the Senate and everything else is make some short-term adjustments."
In other words, investors should beware of overreacting to daily comments emerging from House and Senate leadership and President Obama.
The International Monetary Fund said Thursday that it would not disburse Greece's impending round of bailout loans until the country completed a voluntary buyback of its debt, an
, according to
Reuters
.
The announcement marks another hurdle in the extended process for Greece to receive bailout funds from eurozone countries in order to handle its significant debt problems. Eurozone finance ministers approved the loan package earlier this week after weeks of discussions to determine the specifics of the deal.
The liquidity boost, if approved, would be considered an inflationary measure, which would make gold naturally attractive as a safe-haven hedge.
Gold mining stocks were mixed on Thursday. Shares of
Gold Fields
(GFI) - Get Report
were increasing 3.4%, but shares of
Yamana Gold
(AUY) - Get Report
were shedding 1.9%.
Among volume leaders,
Kinross Gold
(KGC) - Get Report
was off 1.1%, while
Barrick Gold
(ABX)
was tacking on 0.02%.
Gold ETF
SPDR Gold Trust
(SPDR)
was up 0.41%, and
iShares Gold Trust
(IAU) - Get Report
was climbing 0.37%.
-- Written by Joe Deaux in New York.
>Contact by
.