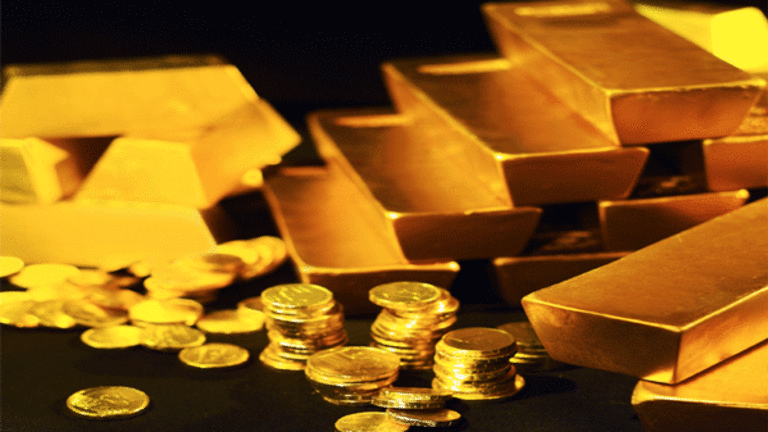 Gold Prices Flat Amid Jackson Hole Waiting Game
Gold prices trade sideways Wednesday as traders continue to wait on the sidelines for the Jackson Hole summit.
NEW YORK (
) --
Gold prices were flat Wednesday as traders continued to sit on the sidelines until the end of the week, when central bankers meet Friday for a summit in Jackson Hole, Wyo.
Gold for December delivery was losing 60 cents to $1,669.20. The
gold price traded as high as $1,672.50 and as low as $1664.20, while the spot price was dipping 50 cents, according to Kitco's gold index.
"All this ahead of Friday's
Ben Bernanke appearance, Mario Draghi's newspaper article in Germany and nervous holders worried about weekly jobs figures are all a catalyst for volatility," George Gero, precious metals strategist at RBC Wealth Management, wrote Wednesday in a note.
Silver prices for September delivery shed 2 cents to $30.86, while the
U.S. dollar index was gaining 0.05 to $81.41.
Investors are hoping they may get some stimulus signal from the Fed for the summit held Friday and Saturday, but many analysts are less optimistic about the possibility. The Fed noted in its Federal Open Market Committee Minutes last week that it would consider new monetary policy action in September.
European Central Bank President Draghi responded Wednesday to Germany's disagreements with its bond plan to prop up the eurozone.
In a commentary he wrote for German newspaper
Die Zeit
, Draghi said the ECB would always act within limits of its mandate, and that "it should be understood that fulfilling our mandate sometimes requires us to go beyond standard monetary policy tools,"
Bloomberg
reported.