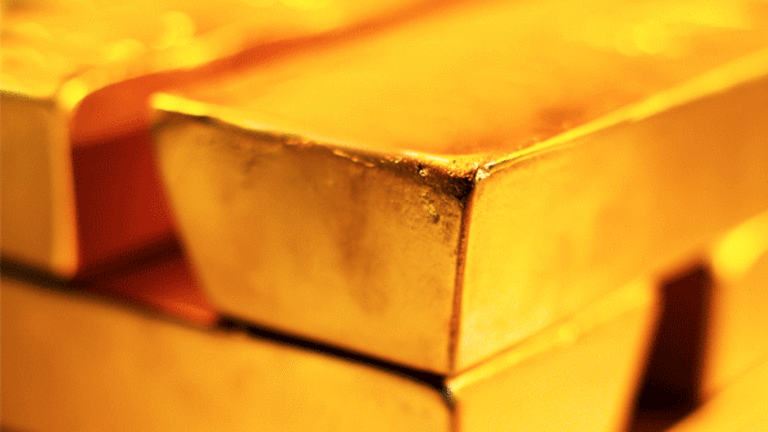 Gold Prices Extend Meltdown
Gold prices plummet as investors reshuffle their portfolios headed into the end of the quarter.
NEW YORK (
) --
continued their meltdown Monday plummeting 12% in a week as traders have to pay more to trade gold futures contracts and as investors take profits near quarter-end.
Gold for December delivery lost $45 at $1,594.80 an ounce at the Comex division of the New York Mercantile Exchange. The
has traded as high as $1,666.30 and as low as $1,535, while the spot gold price was down $53, according to Kitco's gold index.
shed 12 cents after volatile trading to close at $29.97 an ounce, while the
was losing 0.25% at $78.30.
The Chicago Mercantile Exchange raised the amount of money traders must pay up front to trade a 100-ounce gold futures contract by 21% and 15.6% for silver. It will now cost $11,475 to buy an initial gold contract and $9,450 to maintain it.
Gold fell 12% last week as the U.S. dollar shined as the safe haven of choice and as investors rushed into cash. Speculative long positions plummeted more than 22,000 contracts in the week ending Sept. 20, but short contracts also fell by 4,000 contracts, signaling traders were exiting all trades in the gold market.
Monday also kicks off the last week of the third quarter and Tuesday is options expiration, so fund managers and traders will be furiously rebalancing their portfolios. Gold prices at their high rallied 34% this year, which will prompt many to dump gold for profits as it is one of the best performing assets of the year.
The U.S. dollar index is also staging a solid rally which looks like a negative for both stocks and commodities, said Mark Arbeter, chief technical strategist at
Standard & Poor's
. "We think gold prices are breaking down," wrote Arbeter in a recent note, "there is little chart support until prices reach the $1,460 to $1,560 an ounce region."
Gold prices tested the 200-day moving average around $1,525-$1,535 area in overnight trading, a popular technical level zeroed in on by chart watchers, but then rallied from that overnight low.
"I have a funny feeling we are going to rally off of these numbers," said Anthony Neglia, president of Tower Trading. Neglia doesn't think Monday's selling is a reaction to margin requirements but more from options expirations on Tuesday when traders decide to exercise a put or call option (either buy or sell gold), convert it into a full blown futures contract or to let that contract expire worthless. The result is a lot more activity and volatility in the market.
"After expiration, we challenge $1,700," said Neglia, "this price action is here to stay 5%-10% moves for quite a long time." Neglia said if gold prices hold $1,580 he might be tempted to buy a long position, if not the next stop is $1,480 and then $1,300 an ounce.
David Banister, chief investment strategist at TheMarketTrendForecast.com, is buying gold on this meltdown.
"I expect a major QE3 (quantitative easing) to come around the corner and push stock markets much higher," he said. More money in the system from the
would be good for gold as the move would devalue the dollar, put inflation worries back on the table and make gold an attractive hedge, "but it will take some time to exceed the $1,920 highs, possibly several more months," Banister added.
On a fundamental basis nothing has really changed for gold. There is no solution to Europe's debt crisis -- in fact, the European Financial Stability Fund might actually double its cash on hand, and the U.S. is looking at another government shutdown come Oct. 1.
China also launched its first gold vending machine in Beijing, according to reports. Gold-hungry consumers can buy as much as $157,000 worth of gold. China is battling India for the title of world's top gold consumer. According to the World Gold Council's second-quarter gold demand report, the two markets accounted for 52% of global bar and coin investment and 55% of global jewelry demand. Year-on-year volume growth in total consumer demand was 25% in China.
"I have talked to a lot of the coin dealers," said Phil Streible, senior market strategist at MFGlobal. "Over the weekend there was a massive spark of buying on the physical side. I expect to see that come over to the futures side."
In the middle of last week's carnage in the gold market, the
SPDR Gold Shares
(GLD) - Get Free Report
didn't shed any tons as longer-term investors decided to hold on to their shares.
Jeb Handwerger, editor of GoldStockTrades.com, agrees that gold's selloff is short term in nature and categorized its as a "restorative pullback ...
Gold is now at oversold levels that it hasn't been for a long time
and could be a time to get in."
were trying to stem the bleeding Monday.
Kinross Gold
(KGC) - Get Free Report
was down 1.18% to $15.03 while
Yamana Gold
(AUY) - Get Free Report
was adding 1.75% at $13.96. Other gold stocks,
Agnico-Eagle
(AEM) - Get Free Report
and
Eldorado Gold
(EGO) - Get Free Report
were trading slightly higher at $61.72 and $17.39, respectively.
Related Articles:
Do Gold Prices Have Room to Rise?
--
Written by Alix Steel in
New York.
>To contact the writer of this article, click here:
Alix Steel
.
Disclosure: TheStreet's editorial policy prohibits staff editors and reporters from holding positions in any individual stocks.