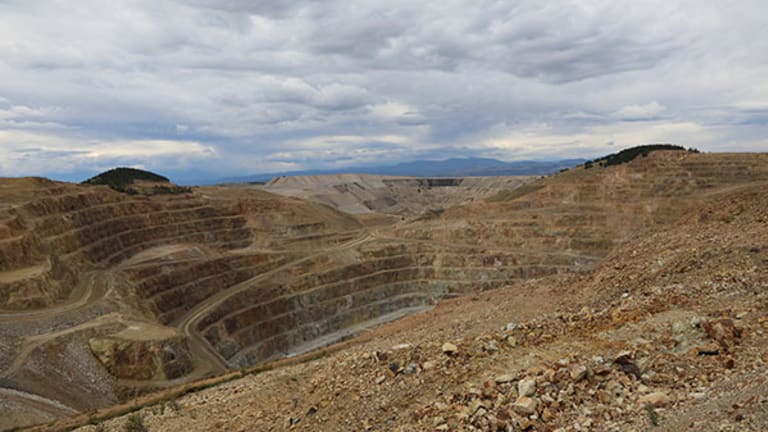 Gold Miners Convey Muddled Industry Outlook
Major and junior mining companies meet in Denver this week and offer differing outlooks on the stability of the industry amid a lower gold price environment.
DENVER (TheStreet) -- Major gold mining companies converged on Denver this week to discuss with investors the state of the industry following the historic drop in gold prices that markets suffered this past spring.
Sentiment among large-cap company CEOs in interviews with TheStreet at the Denver Gold Forum -- considered in the gold mining space as the most important investor conference each year -- is that the general mood has brightened since the 2012 meeting, when most analysts were forecasting a steady decline in prices.
Flush with cash and the feeling that the market has put a so-called floor under the price of the yellow metal, bigger companies are cutting costs -- consolidating operations and reducing payrolls, among other actions -- to adapt to the new lower spot prices of gold per ounce.
"You bring up better efficiencies, you bring it closer to the operations and you bring more of a say with regard to the general managers, and that enables you to remove duplication and noise within the system," Srinivasan Venkatakrishnan said in an interview.
Junior miners were expressing a different outlook on the current gold climate. It is more difficult for smaller companies to operate with dropping gold prices as they have less operating cash flow than their larger competitors. This could lead many of them to consider buyouts (to which CEOs of junior miners are open) from larger companies, or, if management has severely mishandled 2013's changes, fall into bankruptcy.
Like the major gold miners, junior miners are aggressively cutting costs.
"A lot of people are saying, 'well, we're going to cut exploration; we're going to cut development,' and if you do that, you have to question why you're buying a gold stock," said Ian Ball, president of McEwen Mining (MUX) - Get McEwen Mining Inc. Report.
While the industry continues to adapt to a lower-priced gold environment, it could be key for investors to focus on miners' fundamentals.
"Often in that space you can find names that are down 20%, 30%, 40%, 50%, but it's a lot less than everything else where [some of those companies] might have added 5 million ounces [of gold] in the last year and nobody wants to give them credit," said Bill Baker, an analyst at Gaineswood Investment Management. "The leadership is going to be those companies."
-- Written by Joe Deaux in New York.
>Contact by Email.