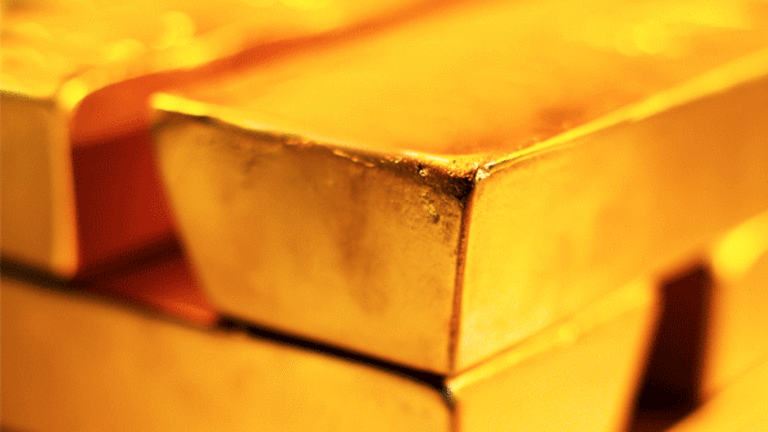 Gold Has Fallen; Can It Get Back Up on Oil?
Oil prices will lead the way for gold and other metals.
Oil prices will lead the way for gold and other metals.
NEW YORK (TheStreet) -- Falling Gold (GLD) - Get Report and Silver (SLV) - Get Reportprices should not come as a shocker, unless maybe you haven't paid attention to real inflation, or the lack thereof. I know gold bugs continuously point their collective finger at the central banks of the world and declare, like Paul Revere riding through the night: "Inflation is coming; inflation is coming!"
Unfortunately for the gold perma-bulls, they haven't figured out that although central banks may be the most influential gold-price influence, central banks are only one of many. Outside of central banks, energy prices impact inflation the most.
Many market watchers argue energy is a bigger influence than the printing presses, and I can buy into that argument. I will touch on energy again, but let's stick to the central banks for a moment.
Gold bugs have a point about the central bankers. The
Federal Reserve
and the European Central Bank are inflating their fiat currencies relative to goods and services. The term "relative" is key because if other macroeconomic influences have a greater deflationary impact relative to bankers, the net result is a lower price of gold.
However, simply reviewing the money-supply growth (in an information vacuum) and reaching a conclusion that the price of gold will continue to increase, is purely tunnel vision. There is so much more that makes up the price of gold, and each factor must be given its proper weight.
Gold investors have a whopping case of the confirmation-bias flu. I wrote about it in several articles. In
Don't Walk, Run Away From Gold, Silver,
I warned that metals didn't have a favorable risk-to-reward ratio. I warned that gold buyers were ignoring the downside warning signs while giving too much weight to bullish indications.
More recently, I wrote about miners in
How Far Down Can the Miners Go?
and my timing was obviously perfect.
The article was published shortly before the open of one of the strongest moves higher by
Allied Nevada Gold
(ANV)
in a long time. Allied was trading lower before metals took their momentous dive, and I considered Allied Nevada Gold to be a value buy there.
To better understand what the metals may have for a future, you want to pay close attention to energy and the
United States Oil Fund
(USO) - Get Report
. Everything revolves around energy. Lower energy prices allow the prices of everything else to fall. It's nearly impossible to find a good or service that isn't impacted by the cost of oil.
The Wacky World of Gold and Silver >>
Obviously transportation costs come to mind, and that is a significant component to every product on the shelves, but oil is turned into everything from toothbrushes to fertilizer. On Monday, USO made a new 2013 low, and isn't far from reaching the lows of 2012.
Oil prices lead the metals, not the other way around. We are witnessing greater natural gas supplies
United States Natural Gas Fund
(UNG) - Get Report
coming on line and an expectation of more natural gas displacement of diesel and gasoline in the future.
Natural gas prices have been helped recently by the cold spring in North America (i.e., on April 14, it was snowing in Wisconsin), but the trend remains lower. Lower natural gas prices equate to lower energy prices, and of course, oil.
So, if you want to know what to expect from metals, watch energy prices. Until you see higher energy prices, the metals will remain under price pressure. Gold may have become technically oversold on Monday, making for a quick bounce, but unless you're effective at catching falling knifes, you may want to sit this one out.
Author does not hold a position in any stock mentioned. While it's an interesting and inspiring story, Paul Revere never made the ride as Longfellow suggests in his poem.
This article was written by an independent contributor, separate from TheStreet's regular news coverage.