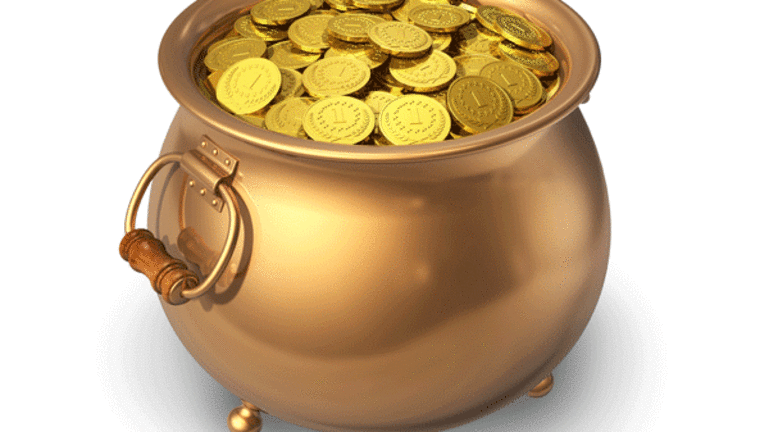 Gold Is Surging but Don't Misinterpret It as a Trend
Gold prices surge on Thursday but analysts don't expect it to last.
NEW YORK (TheStreet) -- Gold isn't poised for long-term gains, and it won't hold higher than $1,300 an ounce for a protracted period.
Escalating violence in Iraq and comments on loose monetary policy from Federal Reserve Chair Janet Yellen have lent support to rising gold prices, but analysts said this rally is short-lived.
Gold for August delivery has climbed about 3.8% since the start of last week, when militant group ISIS stepped up attacks in Iraq, while the most actively traded gold ETF -- SPDR Gold Trust (GLD) - Get Free Report -- has jumped 3.7% across the same period. Investors would be unwise to assume a fundamental shift occurred in the market.
"Gold really is going to gain support from geopolitical [events] in the short term, absolutely, it's going to gain support from other commodities being up on the same [events], namely oil, and I think it's gaining support because the market is a little bit short," Graham Leighton, a trader at Marex Spectron, said in a phone interview from New York.
Gold rose as ISIS wrested control of key northern Iraqi cities as investors bought the yellow metal as a safe haven against geopolitical uncertainty. But  should Iraqi forces or a combined effort of Iranian military and U.S. airstrikes push back ISIS, the market would eliminate that premium added to the gold price.
The Iraqi government on Thursday pleaded for U.S. assistance as the militant group battled for control of the Baiji oil refinery, the largest of its kind in the country.
Former White House spokesman Jay Carney on Wednesday said President Barack Obama is assessing options available to deal with ISIS's threat, but stopped short of suggesting what the president is likely to do. Carney said the president is contemplating military force.
The market already has priced these developments into gold. There could be a move higher if ISIS gains control of Baghdad or pushes further into southern Iraq, but Bank of America wrote in a research note to clients on June 15 that both of these scenarios are unlikely.
"Gold does seem to be moving on geopolitical events, which I don't like to say, because that means geopolitical events are pretty disruptive and volatile," Anthem Blanchard, CEO of Anthem Vault, said in a phone interview from New York.
Volatility in the gold market often implies a sharp move higher or lower, but typically not a sustained move in either direction.
"The prevalence of a large amount of gold shorts, currently very nervous, will help to push gold higher. But fresh longs are likely to remain quite reluctant to chase gold higher," UBS strategist Edel Tully and analyst Joni Teves wrote Thursday in a note to clients.
Some investors will point to Yellen's comments on Wednesday as gold positive, which they were. But she essentially reiterated that the Fed will continue to cut its asset purchases at a measured pace (declining about $10 billion per month) -- bad for gold because it reduces inflationary pressure -- and hold off raising rates for a considerable time after the end of its economic stimulus program.
The double-digit pop to gold on Thursday may have come from a less-than-expected Fed taper of its asset purchases, RBC Capital Markets precious metals strategist George Gero wrote on Thursday in a note.
Therein rests the problem for gold: Although the yellow metal has posted nice gains in two weeks, the geopolitical pressures are likely to be short-lived and the Fed isn't adding to its balance sheet.
Gold for August delivery at 12:50 p.m. ED at the COMEX division of the New York Mercantile Exchange was gaining $28.90 to $1,301.60 an ounce. (GLD) - Get Free Report shares were adding 3.1% to $126.47.
-- Written by Joe Deaux in New York.
>Contact by Email.