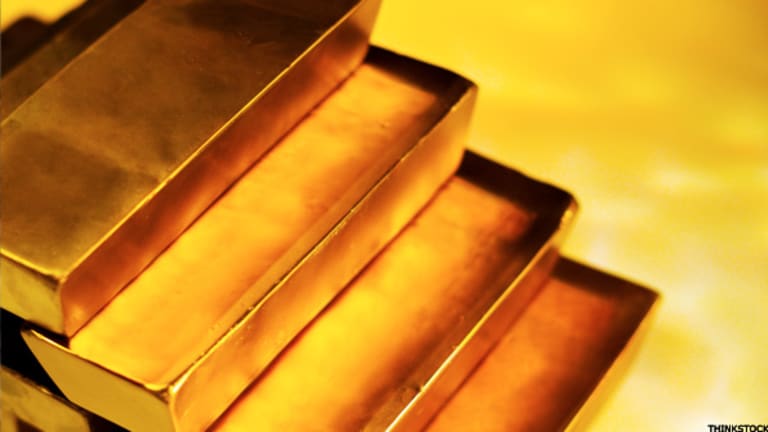 Gold Is Entering Its Liquidation Phase
No matter what, owning the precious metal is a lose-lose proposition.
NEW YORK (
) -- In the next year, the outlook for gold prices will go from bad to worse.
Particularly for the next three to six months, a liquidation phase in the current cyclical bear market in gold is likely to develop. Unless investors have an unusually long-term timeframe and an extraordinary level of tolerance for short-term losses, investors should eliminate any holdings of ETFs, such as
SPDR Gold Shares
(GLD) - Get SPDR Gold Trust Report
,
Market Vector Gold Miners
(GDX) - Get VanEck Vectors Gold Miners ETF Report
and
Market Vectors Junior Gold Miners
(GDXJ) - Get VanEck Vectors Junior Gold Miners ETF Report
or individual gold stocks such as
Newmont
(NEM) - Get Newmont Goldcorp Corporation (NEM) Report
,
Barrick Gold
(ABX)
or
Goldcorp
(GG)
from their portolios.
Below I'll lay out why gold is very nearly in a lose-lose situation.
Also see: Why Are Central Banks Buying Gold? >>
Background
From September 2009 until late June 2011, I was quite bullish on the prospects for gold due to a confluence of factors that created a sweet spot for the yellow metal. On June 29, 2011, I called off my bullish call on gold due to a series of adverse fundamental factors. However, in August 2011, I emphasized that not all the "shoeshine boys" were not in yet, and that there would probably be an upside speculative blow-off in gold. This blow-off, of course, occurred, but since October 2011, I have been loudly warning investors to stay away from commodities, including gold.
In particular, in virtually all of my writings since October 2011, I have emphasized that gold is extremely overvalued on almost any fundamental measure relative to stocks, real estate, production costs and the CPI basket of consumer goods. I have emphasized that at current prices, gold is a medium for speculation regarding macroeconomic conditions; it is not a suitable instrument for long-term investment or wealth preservation.
Why Gold Prices Will Probably Collapse
Gold prices should continue to fall sharply for eight reasons:
1. Lose-lose macro scenario: growth accelerates.
The only real hope for gold-supportive inflation to get started is for U.S. and global growth to accelerate, causing an increase in the so-called "velocity" of money. This would create an increase in effective aggregate demand relative to aggregate supply. However, such a scenario would merely trigger an end to the Federal Reserve's quantitative easing (QE). If U.S. growth speeds up, even the most vocal doves on the Fed are saying that QE will be would down during the second half of 2013. The end of QE would effectively take away the most important source of support for gold prices.
2. Lose-lose macro scenario: growth slows.
If growth slows rather than accelerates, then deflation or disinflation are the most likely outcomes. This is clearly a bearish outcome for gold. Even if QE is maintained in this scenario, it is quite unlikely to trigger inflationary fears given the notable failure of QE in the past four years to cause inflation in the face of economic contraction or slow growth.
3. Technical breakdown:
If gold completes its break of the $1,550 area, it will have crashed through a key uptrend line and a very important horizontal support area. A break of such a key set of supports would most likely lead to a decline to the area between $1,300 and $1,400, with even further weakness still possible.
4. Liquidation by hedge funds.
The spectacularly poor performance of several gold-loving hedge fund managers such as John Paulson and others is likely to spark massive redemptions that will trigger forced liquidations of gold positions, and GLD in particular.
Also see: The Death of Gold and Silver Stocks >>
5. Retail liquidation.
The retail investor caused the parabolic rise in gold. Therefore, the correction in gold is unlikely to be completed until there is a massive liquidation by retail investors. Such a liquidation would suggest a target of around $1,300, based on where gold began its last parabolic ascent.
6. Bubble valuations.
Gold is massively overvalued relative to stocks, real estate, consumer goods and virtually any asset you can conceive of. Gold is also extremely expensive relative to cash production costs -- when these are appropriately adjusted for their parabolic rise in the past few years in sympathy with the gold bubble.
7. The bond connection.
It may seem ironic to some, but the only other asset class that is even close to being as overvalued as gold is bonds. A major correction in bond prices may not be imminent. However, it is inevitable. Gold has ridden the bull market in bonds all the way up the past five years; it will likely ride any bear market in bonds on the way down. The fundamental reason for this connection is rather clear: A bear market in bonds implies a very high likelihood of rising real interest rates, and such conditions would be extremely bearish for gold.
8. Strong U.S. dollar.
Whether you believe the U.S. economy will accelerate or slow, one thing is virtually certain: The U.S. economy, in relative terms, will be stronger than that of virtually all other developed nations. This means the U.S. dollar will tend to strengthen relative to virtually all major currencies, including the euro and yen. This is clearly a major negative for gold prices.
Conclusion
The only real hope for gold prices would be a massive economic collapse in Europe or the U.S. coupled with hyperinflationary monetary policy. Such a scenario is unlikely to manifest in the next 12 months. To the contrary, the global macroeconomic picture is likely to remain mired between slow growth and mild recession in most developed nations, with a concomitant tendency toward disinflation. This is the worst of all worlds for gold: not enough crisis intensity to trigger a flight to gold as a safe haven; not enough growth intensity to trigger inflation.
In sum, if you have not sold your gold and gold stocks already, sell now while prices are still absurdly high. The secular bull market in gold may not necessarily be over; however, the current cyclical bear market in gold still has another major leg down to go.
The writer holds no securities mentioned in the article.
This article was written by an independent contributor, separate from TheStreet's regular news coverage.
James Kostohryz has accumulated over 20 years of experience investing and trading virtually every asset class across the globe.
Kostohryz started his investment career as an analyst at one of the U.S.'s largest asset management firms covering sectors as diverse as emerging markets, banking, energy, construction, real estate, metals and mining. Later, he became Chief Global Strategist and Head of International investments for a major investment bank. Kostohryz currently manages his own investment firm, specializing in proprietary trading and institutional portfolio management advisory.
Born in Mexico, Kostohryz grew up between south Texas and Colombia, has lived and worked in nine different countries, and has traveled extensively in more than 50 others. Kostohryz actively pursues various intellectual interests and is currently writing a book on the impact of culture on economic development. He is a former NCAA and world-class decathlete and has stayed active in a variety of sports.
Kostohryz graduated with honors from both Stanford University and Harvard Law School.