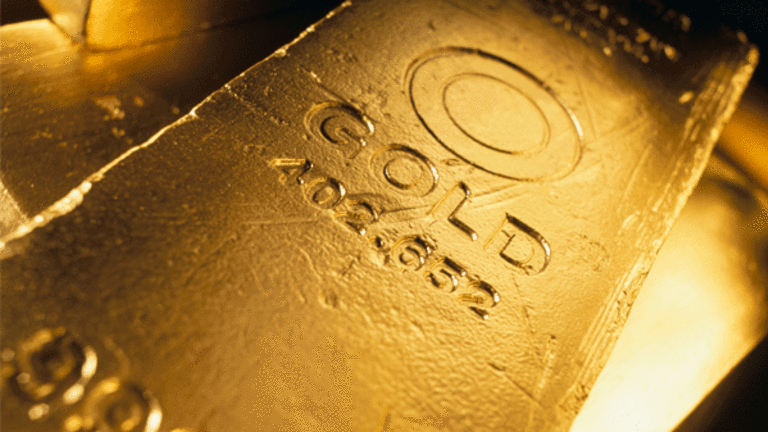 Gold Income Funds Can Have You Investing Like Warren Buffett
How you can invest in gold and invest like Warren Buffett at the same time.
How you can invest in gold and invest like Warren Buffett at the same time.
NEW YORK (TheStreet) -- Warren Buffett thinks every investor should own a little bit of gold.
Yet, while on CNBC recently for an hour-long segment, the legendary investor also said that he prefers "investments" versus "speculative trades." That is, he prefers to hold investments that earn money and generate income rather than ones that are hoped to go up in value. Obviously that means Buffett prefers equities of companies that generate income for shareholders; commodities, like gold, of course do not generate income. 
Buying a commodity in the hopes that someone will pay you more for it later is purely speculative, and not as much within the Buffett playbook. 
Well, there is a kind of asset that offers the best of both worlds: closed-end gold income funds, like those offered by Gabelli Funds. These funds seek to both generate income and share in price increases that occur when the value of gold goes up. 
Funds like Global Gold, Natural Resource & Income Trust (GGN) - Get Report, or Natural Resource, Gold & Income Trust (GNT) - Get Report provide a 10% annual dividend paid out in monthly distributions. The Fund's primary investment objective is to provide a high level of current income. The Fund's secondary investment objective is to seek capital appreciation consistent with the Fund's strategy and primary objective. Under normal market conditions, the Fund will attempt to achieve its objectives by investing 80% of its assets in equity securities of companies principally engaged in natural resource and gold industries, and by writing covered call* options on the underlying equity securities.
Investors and traders are primarily focused on purchasing gold stocks, physical gold via ETF's, gold bars and coins; none of these provide any income the holder. 
So, if you want to invest more heavily in gold and other commodities but don't want to cross Buffett's investing advice, consider gold income funds. 
*What Are Covered Calls?
A "covered call" is an income-producing strategy where you sell, or "write", call options against shares of stock you already own. Typically, you will sell one contract for every 100 shares of gold or oil stock. In exchange for selling the call options, you collect an option premium.
With the U.S. stock market slowly nearing a bull market top and with commodities trading at multi-year lows, we should eventually see a shift in money flows out of stocks and into commodities. With rising commodity prices, resource-based stocks should start a new bull market that will send these funds dramatically higher in value while still paying a juicy dividend income.
This article is commentary by an independent contributor. At the time of publication, the author held GGN.