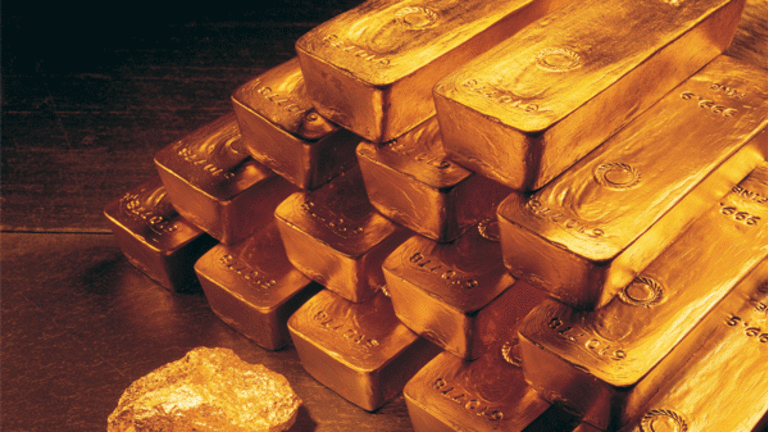 GLD Is at a Critical Inflection Point
Recent rallies in precious metals look encouraging. But with market values trading at important levels, near-term caution is warranted.
Recent rallies in precious metals look encouraging. But with market values trading at important levels, near-term caution is warranted.
NEW YORK (TheStreet) -- One of the biggest stories in the financial markets in the last few months has been the turnaround rally in gold prices. This relatively strong rebound from the yearly lows has led many to believe that the strong downtrend that has characterized most of this year has finally come to an end.
But whether or not these assessments are correct could be determined next week, as a critical set of event risks could set prices on the trend that will mark the latter parts of this year.
Investors holding the
SPDR Gold Trust ETF
(GLD) - Get Report
have seen losses of nearly 20% for the year to date (even with this latest rally), so calling these recent price moves a true "turnaround" is still premature.
At the end of last week, prices in GLD were showing gains of 2.95% for the period, as valuations in spot gold were helped higher by the weakening U.S. dollar. Market sentiment toward the U.S. currency is being largely (and, perhaps, inappropriately) based on changing expectations for the
Federal Reserve's
next steps in quantitative easing. Changes in these expectations have been driven by ambiguous statements from Fed Chairmen Ben Bernanke, which have done little more than indicate that these programs will not follow a "preset course."
Since Bernanke was well aware of the fact that markets were shifting toward the expectation that stimulus tapering would begin in September, the lack of clear direction at the Fed was subsequently interpreted as dovish -- with some analysts even suggesting quantitative easing purchase could increase if data remains weak.
Upcoming Event Risks
But with prices at current levels and some important event risks in the coming week's sessions, those holding GLD now find themselves at an important set of crossroads that could determine how market look into the end of the year. Specifically, the next round of central bank monetary policy decisions will be a critical determinant, as will the next non-farm payrolls and unemployment reports.
Outcomes here will help support (or contradict) the partial market view that we could still see reductions in monetary stimulus in September. Central bank meetings will be held by the Federal Reserve, Bank of England, and the European Central Bank and while no significant announcements are expected at the conclusion of these meetings, the accompanying rhetoric will create additional volatility and provide some direction for how markets are likely look in the next few months.
Whether or not these central banks are willing to commit to a dovish outlook will be key for determining how GLD is likely to proceed from here. Of course, the comments from the Fed are most important. Markets will be looking for potential pledges to maintain low interest rates, and for timeline clues detailing how and when a quantitative easing exit strategy will be implemented.
Finally this week, we will have the U.S. employment data for July released on Friday. Market consensus shows an expectation for a monthly increase of 185,000 new jobs and a modest improvement in the unemployment rate, to 7.5%. A stronger number will lead to more hawkish expectations from the Fed down the line. But what could be most interesting is any scenario where economic data conflicts with the official policy statement (for example, a dovish policy statement followed by stronger data sets). If a scenario like this were to unfold, volatility could become erratic -- and this could create some big price swings into the beginning of August.
Chart Perspective
Current market activity suggests that GLD is at a critical inflection point from a technical perspective as well, with prices now attempting to grind through important "support turned resistance" at 130.50. A clear break and weekly close above this level suggests that a medium term bottom is in place and that an environment of elevated range trading will persist through the month of August.
At the time of publication the author held no positions in any of the stocks mentioned.
This article is commentary by an independent contributor, separate from TheStreet's regular news coverage.
Richard Cox is based in China, and has lectured at several universities there on international trade and finance, focusing primarily on macroeconomics and price behavior in equity markets. His articles appear on a variety of Web sites, including MarketBulls.net, Seeking Alpha, FX Street and others. Investing strategies are based on technical and fundamental analysis of all the major asset classes (stock indices, currencies, and commodities). Trade ideas are generally based on time horizons of one to six months.