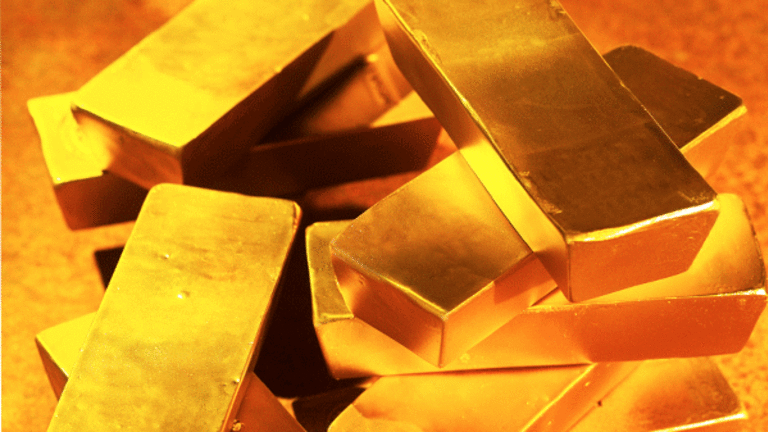 Fortuna Readies to Ride the Silver Price Rally
If silver prices can sustain their recent rally, Fortuna Silver Mines is poised to deliver a knock-out punch.
NEW YORK (
TheStreet
) -- If
can sustain their recent rally,
Fortuna Silver Mines
(FSM) - Get Report
is poised to deliver a knock-out punch.
Fortuna is a little known silver company with two operating underground mines in Peru and Mexico and a killer growth rate. Silver production popped 31% in 2011 while gold production grew 174%. The miner is on track to produce 3.7 million ounces of silver and 17,000 ounces of gold this year, with production growing to 5 million ounces and 26,000 ounces, respectively by 2014 -- that is a double digit growth rate at a time when other miners like
Newmont Mining
(NEM) - Get Report
are struggling to just replenish their reserve base.
The company has no debt, working capital of $70 million and no plans to issue equity or raise cash -- unless it buys another exploration property and brings it into production, something it is actively pursuing.
Before Fortuna catapults into a big time silver miner, it must overcome some big problems. First, no one knows about it. Average volume traded is well under 200,000. Fortuna's market cap is $844 million compared to other small silver producers like
Silvercorp
(SVM) - Get Report
, which has run into legal trouble over its operations in China and still has a market cap of more than $1 billion. CEO Jorge Ganoza hopes that the company's big growth profile and recent listing on the
New York Stock Exchange
( NYSE) will help draw investors.
Vote: Where will gold prices finish in 2012?
"We have a very concrete growth plan in terms of reserves," he says, "so the company is well poised to capitalize on all those opportunities, and it was the right time to list in New York and to increase our exposure to New York based institutions."
The volatile silver price is also a mixed bag for the company's popularity. In 2011, shares of Fortuna were up up 15%, while silver was down 10%. This year the two have moved in tandem, with silver up 17% and Fortuna up 15%. The stock is able to decouple from the silver price if the company delivers killer growth, but it can also move with silver, leaving it susceptible to a correction if the precious metal sells off.
Canaccord Genuity, which rates Fortuna as a speculative buy, recently lowered its 2012 silver price forecast to $33.50 from $40 an ounce with their peak silver price dropping from $40 to $35 an ounce.
James Steel, analyst at HSBC, says that silver prices could average $34 an ounce in 2012 but says that low interest rates from the
Federal Reserve
is bullish for silver and a "pretty good foundation from which to move higher. Until we see
a positive real rate it is going to be hard to call an end to the investor component in the silver rally." The real interest rate is calculated by subtracting the inflation rate from the interest rate and it is currently at a negative 2.2%.
Steel also sees industrial demand for silver, which makes up half of total demand, growing 18 million ounces in 2012, 28% lower than 2011, but says strong bar, coin and ETF demand will lend some support to prices.
Harwood Securities, which has a sector outperform rating on Fortuna Silver, also lowered its near-term silver price forecast by 18% from $36 in 2012 to $29.50 in 2014, but said Fortuna's production growth, especially as its San Jose mine in Mexico expands, will make up for a fall in the silver price. Haywood expects the company to deliver 14% growth in cash flow from 2012 to 2014, earning 84 cents a share.
While Fortuna tries to manage volatile silver prices, cash costs are also expanding. It costs $6-$8 to produce an ounce of silver, but counting gold sales, cash cost were $1.45 in the third quarter, a 147% increase from the same period a year earlier.
"The industry is under a lot of inflation pressure," says Ganoza, who sees inflation particularly in services and labor. Ganoza is trying to implement measures to combat rising prices like producing dore bars, a semi-pure blend of gold and silver in bar form that is then transported for further refining, instead of selling gold and silver concentrate. This could cut down on costs saving the company around three quarters of a million dollars a month.
There is also the threat that the more money Fortuna makes, the more they will have to hand over to the Peruvian government. Mining companies in Peru will now be taxed on their operating profits on a sliding scale basis by 1%-12% and must pay a windfall tax of 2%-8.4% on operating margins. This tax increase was actually considered a victory by the mining industry due to the fact that newly elected socialist leader, Ollanta Humala, didn't get more aggressive.
Ganoza brushed off the tax, saying it was immaterial. "The net effect of this on our income tax in Peru is only 2% ... We think the new tax scheme that has been put in place in Peru is reasonable especially in the context of rising prices." Ganoza thinks that Peru will continue to focus on being a popular mining area and therefore not get overly aggressive with its taxes.
For now it's Fortuna's growth profile that is attracting analysts. The stock currently has 5 buy ratings, 1 hold and 1 sell ratings, now the company hopes to attract investors.
--
Written by Alix Steel in
New York.
>To contact the writer of this article, click here:
Alix Steel
.
Related Articles:
Do Gold Prices Have Room to Rise?
Disclosure: TheStreet's editorial policy prohibits staff editors and reporters from holding positions in any individual stocks.