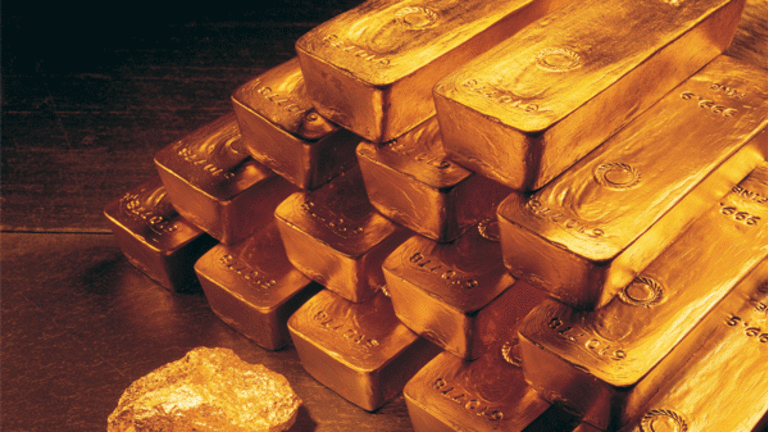 Buy Oil and Gas ETFs as Crude Nears Bottom to Take Advantage of Rebound
Crude oil is about to give use an opportunity we will not see again for years.
Crude oil is about to give use an opportunity we will not see again for years.
NEW YORK (TheStreet) -- Crude oil and energy stocks are tricky to navigate in today's environment, when equities are nearing a bull market top.
It is critical to remember that when the U.S. stock market turns down and starts a bear market virtually all stocks and commodities will fall in value including oil and energy stocks. Investors need to understand that even though the price of crude oil is nearing a bottom it could and will likely stay low for a considerable amount of time, if the stock market turns down.
Over the last 100 years we have seen nearly 30 bear markets. The average length of a bear market is 18 months and has an average decline of 30%.
Currency problems and war will be bullish for both oil and gold. So, if we get a bear market in equities, and political uncertainty in the world, gold and oil should rally while stocks in general fall.
Price Chart of Oil
The chart below shows the line in the sand for the price of crude oil. If this level is broken with a monthly bar close below $43 per barrel, $30 to $33 will be the next stop and the low for the oil market. It seems everyone is bullish on precious metals and have been buying like crazy.
If the support levels are broken oil will fall 40%, and gold another 35% from their current prices:
Below are some ETFs that takes advantage of rising oil prices. While there are other funds that cover oil stocks, they may not perform well during the equities bear market. Investing in physical oil is the best play at this stage of the game but when the equities bear market looks to be nearing an end, energy stocks will be the best place to invest.
In short, crude oil has or will find a bottom within the next couple months. Long term the value is great, but we must be aware that if equities start a bear market it will be best close all equity positions and wait for the bear market to subside. When the time is right investing in crude oil and energy stocks which pay high dividends will generate life changing gains and an income stream. Patience is the key.
This article is commentary by an independent contributor. At the time of publication, the author held no positions in the stocks mentioned.
Chris Vermeulen is full time trader and research analyst for
.