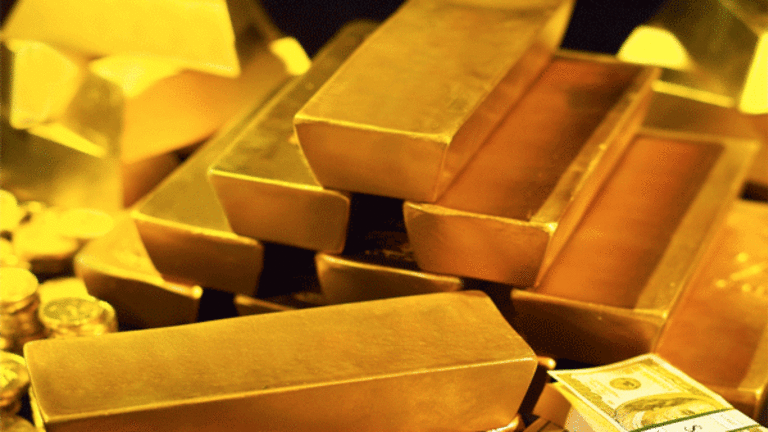 [video] Quick Take: How to Play Gold and Oil
Gold and oil surged on the possibility of action in Syria, but have receded since. Adrian Day tells <I>TheStreet's</I> Joe Deaux how you play it.
NEW YORK (TheStreet) -- Are precious metals and oil a viable play on military intervention in Syria? Recent price action may cause investors to second guess, but Arian Day, president of Arian Day Asset Management, thinks otherwise, he told TheStreet's Joe Deaux.
While some have questioned whether gold may pull back following military intervention in Syria, Day says, "Absolutely not." Gold, along with oil, will likely trade higher following such an event. After all, gold is a defense against geopolitical turmoil, he said.
Day added that the price action in both commodities has obviously hinged on geopolitical news: On days where intervention seems likely, the two trade higher. When it doesn't seem as likely, such as Friday when the British pulled out of the mix, they trade lower.
However, when choosing between which two should be used for the trade, it depends on the investor, he said. If traders are simply looking for a play on Syria, Day said they could use crude oil, but warned that it would likely pull back quickly after the pop.
On the other hand, gold has better fundamentals, he said. Meaning that if there is military intervention, the metal is more likely to hold onto its gains. Day concluded that he preferred gold over oil.
-- Written by Bret Kenwell in Petoskey, Mich.
Bret Kenwell currently writes, blogs and also contributes to Robert Weinstein's Weekly Options Newsletter. Focuses on short-to-intermediate-term trading opportunities that can be exposed via options. He prefers to use debit trades on momentum setups and credit trades on support/resistance setups. He also focuses on building long-term wealth by searching for consistent, quality dividend paying companies and long-term growth companies. He considers himself the surfer, not the wave, in relation to the market and himself. He has no allegiance to either the bull side or the bear side.