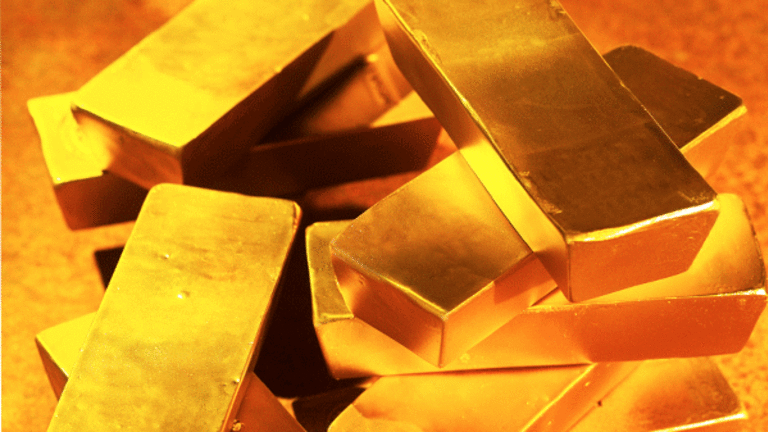 [video] Quick Take: Gold Not Done Going Down
Gold peaked when the Fed decided not to taper its bond purchases and now the bears are in control, says trader Eric Zuccarelli.
NEW YORK (TheStreet) -- Following the Federal Reserve's decision not to cut back on its bond purchases, gold has been a tough asset to trade, independent trader Eric Zuccarelli told TheStreet's Gregg Greenberg.
Zuccarelli said gold quickly ran to $1,370 per ounce when it was announced the Fed would not be tapering its bond buying.
Zuccarelli said the non-taper decision wasn't surprising because Chairman Ben Bernanke has been relatively clear on the parameters he was focusing on. When those parameters were not met, it took tapering off the table for the time being.
The move also fueled a short-covering rally in gold and, after a few days of consolidation, many of those short positions are coming back, Zuccarelli said.
He went on to say that the interest rate hike in India will likely weigh on physical demand for gold. The combination of less Indian demand and reloaded short positions could be enough to continue driving prices lower.
When asked about supply and demand, Zuccarelli said that it matters on occasion during large price swings, but is irrelevant in the day-to-day movements, which are driven more by economics and global unrest. He concluded that gold will likely retest the lows below $1,200 per ounce and perhaps even break lower to make new ones.
-- Written by Bret Kenwell in Petoskey, Mich.
Bret Kenwell currently writes, blogs and also contributes to Robert Weinstein's Weekly Options Newsletter. Focuses on short-to-intermediate-term trading opportunities that can be exposed via options. He prefers to use debit trades on momentum setups and credit trades on support/resistance setups. He also focuses on building long-term wealth by searching for consistent, quality dividend paying companies and long-term growth companies. He considers himself the surfer, not the wave, in relation to the market and himself. He has no allegiance to either the bull side or the bear side.