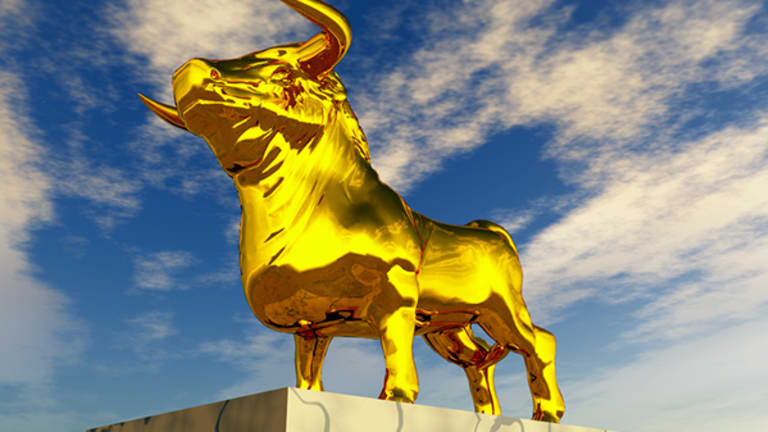 5 Catalysts That Will Spark a Bull Market in Gold and Silver
Here are 5 factors that could drive the price of gold up significantly in 2015 and beyond.
NEW YORK (TheStreet) -- The precious metals never broke below the respective lows they put in late last year. But prices have yet to break out decisively from their months-long trading range and enter a sustained new cyclical uptrend.
What will it take to spark a renewed bull market? Here are five likely catalysts:
1. Federal Reserve delays interest rate hikes.
Federal Reserve chair Janet Yellen signaled to investors to anticipate interest rate hikes from the Fed later this year. Expectations of a tighter monetary policy have helped lift the U.S. dollar versus the euro and most other currencies. And despite the much stronger dollar compared to other fiat currencies, gold has held up well.
But if the Fed fails to follow through on its rhetoric with actual rate hikes, the dollar could tumble. And if that happens, it would be bullish for precious metals.
Fed governors say their decision will depend ultimately on whether the economic data -- especially pertaining to employment -- comes in stronger or weaker in the months ahead. Monetary and financial analyst Jim Rickards is among the Fed skeptics. He doubts the Federal Reserve's optimistic economic forecasts will pan out any more than its previous rosy forecasts have. Weaker than anticipated economic numbers will make rate hikes less likely. And that scenario will boost the odds of a new stimulus program and higher precious metals prices along with it.
2. Real Interest rates turn deeply negative.
The financial media can be counted on to heavily cover every rhetorical nuance regarding the Fed's coming decisions about interest rates. Yet there is typically scant coverage about the most important rate of interest: the real (after inflation) rate on benchmarks such as the federal funds rate and the 10-year Treasury note.
Real interest rates are positive when nominal rates exceed the inflation rate. When nominal rates are running below the inflation rate, then negative real interest rates are in force. Holding interest-bearing instruments that sport negative real rates is unappealing to savvy investors. Many will choose to hold precious metals instead.
It's important to recognize that interest rates can be going down in real terms, even when they're rising in nominal terms. In other words, if the Fed starts raising rates but inflation is rising at a faster pace, the net effect is that monetary policy is actually becoming looser.
That's why gold and silver prices went on a tear in the 1970s, even as interest rates rose. It was only after then Fed Chairman Paul Volcker raised short-term rates into the high teens that interest rates went higher than inflation. Only then did the metals prices finally come down.
That said, Fed and government officials currently argue that inflation is extremely low. 
3. Debt crisis hits home.
In March, the federal government reached its statutory debt ceiling of more than $18.1 trillion. There's little doubt that the debt limit will eventually be raised once more. But reckless political brinksmanship along the way could rattle the markets.
Of course, when Congress inevitably moves to raise the debt ceiling again, it won't solve the nation's debt problems. In fact, it will only exacerbate them. Since the financial crisis began at the end of 2007, total worldwide debt levels have increased by $57 trillion, according to the New York Times. Economist Laurence Kotlikoff estimates the total U.S. fiscal gap to be $210 trillion at present.
In order for these liabilities to be met, untold trillions in new currency units will have to be created. That is the real debt crisis the U.S. faces -- and with it the potential for a massive inflation. (See point No. 2.)
4. Geopolitical turmoil drives flight to safety.
We have entered a period of sharply rising international tensions.
The recent controversy over Iran's nuclear ambitions and the Obama administration's deal to lift sanctions on them is just one of the many simmering geopolitical threats. From unrest in Yemen, to the terrifying spread of ISIS, to the dangerous provocations of Russia, a breakout of international conflict would drive massive demand for safe-haven assets.
When fear is on the rise, gold stands to benefit. The U.S. dollar sometimes competes with gold for global safe-haven inflows. But war is ultimately inflationary, especially if it disrupts the production or transportation of oil and other vital resources.
The prospect of the U.S. being drawn into yet another foreign war and having to ramp up military spending would not be particularly bullish for the dollar. While conventional financial assets such as stocks are vulnerable to rising investor fears, gold can actually benefit from bad news.
5. Declining mining production leads to a supply crunch.
Of all the potential catalysts for an up move in precious metals prices, the most direct factor would be a shortfall of supply relative to demand. It's Economics 101.
The silver market saw a three million ounce surplus in 2014. But after several months of silver prices falling below all-in production costs at many mines, silver production stands to decline in the face of strong demand. Now, unprofitable mining operations will scale back or even shut down. HSBC (HSBC) - Get HSBC Holdings Plc Report analysts project an 11 million ounce silver supply deficit for 2015.
Platinum and palladium also face supply deficits of close to one million ounces each. On the high end, Mitsubishi estimates a platinum deficit of around 1.2 million ounces this year. The company also projects a record palladium deficit of 1.6 million ounces.
All the precious metals, including gold, now face supply difficulties going forward. Mostly as a result of high mining costs and a devastated mining industry. Desperate to stay in business, many mines have resorted to "high-grading" (mining only the richest, lowest-cost deposits).
That means what is left are the lower-grade deposits. Higher spot prices will be required to make mining at the margins economical. It will take a renewed bull market in precious metals to justify the capital investment needed to expand those operations or re-start shuttered mines.
We can't know when these supply deficits or other potential catalysts will kick in and drive rising price breakouts on the charts. But we do believe investors would be wise to increase your positions in physical precious metals now, before it becomes much more expensive to do so.
This article is commentary by an independent contributor. At the time of publication, the author held no positions in the stocks mentioned.