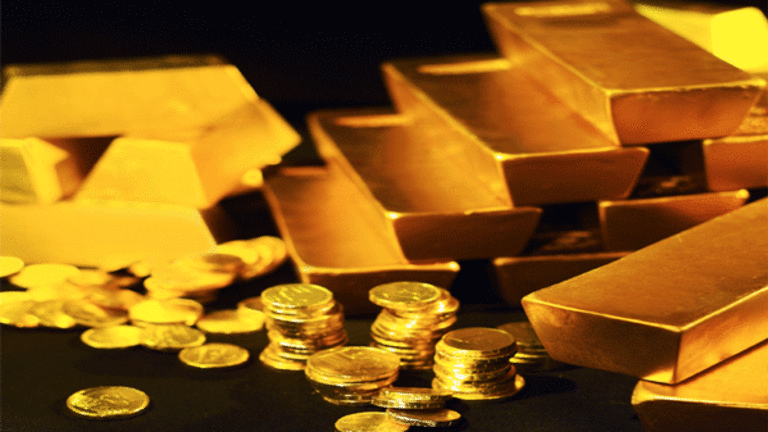 4 Reasons Gold Remains a Safe Haven
With gold price volatile, TheStreet examines if gold is still a safe haven for investors.
NEW YORK (
) -- Gold is still a safe haven for investors, it's just taking on a new look that some may find uncomfortable -- volatility.
have had a turbulent summer -- rallying more than $350 in 4 months to then fall 11% from their intraday high of $1,917 an ounce in two days. Many investors buy gold as a safety net, but with prices seeing daily double digit swings is gold still safe?
"Gold isn't the perfect safe haven but it's the best one you are going to get," says Adrian Ash, head of research for BullionVault. According to Ash, the Swiss Franc and Yen are other popular safe havens but their associated countries don't want them to be. Both central banks have been trying to make their currencies less attractive to investors to improve their exporting power, tipping safe-have status back in gold's favor. .
Ash also says that the fact that gold rallied as the stock market tanked during the summer is the start of a new phase for the shiny metal. "Gold is attracting flows when investors leave other assets," whereas in the past any mass selling in stocks triggered selling in gold as investors had to cover losses.
Vote: Where will gold prices finish in 2011?
Although pullbacks have been fast and furious, Ash argues that a $100 move is, percentage wise, not a big deal.
Alec Young, equity strategist at
Standard & Poor's
, says that gold prices just moved too far too fast and that increased volatility is a normal result. "Markets will go up at a 45% angle ...when something goes up in a straight line it's never really sustainable ... gold is still a safe haven ...
but it doesn't mean it goes up every day."
Despite pullbacks, many experts believe that gold's role as a safe haven is intact and that prices will eventually trend higher because of these four secular trends.
4. Supply and Demand
The supply and demand factor is pivotal in supporting high gold prices. From 2005 to 2009, the gold industry received 59% of its supply from mining production, 31% from recycled or scrap gold and 10% from central bank sales. Central banks are no longer selling their gold, the amount of scrap gold is falling as investors hoard the metal, which leaves just mine supply.
In the World Gold Council's recent Gold Demand Trend report for the second quarter 2011, mine supply surprisingly grew 7% to 708.8 tons but total supply was unchanged as gold producers de-hedged and sopped up excess gold.
The above ground supply is estimated to be around 165,600 metric tons. Half of that is in the form of jewelry. Of the 82,500 tons remaining in bullion, 30,000 tons are owned by central banks and the rest is privately held.
Total gold demand for the second quarter was 919.8 tons, outpacing the growth in mine supply.
Gold has, however, lost a big buyer recently -- the miners.
Miners had been buying gold from the open market to eliminate hedging positions, where they had previously locked in gold sales at a certain, lower, price. Now, all the big hedges have been eliminated. The move in of itself is a bullish indicator, but the role of producer de-hedging had been instrumental in pushing gold prices higher and without it the market loses a key driver.
Matthew Piggott, metals analyst with GFMS, says the end of de-hedging will force "the
gold market
to look to other areas of demand to make up the difference in the absence of price support from de-hedging activity."
One factor that could help is the advent of physically backed gold ETFs. Along with the GLD, the
iShares Comex Gold Trust
(IAU)
and
ETFS Physical Swiss Gold Shares
(SGOL)
hold around 1,400 tons of gold, more than half of annual gold production.
Over the past three years, cumulative gold supply has grown 59% while demand has surged 62%. This upward trend is expected to continue as investors seek ways to diversify their portfolio. As Ash points out, U.S. investors have accumulated $111 billion of gold exposure over the past 10 years versus $11 trillion of net worth, meaning that gold is still a very small amount of investors' wealth.
"We're going to go into a period like the tech market where there is a mania," says Rob McEwen, CEO of
U.S. Gold
(UXG)
, who thinks the market is about half of the way there.
"Your curve is like any other area of the market that suddenly people wake up to and say I have to have it and it goes parabolic ... at some point up there gold is going to achieve a point where its purchasing power relative to other assets is going to be at its zenith and that's when you want to start thinking about trading out."
3. Jewelry Buying
The often forgotten role of gold: jewelry. It accounts for almost 50% of global demand and the primary buyers are China and India. In the second quarter, according to the World Gold Council, India accounted for 32% of world jewelry demand at 139.8 tons while China followed a close second, up 16% at 102.9 tons.
"India and China are extremely important in terms of gold demand currently," says Marcus Grubb, managing director at the World Gold Council, who believes that this strong consumption is not just a short term phenomenon.
China accounted for 6% of total global demand in 2000. That number surged to 18% in 2010. Grubb even estimates that China could have imported more than 260 tons by April, surpassing its imports for all of 2010. "This remarkable shift in the global demand balance has come about as the combined forces of growing wealth, deregulation, increased access and also heightened economic concerns have compelled consumers to act on their deep affinity for gold," said the World Gold Council.
According to a report by
Wells Fargo
, India's GDP per capita is half of China's: $6,567 vs. $2,941, respectively, but both countries are getting richer. China's urban household income is growing 9% a year and consumption is growing 11%. Despite the global slowdown many experts think that China will still grow 9% in 2011 and that India will grow 8.2%. More growth and more money mean more people and cash to buy gold.
Bloomberg
recently reported that India could buy 250 tons of gold in the fall during its festival and wedding season. India tends to look for price dips to buy while China can be a voracious consumer regardless.
Reuters
said their channel checks pointed to strong gold demand among Chinese jewelers throughout August, despite recent record high gold prices. Inflation is high in China and India, at 6.5% and 9.22%, respectively, which is another reason why gold is so attractive. The only thing that can derail that thesis is higher interest rates.
China has raised rates 5 times in the past two years to fight rising prices but even with the 3.5% interest rate, real rates are still negative 3%.
There are those like Grubb who think that China has been able to tame inflation and that growth has cooled along with property restrictions, which means the tightening cycle might be over. India, on the other hand, has rampant high inflation but gold buying is more dependent on wealth and tradition rather than inflation, says Grubb, who doesn't think that India will be quick to raise interest rates.
"You've actually seen some strong investment numbers in India for the first time in recent quarters
but the bulk of demand is jewelry related and not investment." So far the World Gold Council's antidotal evidence on third quarter gold demand is pointing to an even stronger showing.
2. Currency Debasement
The most popular reason to own gold is as a form of money. The theory is as paper currency loses value, gold will retain its purchasing power, making it a safe place to preserve one's wealth.
"Gold is a very different investment than other commodities," says Ash. "The fact that it has been used as a store of wealth for centuries ... is 5,000 years old."
Historically, gold has traded in opposition to the dollar 32% of the time, according to data from
Standard and Poor's
. A weaker dollar makes dollar-backed commodities like gold cheaper to buy in other currencies, which strengthens demand.
As central banks dealt with the financial crisis by pumping lots of cheap money into the system, they created a nasty side effect: inflation.
China's inflation is at 6.5%, India's is 9.22%, the Eurozone is dealing with 2.5%, the U.S. at 3.6% and the U.K. is at 4.4%.
The only tool central banks have to fight inflation is to raise key interest rates, something they have to do very carefully in order not to choke off growth. But here's the rub, inflation is rising faster than interest rates, creating a perpetual negative real interest rate environment (interest rate minus inflation), which means your dollar in the bank is worth less. As paper currencies lose value, gold shines as a store of wealth.
Underscoring this fiscal tightrope are ballooning debt issues in Europe. After almost two years, the fate of Greece is still uncertain as EU members try to shore up the European Financial Stability Fund by letting it buy government bonds and by increasing its money pool.
But even the strong countries are getting weak, as the weak get even weaker. Germany reported growth of only 0.1% in the second quarter. If the country propping up the Eurozone falters, who is left?
Many think that the European Central Bank, which is already buying government bonds, will have to inject more liquidity into the market, despite inflation fears. The ECB has already raised interest rates twice this year to fight rising prices.
The U.S. is also joining the debt battle. Although Congress passed a debt ceiling increase, a 12 member group from Congress has to agree to $1.5 trillion in spending cuts by the end of the year before the debt ceiling gets its second increase for a total of $2.1 trillion. The U.S. grew only 1% in the second quarter and only 0.4% in the first, both well below estimates. High debt and anemic growth leave little wiggle room.
The economic situation is deteriorating so fast that the
Federal Reserve
is contemplating another round of quantitative easing. Although three voting presidents are ardently against pumping more money into the system, other presidents are already advocating for a third round of quantitative easing, or QE3. Fed Chairman, Ben Bernanke, has now extended the Fed's September meeting to two days to debate this issue.
"Government money printing undermines the fiat currency of the dollar," says Young. If QE3 is off the table, or if Europe stabilizes, then gold could suffer says Young, but he doesn't see any bright spots for the EU and thinks Bernanke will have to commit to some kind of QE3.
The U.S. is currently more than $14.6 trillion in debt with $412 billion in interest payments due in the past 10 months fueling rumors among doomsayers that the dollar will eventually be worthless.
"Intrinsically, the dollar is worth nothing. It's a dream painted on a piece of paper," says Rick Rule founder of Global Resource Investments. Rule predicts higher gold prices in the future because the U.S. dollar will eventually depreciate in value. "There's no particular reason why you, despite the fact that you live in the U.S., need to be a prisoner of the dollar ... use gold money, export your capital."
The dollar is also losing its mojo as the world's top currency. BRICS countries -- Brazil, Russia, India, China and South Africa -- have said that they are looking for a broader international reserve currency structure not so heavily reliant on the U.S. dollar. China is in fact conducting business in local currencies with Russia, Argentina, and soon Brazil. Continued lack love will push the dollar lower and send gold higher.
1. Central Bank Buying
The biggest secular trend for gold is that central banks have become net buyers of gold over the past two years rather than net sellers.
Grubb says that central banks have imported 198.4 tons of gold in the first half of 2011 whereas two years ago they were selling 450 tons a year.
Central bank buying is widespread. In the second quarter, Russia bought 26 tons, South Korea bought 25 tons and Mexico added 5.9 tons to its 100 ton purchase back in the beginning of the year.
"Some banks," says Natalie Dempster, head of government affairs for the World Gold Council, "have been rebalancing as the percentage of gold in total reserves has fallen over time. Others are looking to diversify away from dollar-based assets, and with sovereign debt concerns continuing to grow around the world, gold's attractiveness as a reserve asset that bears no credit risk continues to grow."
The U.S. has 74% of its reserves in gold compared to some emerging market economies like China, which owns 1,054 tons of gold, but it only makes up 1.6% of its reserves. India now holds 8.7% in gold reserves, but that figure is still considerably lower than the 20% of gold reserves it held in 1994.
Dempster says that if China in particular were to reallocate its holdings to 3%, it would need to buy 1,000 tons of gold. China is the world's largest gold producer and vies with India for title of largest gold consumer.
Nigel Moffett, head of Treasury at Gold Corp. says, "
China is the world's number one producer, producing 340 tons of gold a year. You don't see any of that coming out of China. You see a lot of gold going into China." Moffatt believes that its central bank is a prominent buyer.
The rumor is that China is trying to beef up its currency, the yuan, to make it a more viable player on the international stage. Not a
, but a gold kicker.
Central banks, in general, regard reserve allocation as an ongoing government policy. Although the governments consider fundamentals like dollar weakness and the sustainability of gold as money, they don't trade gold; they buy it as an investment. They will buy gold when they feel gold reserves are too low when compared to its other holdings.
Central banks tend to be price agnostic, but are heavy buyers.
Gold prices are volatile currently there is no denying that, but there are fundamental reasons that underscore gold's appeal as a"safe" investment.
--
Written by Alix Steel in
New York.
>To contact the writer of this article, click here:
Alix Steel
.
Related Articles:
Do Gold Prices Have Room to Rise?
Disclosure: TheStreet's editorial policy prohibits staff editors and reporters from holding positions in any individual stocks.