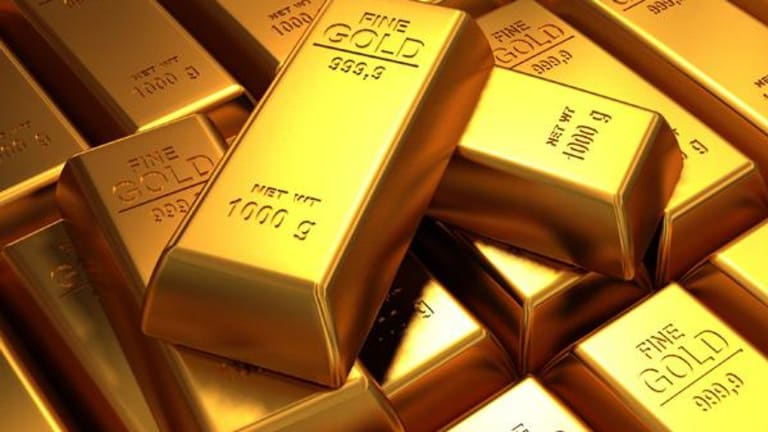 Gold Stays in Play, as Economic and Political Uncertainty Persist
Investors who want to hedge against a market pullback may want to buy the precious metal.
The markets have experienced a remarkable run-up since Election Day, but considerable uncertainty persists regarding the Trump administration.
Investors who want to hedge against a market pullback may want to look to add gold to their portfolios. Gold futures are rising following President Donald Trump's inauguration on Friday, hitting a two-month high.
The Market Vectors Gold Miners Exchange-Traded Fund has gained more than 20% in just the past month.
Gold could experience a double tailwind: a potential market downturn when enthusiasm about the Trump administration fades along with a weakening dollar. The president's recent comments about the dollar being "too strong" has brought awareness to the issue and a subsequent drop in value.
The precious metal has suddenly become the hot topic following Trump's election.
"Gold tends to move in the opposite direction of the dollar. That's a stronger rule than the rule that the market and gold tend to move in opposite directions," said Philip Diehl, former chief of staff of the Department of Treasury in the Clinton administration.
"The reason behind this is because gold is sold in dollar terms all over the world," he said.
Part of the reason that gold prices slid after the election was because the dollar rallied, as investors thought that interest rates were going to go up compared with the rest of the world, driving foreign investment into dollar denominations. The U.S. is enjoying its third-longest economic expansion in history.
"We're going to experience greater uncertainty surrounding Trump if we see Congress stumble in the repeal of the Affordable Care Act," said Diehl, who was the 35th director of the U.S. mint and current president of U.S. Money Reserve. "The big reason why the market rallied after Trump got elected wasn't so much that Trump was elected but that the Republicans retained the House and the Senate." 
Diehl expects gold to surpass the $1,400 mark this year.
"Once investors see that it is not the case, we will see optimism collapse," he said.
Several analysts have also weighed in on the positive catalysts for the precious metal this year.
"The euro zone has plenty of crisis triggers over coming months. Indian and Chinese buying remain strong and Trump's policy threatens inflation," said Adrian Day, president of Adrian Day Asset Management in Annapolis, Md., which oversees $190 million.
"All this is positive for gold," he said.
UBS strategist Joni Teves expects gold to also hit the $1,400 mark this year.
"An environment of low and negative rates narrows the gap between holding gold vs other assets, making having gold in a portfolio an attractive proposition amid heightened global macro uncertainty," she wrote in a research note.
Analysts at Credit Suisse have also taken a bullish stance on gold.
"Following a 2016 gold market surplus, we forecast 2017 is a swing to deficit as we expect increased trade protectionism, currency devaluations [such as RMB] and geopolitical uncertainty [2017 elections across Europe are potential catalysts] to boost bar and coin demand, Central Banks to continue buying and mine supply to decline," the firm said.
Time and again, gold has been the go-to asset in times of economic and political turmoil. With  Trump's economic policies largely unknown, gold could act as a form of wealth insurance during a time of considerable uncertainty.
This article is commentary by an independent contributor. At the time of publication, the author owned 
GDX.