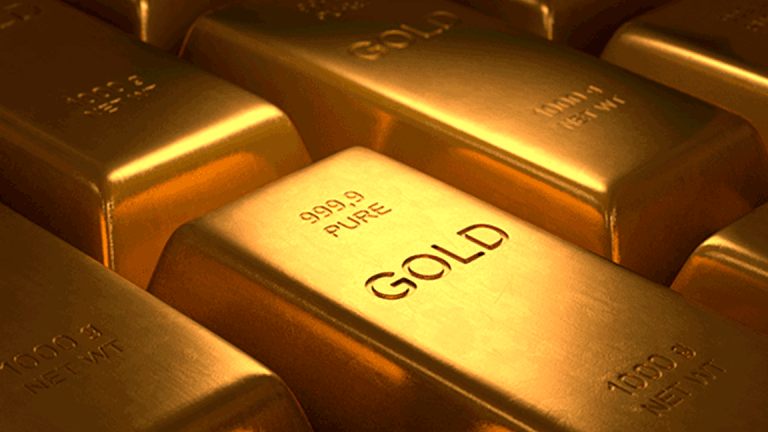 Gold Slumps to Four-Month Low as Bitcoin Powers Toward $15,000
Gold follows global metals prices lower as Bitcoin continues to shoot for the stars.
Gold follows global metals prices lower as Bitcoin continues to shoot for the stars.
Gold prices slumped to a four-month low Thursday amid a global pullback in commodities and metals prices and the continued risen in digital currencies driven by investors seeking alternatives to the bullion's traditional "store of value" play.
Gold was marked 0.53% lower at $1,254.89 per ounce in late morning trading in London, the lowest since Aug. 8 and extending its three-month decline to around 7.6%. The moves mirror recent price declines in global industrial metals, including copper, which hit a three-month low of $6,057 per ton yesterday, and Platinum, which touched a five-month low of $895.74 an ounce amid speculation of reduced demand from China.
Bitcoin's meteoric rise, however, has been the most influential driver of gold prices as investors rotate into the digital currency as a store of value, taking it more than 40% higher this month alone to trade at a record high $14,750 each on the bitsmap exchange, giving it a "market cap" of around $260 billion.
Further moves towards the $15,000 mark and beyond may be likely in the coming days as the CBOE Global Markets Inc. prepares for the launch of its flagship derivatives contract, which begins trading at 6:00pm eastern time on Sunday Dec. 10. Rival CME Group will start trading on its own bitcoin futures contract the following week.
Bitcoin prices have gained more than 40.5% since Dec. 1, when the U.S. Commodities and Futures Trading Commission approved the listing of cryptocurrency futures on the Chicago Mercantile Exchange, the CBOE Futures Exchange and the Cantor Exchange even as it warned on the market's extreme volatility.
"Bitcoin, a virtual currency, is a commodity unlike any the Commission has dealt with in the past," said Chairman Christopher Giancarlo. "As a result, we have had extensive discussions with the exchanges regarding the proposed contracts, and CME, CFE and Cantor have agreed to significant enhancements to protect customers and maintain orderly markets."
"In working with the Commission, CME, CFE and Cantor have set an appropriate standard for oversight over these bitcoin contracts given the CFTC's limited statutory ability to oversee the cash market for bitcoin," he added.
More of What's Trending on TheStreet: