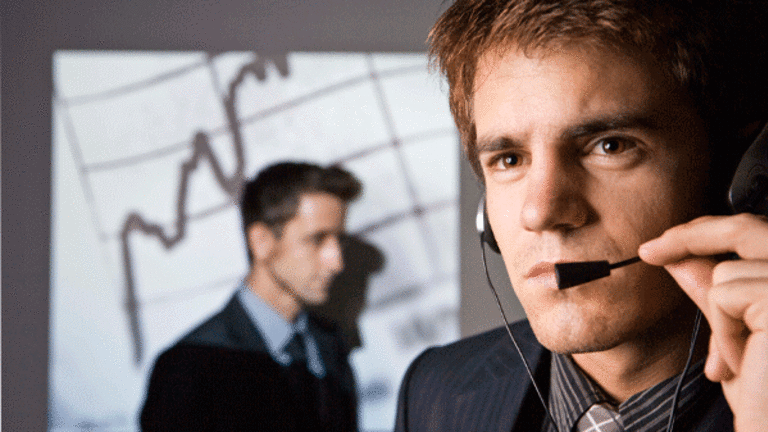 Gold Slips on Oil
Easing tensions with Iran, and a hawkish Fed keep the pressure on commodities.
Updated from 12:11 p.m. EDT
Gold fell again Monday, dragging down other metals, as tensions with Iran seemed to ease, while oil fell and the dollar rose.
Gold for August delivery finished down $9.30, or 1.6%, to $572.40 an ounce. Among other metals, silver for July delivery fell 16 cents, or 1.6%, to $9.97 an ounce
Concerns that higher interest rates might curb global growth, and therefore demand for industrial commodities, also hit copper pretty hard. The July contract dropped 13 cents, or 4.13%, to $3.08 a pound.
Fresh signs that the U.S. housing market continues to slow revived concerns about growth on Wall Street in the early afternoon. The National Association of Home Builders said its monthly Housing Market Index dropped to 42 in June from 46 the previous month, indicating that home builders have an increasingly negative outlook of the market.
Gold, which acts both as a hedge against inflation and a safe-haven asset, had surged to 26-year highs in May, as tensions with Iran had pushed the price of crude oil to $75 a barrel.
But in the latest sign of easing tensions, Iranian President Mahmoud Ahmadinejad said Friday that incentives offered by U.N. Security Council members plus Germany to induce Tehran to stop its nuclear program was a "step forward."
On Sunday, he followed up the remarks by saying "a positive atmosphere" had been created, which might allow for a resolution to the standoff, according to
Reuters
.
The comments eased concerns over disruption of oil supply from Iran, the world's fourth-largest producer of crude, leading the price of a barrel to fall $1.28 to $68.60 in recent action.
Meanwhile, news reports that North Korea had finished fueling a nuclear missile, the final leg necessary for a test launch, failed to provide much of a safe-haven bid for gold.
Adding to the negative bias for gold and metals, the dollar advanced following more hawkish comments from the
Federal Reserve
. Atlanta Fed President Jack Guynn said that while growth is starting to slow, core inflation is "beyond an acceptable range."
Uncertainty about the U.S. economic outlook and Fed policy remained intact, even after Dallas Fed President Richard Fisher later said in an interview with
CNBC
that while the U.S. economy may be "tapering off", the U.S. wasn't in danger of falling into a period of stagflation.
The Dollar Index, which tracks the greenback against a basket of key currencies, was recently up 0.5%. The index had dropped 7.2% between March and May amid expectations that the Fed would pause its two-year long campaign to raise rates in June, and eventually stop raising rates altogether.
But the Dollar Index is now up 2.8% from its May lows as inflation figures and hawkish Fed comments have reversed expectations of a Fed pause. The market is pricing in 100% odds of a rate hike in June and is increasingly betting on another hike this year.
Metals and commodities have tumbled over the past month amid concerns that central banks are raising interest rates to curb growth and inflation pressures, notably from soaring commodities prices. The correction has shaved off 21% from both the price of gold and copper and 29% from silver. A stronger greenback pressures the price of dollar-denominated commodities, such as gold, as it takes less of the currency to buy the same amount of gold.
"While inflationary fears are generally supportive for gold, that view is being countervailed by the threat of perpetually higher interest rates, a strong dollar and sagging economies," writes Nell Sloane, metals analyst with NSFutures.com.
After plummeting on Tuesday of last week, gold and metals prices seemed to stabilize as Wall Street and global markets seemed to reconcile themselves with the idea of higher rates.
But interest rate jitters were revived Friday after news that the People's Bank of China lifted the level of funds that lenders are required to keep with the central bank. The move, similarly to a PBOC rate hike in April, is aimed at tackling a surge in liquidity in China's fast-growing economy.
Strong growth from China and India, whose economies gobble up an increasing level of commodities, is often cited as a fundamental underpinning of the commodities rally of the past few years.
Chintan Karnani, metals analyst with New Delhi, India-based Insignia Consultants, says the long-term bullish story is still impact, even if the market is currently trying to assess the drop in global liquidity resulting from higher rates.
"Interest rate cycles by central banks have an effect on short term as well as long-term liquidity, which in turn affects the pace or rise or fall on any financial market, be it gold, silver, equities, treasuries etc," he writes.
"Only, if there is a severe shrinkage in global liquidity," would the pace in the rise of metals prices come down, he adds.
Meanwhile, shares of metals miners also were sharply lower in recent action. The Philadelphia Gold and Silver index was down 2.6%, the Amex Gold Bugs index was down 2.8% and the CBOE Gold index was down 2.6%.
Among the biggest decliners,
Coeur D'Alene
(CDE) - Get Coeur Mining Inc. Report
was losing 5.3%,
Hecla Mining
(HL) - Get Hecla Mining Company Report
was down 5.1% and
Goldcorp
(GG)
was down 5%.
The newly launched
Market Vectors-Gold Miners
(GDX) - Get VanEck Gold Miners ETF Report
exchange-traded fund, which tracks the performance of the Amex Gold Miners Index, was down 2.3%.
ETFs tracking the metals themselves also were falling. The
iShares Silver Trust
(SLV) - Get iShares Silver Trust Report
was down 3%, and the
StreetTRACKS Gold Trust
(GLD) - Get SPDR Gold Shares Report
was losing 2%.