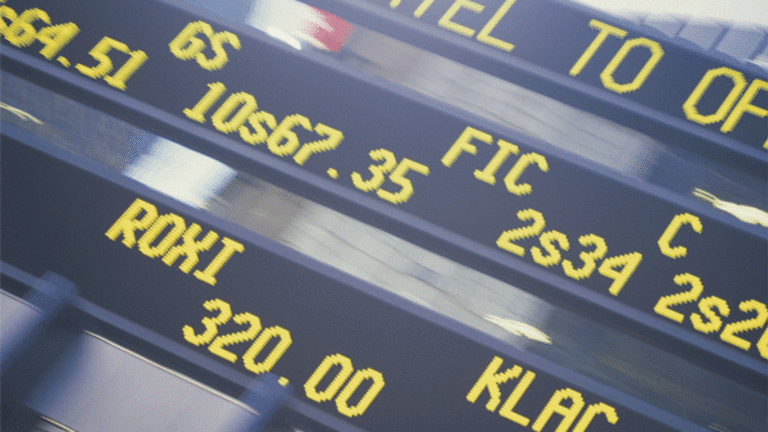 Gold, Silver Could Break Higher This Week
Traders should be ready for a break higher in gold and silver if equity markets hold support this week.
The following commentary comes from an independent investor or market observer as part of TheStreet's guest contributor program, which is separate from the company's news coverage.
NEW YORK (
) -- News wires are very quiet in regard to gold (recently at 1535) and silver (recently at 38.00).
The recent moves to change margin requirements and affect speculative interest in bullion markets seem to have had little overall effect, as market participants continue to buy dips in gold and silver.
Any moves through resistance have struggled to hold for more than one trading session. The potential for new trade signals to form today is weak, but traders should be ready for a break higher in bullion valuations if equity markets hold support this week.
Trade desk updates recently highlighted the potential for choppy and overlapping price action in bullion markets, and in
SPDR Gold Trust
(GLD) - Get SPDR Gold Trust Report
and
iShares Silver Trust
(SLV) - Get iShares Silver Trust Report
, the exchange-traded funds that track bullion. Those moves appear to have formed a base that is currently holding well as support.
> > Bull or Bear? Vote in Our Poll
Traders should monitor any existing short-gold or short-silver positions while recent price action is absorbed. There have been very few clear-cut signals in the silver bullion market recently, although a break above 38.20 will draw in buying activity. Clients received a gold bullion signal recently to go long on a break of 1531, and gold subsequently moved higher to test 1535.
Alternate Trade
:
Investors who do not want to wait for their regional cash market to open, or do not have 24-hour access to the market in which they have open positions, are able to access the 24-hour currency market.
Investors can trade currencies in line with a rising global market, or trade ahead of a falling cash market open. Currencies allow trading before a regional market opens.
Traders could trade the Australian dollar/dollar currency pair (AUD/USD) in line with the potential seen in global equity and commodity movement.
If global markets favor the buying of silver bullion above 38.20, we will issue a potential trade signal on the AUD/USD. Buying the AUD and selling the USD via this currency pair from 1.0720 draws in 1.0745 and 1.0790.
Bullion Price Action
:
In April and May there was strong buying activity at 1490 on gold, and at 33.00 on silver. We will monitor these swing point areas closely, because they seem to be allowing a strong base to form.
Main gold support
: 1470. Main gold resistance: 1550.
Main silver support
: 34.50. Main silver resistance: 39.50.
The daily trading ranges are $24 for gold and $2.50 for silver, both of which are above the historical norm and indicate that speculative interest is still high, and that dips likely will continue to be bought.
ETF Price Action
:
Strong buying activity was seen at 144.50 on GLD in April, and at 32.50 on SLV in March. We will monitor these swing point areas closely and send subscribers market alerts if they break.
Main GLD support: 144.00. Main GLD resistance: 151.50.
Main SLV support: 33.50. Main SLV resistance: 38.50.
Technical Correlations
: The 20-day simple moving average (SMA) on gold is at 1510. The 100-day SMA on silver is at 35.10. Gold bullion has a 12-month 90% correlation to the euro/dollar (Eur/Usd) currency pair.
Outlook
:
A long-term buy signal will form if gold closes the week higher than 1540, which could be sustainable if global equity and risk markets reverse a recent bout of negative sentiment. Silver has not shown any desire to move lower, and fair value looks to have been found above 35.00.
Sentiment and outlook toward gold and silver bullion remain bullish after a period of consolidation. Price action favors a bounce off support that buys the recent dips in bullion and ETF prices. Traders committing to bullion trades at these levels need to use caution in the sizes of their trades, as resistance tests will create some volatility. Signals will be sent to clients as sustainable movement is seen.
TheLFB trade desk generates trade signals that highlight specific price points from which to trade. It also generates market alerts that highlight sentiment changes in global markets. TheLFB provides 24-hour market support for traders, investors, and institutions. Service offerings include analysis of foreign exchange, equity indices and ETFs and commodities.
Marco Hague is one of the founders and principals of The London Forex Broadsheet (commonly known as TheLFB), a global forex trader portal with headquarters in the U.S. Hague began his career with the Bank of England dealing with foreign exchange control, and he has been trading for the last three decades. He has been involved with institutional risk asset ratio analysis and the implementation and maintenance of institutional trade desks globally.