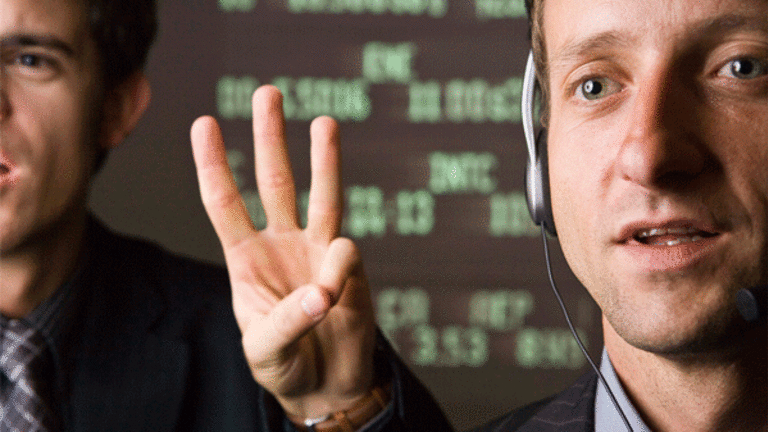 Gold Shrugs Off PPI
Amid rising crude and a falling dollar, the metal keeps rising despite evidence of tame core inflation.
Updated from 1:11 p.m. EST
Gold's advance continued Tuesday, despite the release of tame inflation news. U.S. core producer prices might have been contained in March, but gold maintains its strength as crude still trades well above $70 amid tensions over Iran's nuclear ambitions.
Gold for June delivery finished on a gain of $4.50 at $623.30 an ounce, after hitting a new 25-year high of $623.80 intraday. Among other metals, silver advanced 42 cents to $13.78 an ounce, just off a fresh 22-year high of $13.80. Copper rose 7.60 cents to $2.9710 an ounce after earlier touching yet another all-time high of $2.97.
Gold briefly fell back in morning trade after the Labor Department said
producer prices, excluding food and energy, rose a tame 0.1% last month.
Gold, which acts as a hedge against inflation, was also hit by bearish news from the U.S. housing market, which has been a key motor of the economy over the past several years. The Commerce Department said March housing starts dropped 7.8% from February to their lowest level in a year and below economists' forecasts.
But for gold, and other metals, a key story remains the price of crude oil, which has surged in recent weeks as the tension between Iran, the world's fourth-largest producer of crude, and Western countries continues to increase.
On Tuesday, the Institute for Science and International Security said Iran has expanded its underground nuclear sites, according to
Bloomberg
. Iran, which insists its nuclear program is solely for civilian use, is refusing to bow to the demands of the U.N. Security Council, which wants a suspension of the program by the end of April.
Less than 10 days after several U.S. media reports suggested the Bush Administration is considering military action in Iran, President Bush on Tuesday told reporters that although he'd prefer to solve the issue diplomatically "all options are on the table."
Crude oil finished on a gain of 95 cents at $71.35 a barrel, a record-high closing level. It earlier rose to a record $71.60.
Concerns that soaring energy costs might eventually seep into core inflation prices have so far not materialized, but gold is also benefiting from its value as a safe haven.
Cliff Droke, a gold analyst and editor of the
Durban Deep/XAU Report
, says the surge of gold matches up pretty well with his "Global Bombing Index," which tallies the total number of reported bombings worldwide each day since the beginning of 2006.
As of mid-April, there have been 129 reported bombings around the world, with most taking place in the Middle East, Droke writes, citing the
BBC
.
"With the recent upward surge in bombings around the world it is no surprise that gold recently hit a new high for the year on April 17, nor for that matter that many actively traded gold stocks have benefited from this resurgence of fear and violence," he writes.
Gold bugs argue that the precious-metal's surge is also in anticipation of a slowdown in the U.S. economy, which would lead the
Federal Reserve
to stop raising interest rates. That, in turn, would lead to a sharp decline in the dollar, a bullish scenario for most dollar-denominated commodities.
Tuesday's release of the minutes of the Fed's late March meeting reinforced that scenario, even if the minutes were released after the close of gold trading on Nymex. Some Fed officials indicated their concerns that monetary policy is at risk of becoming too restrictive.
The minutes, coming on the heels of the tame PPI and the weak housing data, fueled bets that the Fed will call it quits after one more rate hike in May. Odds of another hike in June dropped to 32% from 54% on Monday, according to Miller Tabak.
The minutes sparked a rally for stocks on Wall Street, as the
Dow Jones Industrial Average
jumped up 195 points, or 1.8%. For the shares of metals miners, there was double bonus, as the dollar dropped further against most currencies. The dollar index lost 0.4% on the day.
The Philadelphia Gold and Silver index rose 2.0%, the Amex Gold Bugs index was up 2.3%, and the CBOE Gold index advanced 1.8%.
Among the biggest gainers, shares of
Gold Fields
(GFI)
advanced 3.5%,
Hecla Mining
(HL)
rose 2.1%, and
Coeur D'Alene
(CDE)
rose 2.7%.
Precious and base metals have also been rising because of less somber reasons than bombings and economic slowdowns. These include strong global growth and demand, especially from Asia, and diminishing global supply. Yet even there, some concerns are lurking beneath the surface.
Freeport Mc-MoRan
(FCX)
, which posted
stellar earnings on Tuesday, has had cause for concern about its Indonesian operations.
Protestors and social activists say Freeport Mc-MoRan's huge Grasberg gold and copper mine is hurting the Indonesian environment and that the company is not contributing to local development. The company had to shut down operations for three days in February amid clashes between protestors and its security personnel.
Those concerns didn't prevent the New Orleans-based mining giant from posting first-quarter earnings that almost doubled from the year earlier, easily beating analyst forecasts. Its shares gained 6.8% at $69.61, a new record high closing level. It earlier touched an all-time high of $70.68.
The stock rose on Monday after Indonesian president Susilo Bambang Yudhoyono refused to give in to the demands of protesters who want to close the Grasberg mine.
Still, because of these risks, Morningstar analyst Parvathy Krishnan keeps an "above-average" risk rating on the company and a fair value estimate of $38.00 on its shares. "We agree with management's description of Grasberg as a blessing and a curse," Krishnan writes.
Other mining companies, such as Denver-based
Newmont Mining
(NEM)
, have also faced environmental and social conflicts recently. But on Monday, Peruvian workers at Newmont's Yanococha mine, Latin America's largest gold mine, ended a strike over higher benefits, according to
Reuters
. Newmont shares gained 1.5% on Tuesday.