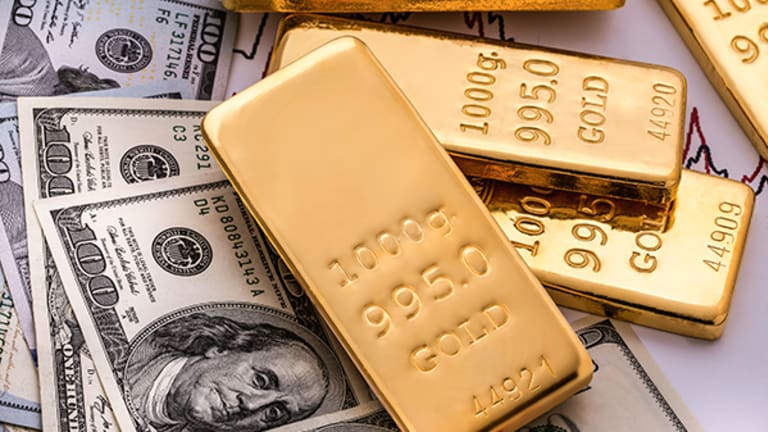 Gold's Run Far From Over, Experts Say
Gold has been on a huge run in 2016 as investors flocked to the shiny metal in the uncertain economy. But experts say the run is far from over.
America's Olympic athletes are reaching for the gold this week, but should investors do the same?
Gold has been on a tear in 2016, surging 26% and hitting a two-year high of $1,357 an ounce in July. Investors in gold-related exchange-traded funds, especially leveraged ones, have enjoyed even more explosive returns: VelocityShares 3x Long Gold ETN (UGLD) , for example, is up 93% in 2016, and a gold miners leveraged ETF, Direxion Daily Jr Gld Mnrs Bull 3x EFT (JNUG) , has climbed a whopping 839% this year.
But can the run in gold and gold-related stocks and ETFs continue much longer? Experts say hang tight, because the ride isn't over yet.
"I think we're still in the early innings," said Axel Merk, president and chief investment officer at Merk Investments. "I wouldn't be surprised to see $1,400 for the price of gold by the end of the year or even by October."
Industry experts see no catalyst on the horizon that will derail gold anytime soon and most expect the rally to continue for at least the next few quarters.
At least one fund manager believes gold will even surpass its 2011 all-time high of $1,921, although it could take several years, and a few setbacks and selloffs along the way, to get there.
"I think we're going to break that high," said Doug Groh, a portfolio manager at Tocqueville Asset Management and Tocqueville Gold Fund.
Generally, gold is considered a safe haven for investors seeking refuge during stock market selloffs, global economic turmoil, and a low interest rate environment. So, it's no surprise that 2016 has been a perfect storm for gold: the selloff in the equity markets in late 2015 and early 2016, the global uncertainty following the Brexit vote and decisions by the European Central Bank and national central banks in Japan, Sweden, Denmark and Switzerland to bring in negative interest rates all caused an investor rush toward gold.
"Gold, basically, is a hedge against uncertainty," said Nicholas Colas, chief market strategist at Convergex, a global brokerage and trading related service provider.
Even the uncertainty over the upcoming U.S. presidential election bodes well for the shiny metal.
"The election is a huge unknown and the market's interpretation of that could be significant," said Groh. "Donald Trump's election would be very positive for gold because he does like debt and seems to be extremely erratic, and gold thrives on financial anxiety."
Investors also turn to gold to diversify their portfolios. "Not everyone is rebalancing with bonds because bonds are kind of pricey too," said Merk. "Gold is the easiest - and we're seeing a broadening of interest."
Gold has been on a roller coaster ride since hitting an all-time high of $1,921 an ounce in September 2011. Since then, it lost more than 40% of its value, plunging to a low of about $1,046 in December 2015 before rebounding. In 2016, investors stampeded back into gold as they sought safety amid a shaky economy, volatile stock market and low interest rate environment.
However, red flags have cropped up recently that are making gold investors nervous.
The equity markets have shot up, with all three major U.S. stock indexes - the S&P 500, Nasdaq Composite and Dow Jones Industrial Average - hitting record highs on the same day for the first time since 1999. This milestone has raised speculation - and fear - that the Federal Reserve might start raising rates.
Generally, gold has an inverse relationship with interest rates.
Whenever Fed Chair Janet Yellen has talked about raising rates in the past, gold would often sell off. However, experts say the Fed has flipped its stance on rates so many times over the past 18 months - hawkish one month and dovish the next - that many gold investors are no longer troubled when the Fed starts talking about rate hikes.
"It's like the boy who cries wolf," said Groh.
And with July's disappointing retail sales numbers, another quarter of Corporate earnings declines, the adoption of negative rates in Europe and Japan, and the continued global macro-economic uncertainty, most experts don't expect the Fed to raise rates in the foreseeable future.
"Over the next three to five years, you will continue to see gold prices rise because all of these issues aren't going away anytime soon," said Colas.
Gold production is another factor. When gold plunged from its 2011 high, the industry slashed spending on exploration and new mine development. "Exploration budgets were cut more than half - by 75% in some cases," said Groh. And since it takes three to seven years to build a new mine, the industry potentially faces big supply shortages in 2017 and 2018 - which could drive gold prices higher.
With all of this bullish talk, should investors double-down or even triple their bets on gold and gold mining through leveraged ETFs?
Not necessarily, experts said. Many see gold as a long-term play, which is best achieved through physical gold, gold funds and non-leveraged ETFs.
Leveraged ETFs are for day traders who can watch their investments hour-by-hour, not for long-term investors, said Colas. While the potential gains from leveraged ETFs can be huge, so are the risks.
"They promise two or three times the return on an intraday basis - not on an extended period," said Merk. Gains - and losses - can come fast and hard.
"You could wake up with a $200 move down in gold with these ETFs," said John Blank, chief equity strategist at Zacks Investment Research. "As soon as everybody panics or a short position gets put on an ETF, which happens all the time, they can plunge." Blank recommends investors not stay in leveraged gold ETFs more than three months, and put "sell-stop" orders on them to protect themselves from sudden selloffs.
While most are bullish on gold's long-term prospects, they say it doesn't mean there won't be selloffs along the way.
"It doesn't mean gold will go up every day, every month or every year," said Merk. "But it's a good diversifier, and since 1971, gold has had an annual return of about 8%."
--------
Here's a list of some of the year-to-date returns on some of the more popular gold and gold mining ETFs and funds.
ETFs that track gold or gold futures include:
SPDR Gold Shares (GLD) - up 27% year-to-date
Ishares Gold Trust (IAU) - up 27%
ETFS Physical Swiss Gold Shares (SGOL) - up 27%
UBS ETRACS CMCI Gold Total Return ETN (UBG) - up 26%
VanEck Merk Gold Trust (OUNZ) - up 27%
Tocqueville Gold Fund (TGLDX) , which invests in gold, precious metals, and securities of gold-related companies, including mining firms, has generated returns of 94% so far this year.
Leveraged gold ETFs, include:
ProShares Ultra Gold (UGL) - up 57% year-to-date
DB Gold Double Long ETN (DGP) - up 60%
VelocityShares 3x Long Gold ETN (UGLD) - up 93%.
Gold mining stock ETFs include:
Market Vectors Gold Miners ETF (GDX) - up 123% so far in 2016
VanEck Vectors Junior Gold Miners ETF (GDXJ) - up 160%
Leveraged ETFs in the mining sector include:
Direxion Daily Gold Miners Bull 3X ETF (NUGT) - up 561% year-to-date
ProShares Ultra Junior Miners (GDJJ) - up 447%,
Direxion Daily Jr Gld Mnrs Bull 3x EFT (JNUG) - up 839%
This article is commentary by an independent contributor. At the time of publication, the author held TK positions in the stocks mentioned.