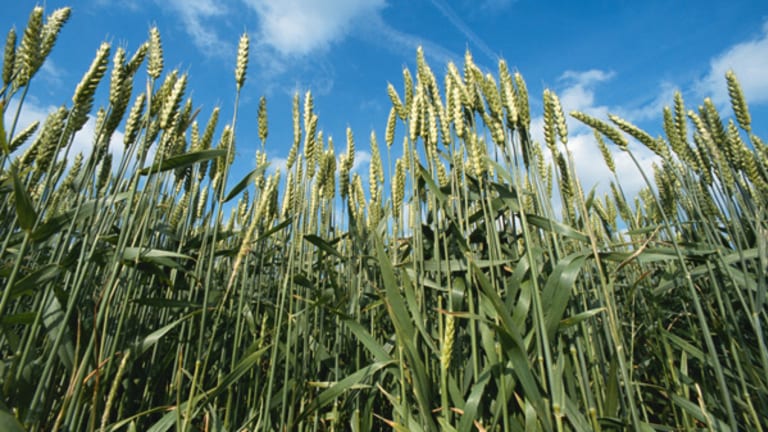 Gold Prices Finish With Roar
Gold prices close the trading session far beyond their previous record of $1,700 an ounce Tuesday.
Gold prices close the trading session far beyond their previous record of $1,700 an ounce Tuesday.

NEW YORK (TheStreet) -- Gold prices finished the trading session far beyond prior record $1,700 an ounce Tuesday as investors clung to fears about a double-dip recession in the United States after the historic downgrade of the government's credit rating by Standard & Poor's.
Gold futures for December delivery rose $29.80 to settle at $1,743 an ounce after soaring to an all-time high of $1,782.50 an ounce at the Comex division of the New York Mercantile Exchange. The gold price traded as high as $1,782.50 and as low as $1,717.70, while the spot gold price rose $13.50 to $1,730.70, according to Kitco's gold index.
Gold prices climbed for the second straight day, lurching higher overnight to touch new all-time highs in a number of currencies including euros, the British pound sterling, the Japanese yen, the Canadian dollar and the Indian rupee.
"The world's capital markets are increasingly concerned that the global economy is heading towards another downturn only three years since the failure of Lehman Brothers and the onset of recession in 32 out of 34 OECD (Organisation for Economic Co-operation and Development) economies," said World Gold Council managing director Marcus Grubb. "Against this backdrop, together with strong Asian gold demand and continued purchasing by central banks, gold continues to demonstrate its attributes as a hedge against credit risk, currency risk and inflation or deflation risk."
Although prices later backed off a bit from their overnight rally,
Fastmarkets
analyst James Moore believed that this was merely be short-term profit-taking.
"Much of the demand has been seen in the OTC and ETF
exchange-traded fund investment sector and reflects genuine concerns investors have towards the financial markets," Moore said.
"As a result, we expect dips to be viewed as buying opportunities with gold to continue to test higher," Moore said.
At the same time, the analyst cautioned that there's the potential that the large exchanges could implement a margin hike, as they did with silver, and that could pressure gold prices.
On Monday, the world's largest gold exchange-traded fund
SPDR Gold Trust
(GLD) - Get Report
reported its highest daily inflows since May of last year at 23.6 tons, with holdings now just under the all-time high of 1,310 tons seen in June 2010.
Meanwhile, net long positions in gold widened to a record high of 228,800 contracts in the week leading up to Aug. 2, according to the latest Commodity Futures Trading Commission data.
On Tuesday afternoon, members of the Federal Reserve's open market committee said that theyhad voted to keep the key interest rate at near-zero levels at least through mid-2013 as long as economic conditions remain subdued. But they did
of another round of
that gold bulls had hoped for.
News of more government stimulus would have likely triggered more gold rallies down the road.
Commerzbank analysts warn that financial investors are still responsible for much of the recent rises in the price of gold -- and "in our view ... the rise is excessive."
fell $1.85 to $37.18 an ounce. The
ticked down 1.2% to $74, while the euro rose 1.2% to $1.4346 vs. the dollar.
"Silver has no longer been able to keep pace with gold's strong upward trend and has actually dipped this morning, in contrast to gold. This shows that silver is increasingly seen as more of a base metal than a crisis currency," Commerzbank analysts said.
and funds settled in positive territory.
SPDR Gold Trust
(GLD) - Get Report
rose 1% to settle at $168.77, while
Yamana Gold
(AUY) - Get Report
gained 5.1% to $14.14.
Barrick Gold
(ABX)
finished 3.5% ahead at $47.74 and
Kinross Gold
(KGC) - Get Report
added 4.4% to $15.98.
-- Written by Andrea Tse in New York.
>To contact the writer of this article, click here:
Andrea Tse
.
Readers Also Like:
Rating Cut, Stock Slump Trigger 'Buy' Signal
Defend Against Downgrade With Dividends
Copyright 2011 TheStreet.com Inc. All rights reserved. This material may not be published, broadcast, rewritten, or redistributed.