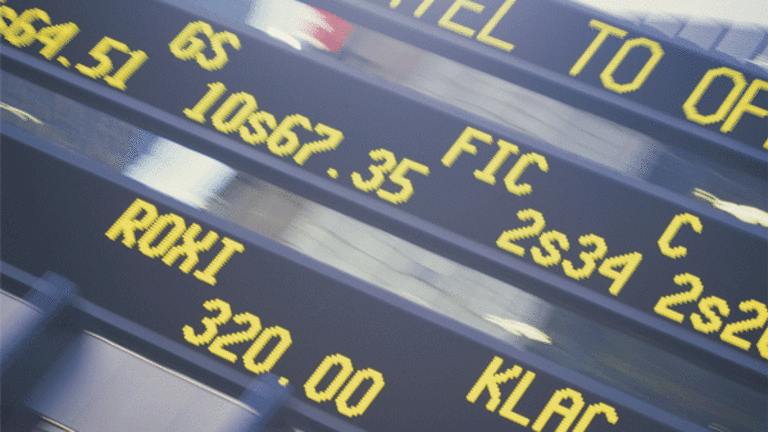 Gold Kisses $600, Retreats
The precious metal continues to test key levels, helping push silver and copper higher as well.
Updated from 1:49 p.m. EDT
Gold touched another 25-year high at $600 an ounce on Thursday, leading other metals to new territory.
The precious metal again found its momentum from rising crude oil prices, which gained 87 cents to $67.94 a barrel after touching a two-month high of $68.20. Crude rose after U.S. data sparked concerns that refiners won't be able to meet gasoline demand for the summer driving season.
Gold for June delivery finished at $599.70 an ounce, up $7.20, after touching a high of $601.9 earlier in the session. Silver closed at $12.045, up 3.4 cents, after touching a 22-year high of $12.08. Copper, meanwhile, rose to another all-time high of $2.646, adding 5.05 cents.
"We're feasting," says Peter Grandich, metals analyst and editor of the Grandich Newsletter.
After racing through $500 in November, gold has tacked on another $100, a 20% increase, in just four months. That's an impressive move which has even gold bugs declare the precious metal currently in overbought territory. But gold had taken a breather along the way. After hitting $580 in February, it slumped back to $540 in March before powering ahead towards $600.
"We can stay in overbought territory for much longer than normal," Grandich says."It might seem as if it's out of hand but that's what happens in secular bull markets."
Grandich, however, is not as bullish on copper and silver, whose prices have gone up in a straight line and haven't shown the same self-correcting behavior seen in gold last month.
Gold bears, meanwhile, are eyeing the next line of resistance at around $650-$675 an ounce. "That's their last line of defense," Grandich says. When gold last went through $650 in 1980, it then jumped to $850 in just a few weeks.
But a correction could be seen before $650 is even tested. Among other factors, it might be sparked by silver, according to Grandich. Silver, which is soaring in anticipation of the launch of a silver exchange-traded fund (ETF), may well correct sharply when the ETF launches, says Grandich. The ETF, which would be similar to the
streetTRACKS Gold
(GLD) - Get Free Report
ETF, is still undergoing regulatory review.
Meanwhile, the key level for gold comes a day ahead of U.S. employment numbers for March, which markets await eagerly to figure out whether the
will stay on inflation-fighting mode.
Gold Bucks Up
Gold -- which serves as a hedge against inflation -- and other commodities -- which tend to reflect high liquidity levels in global financial markets -- have been on a tear in the first quarter of 2006 after surging last year.
Expectations that the Fed will soon stop raising interest rates -- because, in the words of Fed officials, inflation and "inflation expectations remain contained" -- should not be so friendly for gold.
However, gold bugs are eyeing not just U.S. but also global inflation trends. Both the Bank of Japan and the European Central Bank have signaled that they would respond to rising inflationary pressures stemming from global growth and energy prices. In Japan, short-term rates rose sharply Thursday on news the nation's monetary base posted its first year-over-year decline since January 2001, evidence of tighter monetary conditions.
In that context, should the Fed stop raising rates, the main impact from a gold bugs' perspective would be a weaker U.S. currency - a big positive for gold, which is priced in dollars.
On Thursday, the dollar gained vs. the euro after the ECB held rates steady and downplayed expectations of a May rate hike. The greenback also advanced vs. the yen on expectations of a strong U.S. jobs report on Friday.
Economists polled by
Reuters
on average expect the economy added 190,000 jobs in March, compared with 243,000 in February. Average hourly earnings are expected to rise 0.3%, the same as in February, and the unemployment rate is expected to stay at 4.8%.
Gold's reaction to the report is therefore anyone's guess. A stronger-than-expected report might fuel inflation expectations, a bullish signal for gold in itself. But a weak report might fuel expectations that the Fed is done, hurting the dollar.
Gold might also again be taking its cues from energy prices. A lot might depend on whether some of the hot money currently in gold and other metals wants to bail out, even just temporarily.
Regardless, gold bugs are patiently awaiting for the dollar to weaken once the Fed stops raising rates, presumably later this year. The currency, they expect, would then be pulled lower by the massive current account deficit.
For some, such as GoldMoney.com founder James Turk, it's not just the dollar that's the problem. "Gold has been rising not just in dollar terms but in all of the world's currencies," Turk says. "Inflationary pressures are huge, trade imbalances are out of line and everybody, including central banks, is diversifying out of national currencies, just like in the 1970s."
On Thursday, Chinese Premier Wen Jiaboa was the latest Chinese official to signal the country aims to diversify its massive foreign exchange reserves away from dollars, according to
Bloomberg
.
Meanwhile, the stocks of metals miners were shining brighter than other stock indices on Thursday. The Philadelphia gold and silver index gained 1.6%, the Amex Gold Bugs index rose 1.9%, and the CBOE Gold index advanced 1.3%.
Big gainers included
IamGold
(IAG) - Get Free Report
, up 5.5%, and
Golden Star
(GSS) - Get Free Report
, up 5.8%.
On the downside were
Harmony Gold
(HMY) - Get Free Report
, down 0.4%, and
AngloGold Ashanti
(AU) - Get Free Report
, down 0.06%.
Phelps Dodge
(PD) - Get Free Report
, dropped 1%, after gaining 10% between last Friday and Wednesday's close. The stock rose 3.6% Wednesday after the company hiked its quarterly dividend to 20 cents from 18.75 cents and announced a special dividend of $2 a share for the second quarter. Citigroup expects the firm will give another special dividend of $2 in the third quarter and of $1.75 in the fourth.