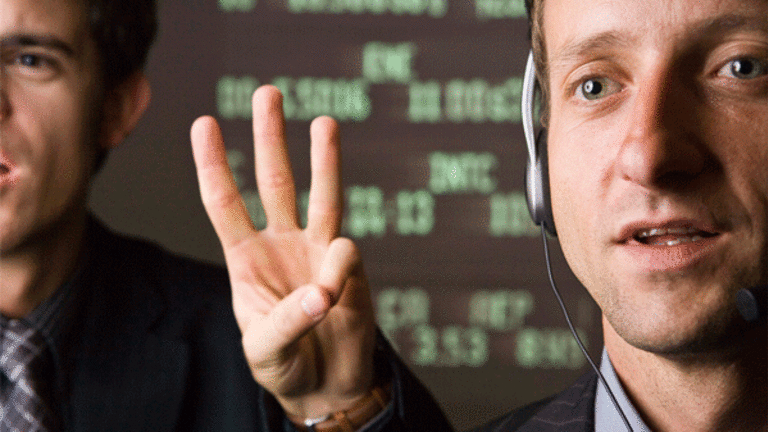 Gold Follows Crude Higher
The yellow metal enjoys a reprieve after its recent thrashing, but caution prevails.
Firmer oil prices helped gold bounce Monday, despite a mixed dollar.
Rising tensions in the Middle East lifted oil higher as investors focused on the possibility of reduced energy supplies out of the Persian Gulf, especially if the dialogue with Iran breaks down. That led contract prices for October delivery of light sweet crude to lift to an intraday high $63.66 a barrel, before retreating to close at $63.56, up 11 cents.
An elevated price of oil is viewed by some as a primary driver of inflation. And since gold is seen as a reliable hedge against rising prices, it wasn't too much of a surprise that gold staged a mini rally.
It's also possible that traders may have been worn out from two weeks of selling that saw London spot prices retreat about 8% during the first half of the month. Hedge-fund liquidation and central-bank selling were cited as the reasons for the selloff.
Contracts for December delivery of the yellow metal closed up $9.80 and $592.80 an ounce on the Comex division of the New York Mercantile Exchange, and shares of the bullion exchange-traded funds followed suit, with
streetTRACKS Gold Shares
(GLD) - Get SPDR Gold Shares Report
and
iShares Comex Gold Trust
(IAU) - Get iShares Gold Trust Report
both lifting more than 1%.
"Be warned that one day does not undo the legacy of the past several sessions," writes metals analyst Jon Nadler in a daily market brief for Montreal bullion dealer Kitco. "Repair work will be intensive and prolonged. Not many want to repeat the lessons learned two Tuesdays ago -- a fake breakout followed by a scary slump."
Other news included data that the U.S. current account deficit widened to $218.4 billion in the second quarter from $213.2 billion in the first quarter. That left the currency markets mixed with the dollar buying 117.885 yen, up from 117.56 late Friday. But the greenback was down against the euro, which was trading at $1.27 vs. $1.2662 previously.
Gold prices typically move inversely with changes in the price of the dollar. However, strong imports also point to a robust economy and the prospects that short-term interest rates will remain relatively high. But longer term, it may point to a lower U.S. dollar, especially if foreign entities stop buying greenbacks, and that factor may have further buoyed bullion prices. On that front, the Treasury International Capital Systems, or TIC, data for July showed that net capital flows into U.S. assets fell to $32.9 billion in July from $75.1 billion in June. The flows are the weakest since 2005 and fall short of covering the $68 billion trade deficit for July.
Others see the day's rally continuing for a few more sessions.
If the
Federal Reserve
fails to raise short-term interest rates when it meets Wednesday, and if long-awaited Asian demand kicks in, bullion could gain $50 to $75 an ounce for the next 10 days, writes Neal Ryan, director of economic research at New Orleans-based precious metal coin dealer Blanchard.
Rallying more than most among the miners were
Glamis Gold
(GLG) - Get TD Holdings Inc. Report
, gaining 5%, and
Bema Gold
( BGO), lifting 4.4%, both benefiting from the higher price of bullion.
In base metals, contracts for December delivery of copper were also gaining, closing up 10.3 cents at $341.50 a pound on the Comex.
Shares of copper miners
Southern Copper
( PCU) and
Phelps Dodge
( PD) were trading up about 2.5% benefiting from the rally in the red metal.
Diversified miner
Anglo American
( AAUK) was rallying 4% recently.