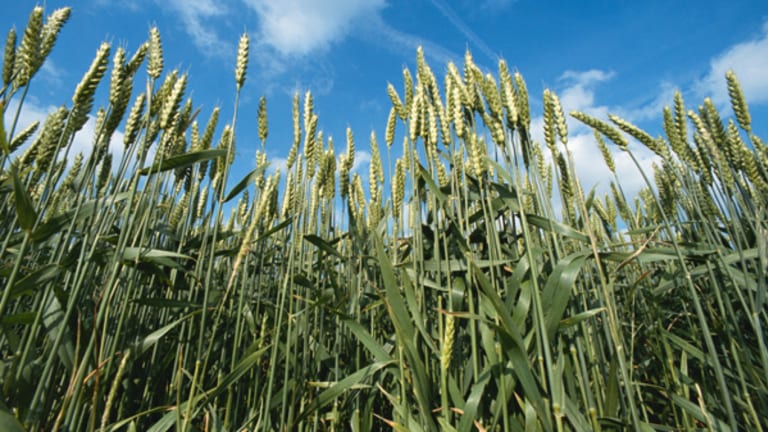 Gold Ekes Out Late Gain
Early weakness is reversed.
Updated from 12:26 p.m. EDT
Gold and metals reversed early losses to close higher Wednesday, helped by a weakening dollar and by crude oil prices again topping $70.
A rally on Wall Street also helped improve the mood, lifting metals-mining shares, as investors put interest-rate jitters and concerns about global economic growth behind them, even if just for one day.
Gold for August delivery finished up $10.50, or 1.8%, at $591.00 an ounce. Among other metals, silver for July delivery rose 15 cents, or 1.5%, to $10.42 an ounce and copper for July delivery gained 1.8 cents, or 0.6%, to $3.11 a pound.
"Looks like gold did indeed wish to have a better day than at the start," says Jon Nadler, investment products analyst at bullion dealer Kitco.
With little economic news to provide a direction, metals were mostly drifting lower early on Wednesday, but heightened tensions over Iran's nuclear ambitions and a jump in crude oil prices revived demand for the yellow metal, which often serves as a safe-haven asset and a hedge against inflation.
The day after President Bush threatened Iran with UN Security Council action should it refuse a package of incentives to stop its nuclear program, Iranian President Mahmoud Ahmadinejad said Wednesday that a review of the package will take until the middle of August.
Concerns over supply disruption from Iran, the world's fourth-largest producer of crude oil, have kept a premium on the price this year. Following Ahmadinejad's comments, crude oil closed up 90 cents to $70.25 a barrel. It also received a bid after a weekly report showed a smaller than expected rise in U.S. gasoline supplies.
For Nadler, gold's performance Wednesday provides hope that the correction that slashed 20% from the metal's May highs might be nearly over. "Should $585 hold for a few sessions, the market might just acquire on a whole new shine
... at least until we can go past the
Federal Reserve meeting next week."
Commodities and global markets have been rocked for over a month amid nervousness that global central banks are raising rates to curb growth and inflationary pressures, notably from surging commodities prices.
At the core of concerns is uncertainty over whether the Fed will lift interest rates too much and trigger a slowdown of the U.S. economy, which is already showing signs of decelerating.
"There are reports from market analysts expressing a growing concern about the cumulative effect that incessant interest rate rises will have on the credit-addicted U.S. consumers, who now account for almost 70% of the economy," Nadler writes.
Slowing U.S. consumption, which has gobbled up the exports of fast-growing economies such as China over the past few years, would be a drag on the global economy and hurt demand for commodities.
Metals and other commodities, which have soared over the past few years amid a strong global growth outlook, have taken a beating, especially as the dollar strengthened over the past month. A stronger greenback pressures the price of dollar-denominated commodities, such as gold, as it takes less of the currency to buy the same amount of gold.
The dollar, which had been declining since late last year, received a jolt in mid-May, as the Fed clearly signaled it would again hike rates at the end of June. The market is also increasingly pricing in another quarter-point hike later this year.
But with markets now in a wait-and-see mode ahead of the Fed's meeting next week, the dollar moved lower Wednesday. The Dollar Index, which tracks the greenback against a basket of key currencies, was recently down 0.6%.
"The specter of rising interest rates has reappeared, as have the U.S. dollar's woes, despite the prosthetic device of a quarter percent offered by the Fed," Nadler writes.
Besides the Fed, many central banks are also increasingly backing up their inflation-fighting rhetoric with actual rate hikes. Adding to dollar weakness on Wednesday, European Central Bank President Jean-Claude Trichet signaled more rate hikes were likely in the eurozone this year.
"We are not satisfied with what we are observing with regard to inflation in our own area," Trichet said in a speech at the European Parliament, according to
Bloomberg
. "We'll continue to do all that's necessary to counter inflationary risks and anchor inflationary expectations."
Likewise, Bank of Japan Governor Toshihiko Fukui on Tuesday fueled expectations that the BOJ will hasten a process to unravel its 5-year-old policy of keeping interest rates near zero. Fukui said that interest rates need to move from zero "without delay."
Meanwhile, metals-mining shares were sharply higher in recent action, tracking a broad rally on Wall Street. The Philadelphia Gold and Silver index was recently up 4%, the Amex Gold Bugs index was up 5.1% and the CBOE Gold index was rising 5.6%.
Among the biggest gainers,
Agnico Eagle Mines
(AEM) - Get Agnico Eagle Mines Limited Report
was up 7%,
Gold Fields
(GFI) - Get Gold Fields Limited American Depositary Shares Report
was up 8% and
Hecla Mining
(HL) - Get Hecla Mining Company Report
was up 6%.
Glamis Gold
(GLG) - Get TD Holdings Inc. Report
jumped 9% after the Reno, Nevada-based miner doubled the estimate of gold reserves at its Penasquito mine in Mexico.
The recently launched
Market Vectors-Gold Miners
(GDX) - Get VanEck Gold Miners ETF Report
exchange-traded fund, which tracks the performance of the Amex Gold Miners Index, was up 4.8%.
ETFs tracking the metals themselves were also rising. The
iShares Silver Trust
(SLV) - Get iShares Silver Trust Report
was up 3%, and the
StreetTRACKS Gold Trust
(GLD) - Get SPDR Gold Shares Report
was rising 2.4%.