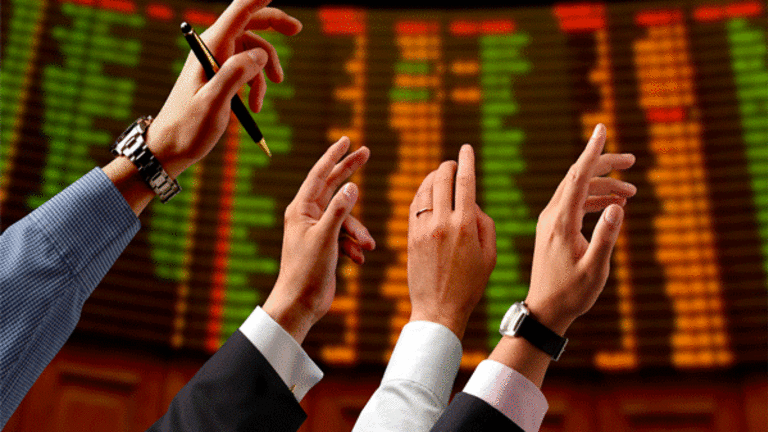 Global Commodity Trade: Precious Metals, Oil
A look at near-term action in gold, silver and oil.
The following commentary comes from an independent investor or market observer as part of TheStreet's guest contributor program, which is separate from the company's news coverage. The opinions expressed are those of the author and do not represent the views of TheStreet or its management.
NEW YORK (
) -- Global commodity trade has a very similar look and feel to that of 2011 equity moves, which have been very well supported as global precious metal markets drive gold and silver higher, backed by massive speculative interest coming into oil trade. These three markets have reflected the importance of diversification in a balanced portfolio, and have become incredibly important as stand-alone asset classes that will battle the manipulation being seen in U.S. dollar valuations.
The long signal on gold that came on February 14, which broke higher from 1365, has completed its upside cycle. A test of support at 1390 on gold bullion is now in place, and traders will wait for confirmation that the recent dip from 1410 toward 1390 will get bought in trade on Tuesday.
It needs to be noted that a near-term cycle of trade should be witnessed before new long positions are instigated, and before February profits are banked too early. A new signal will not be seen, at least until Wednesday, when traders will have been able to absorb near-term price action, and global market reactions to breaking news headlines.
Silver bullion traders have seen an extremely bullish asset class develop over the course of 2011, with potentially more upside in percentage gains than could be expected out of the gold bullion market. The long silver signal from February 17 that broke 30.80 has completed its upward cycle, and no new signals will be issued until the recent price action has been confirmed as being able to hold support. The move lower from 34.50 to 32.50 looks to be a natural reversal that banks a part of February's profit, but without instigating a clear signal for any kind of continuation.
West Texas intermediate, the most liquid of all global oil contracts, heavily reversed the recent short trend that had held WTI prices in a three dollar channel between 87 and 84, with an explosive move higher on February 18 that added over 10% in value in two trading sessions. The fact that the move higher on WTI was fundamentally based will now require those same fundamentals to remain intact if $100 a barrel is to be seen anytime soon.
It should be noted that global market expansion and growth are not the reasons for the dramatic moves higher in oil trade, and therefore, just as quickly as the headlines appear, West Texas intermediate oil trade could be seeing $87 a barrel again.
In general, a period of consolidation is now in place, and traders would be well advised to hold existing positions rather than looking for new opportunities in global commodity markets. As this week unfolds, a very clear picture will form in regard to fair value on global commodity trade.
Marco Hague is one of the founders and principals of The London Forex Broadsheet (commonly known as TheLFB), a global forex trader portal with headquarters in the U.S. Hague began his career with the Bank of England dealing with foreign exchange control, and he has been trading for the last three decades. He has been involved with institutional risk asset ratio analysis and the implementation and maintenance of institutional trade desks globally.