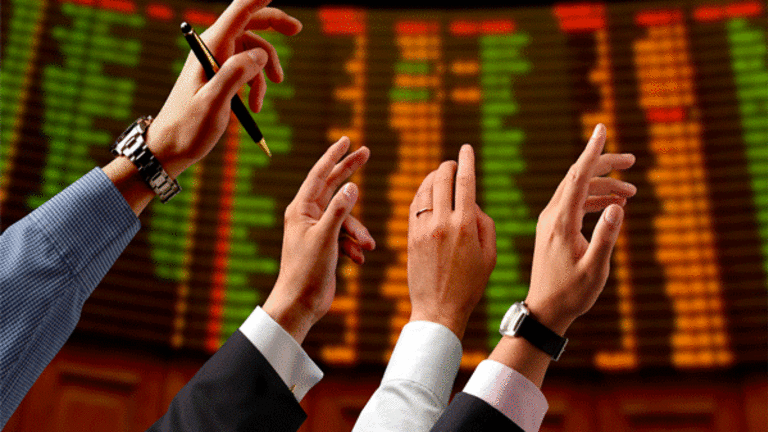 Gas Prices Off Highs on Demand Outlook
Gasoline prices were coming off highs Monday afternoon as the markets began worrying again about depleting demand.

NEW YORK (TheStreet) -- Gasoline prices were coming off highs Monday afternoon amid rising concerns over depleting demand.
The October gasoline contract was rising marginally, up 0.1% to $2.7894 a gallon.
Earlier, gasoline prices touched a five-day high of $2.8109 a gallon, as promising consumer-spending data lifted sentiment across the crude oil and equity markets.
"
Unleaded gasoline prices were pushed up at the tail end of last week on concerns that refineries would suffer severe damages or disruptions. This did not turn out to be the case," said Schork Report analyst Hamza Khan. "However, the bulls found a lifeline from better-than-expected personal expenditure numbers."
The government on Monday reported that personal spending rose 0.8% in July, besting expectations and a significant improvement on the previous month's decrease of 0.2%. Personal income rose 0.3% compared with a gain of 0.2% in June.
On a more sobering note though, pending home sales dropped 1.3% in June, in line with estimates, after July saw a 2.4% rise, according to the National Association of Realtors.
"Hurricane Irene caused only minor issues with East Coast refining and initially caused a selloff in gasoline, but was driven higher by strong crude prices," optionsXpress analyst Michael Zarembski agreed. "We are seeing some bear spreading in Sep.- Oct gasoline, taking back some of the gains from last week's run-up."
"We will need to see some better demand numbers this week to hold the rally," Zarembski warned. But "this may be difficult given the curtailed demand expectations form the East Coast due to Irene."
Some East Coast residents were remaining at home as they waited out the after effects of the storm. Given that about one-third of total U.S. gasoline demand comes from the East Coast, this was expected to a take a bite out of gasoline demand.
According to the latest MasterCard SpendingPulse gasoline demand report for week ended Friday, Aug. 19, demand decreased by 4.2% compared with the same time last year. The four-week moving average recorded its twenty-second consecutive year-over-year decline, down 3.8% compared with the same time a year ago.
The macroeconomic indicator is based on aggregate sales and services activity in the MasterCard payments network.
Further out, Hamza expects consumers to receive a break at the pump amid the switch from expensive summer grade gasoline to the cheaper winter blend. "That does not necessarily mean prices will go down, but that any increase at the pump should be muted," he said.
Tom Kloza, chief oil analyst at the Oil Price Information Service, however, thinks that the markets may be witnessing the most expensive last four months of any year for gasoline. He said that the U.S. consumers are on course to spend about $540 billion on gasoline this year -- about $50 billion above the previous record.
-- Written by Andrea Tse in New York.
>To contact the writer of this article, click here:
Andrea Tse
.
Copyright 2011 TheStreet.com Inc. All rights reserved. This material may not be published, broadcast, rewritten, or redistributed.