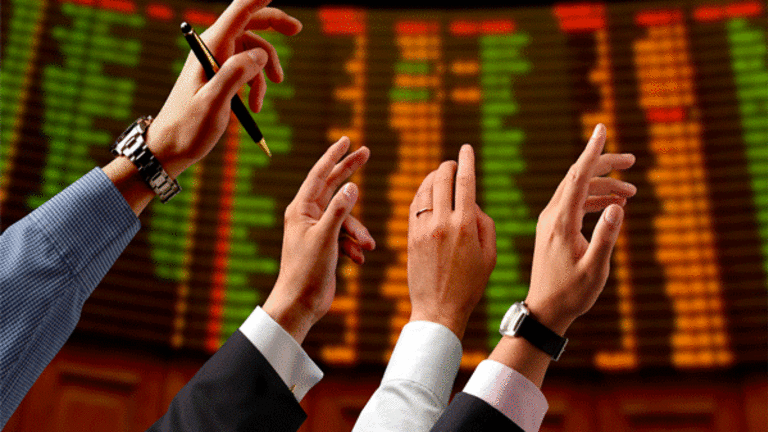 Freeport Shares Slide on China Concern
The copper company trimmed production levels, but the real worries are about Chinese demand.
BOSTON (TheStreet) -- Freeport-McMoRan Copper & Gold (FCX) - Get Freeport-McMoRan, Inc. (FCX) Report had its worst share-price decline in two months on concern China will slow its economy, the biggest buyer of copper in the world.
The shares dropped as much as 5.2% to $109.15. Earlier in the day, Freeport lowered its production forecast for this year because of a mine in Indonesia.
Freeport said it would sell 3.85 billion pounds of copper, less than a previous forecast of 3.9 billion. The company expects gold sales of 1.4 million ounces, 100,000 ounces less than an earlier estimate.
Freeport fell on worries that China would slow rein in growth and slow demand for metals. Demand from China, which buys about 40% of the world's copper, outweighed that from U.S. market, where demand remains sluggish due to the lack of new home building.
After all, net income climbed 60% to a record $1.55 billion, or $3.25 a share, from $971 million, or $2.15, a year earlier, Freeport reported today. Sales gained 22 % to $5.6 billion.
Standard & Poor's
analysts had projected fourth-quarter earnings of $2.49 per share, bringing earnings for 2010 to $8.38, which agrees with its poll of 18 analysts. The company posted earnings of $5.86 per share in 2009.
Fourth-quarter results were boosted by record copper prices and consistently high gold prices in the period. Copper for delivery in three months on the London Metal Exchange averaged $8,614 a metric ton in the fourth quarter, 29% more than a year earlier.
Company executives said in conjunction with the release of earnings that the Phoenix-based company expects lower gold and copper sales from its mine in Indonesia this year, due to a production shift to lower grades of ore, but North America and Africa copper sales are expected to offset some of that.
S&P analysts estimate 2011 earnings will grow to $9.24 per share, while an S&P poll of 18 analysts resulted in a mean earnings estimate of growth of 26% to $11.14.
On Jan. 14, S&P lowered its rating to "sell" from "hold," with the view that shares have had a sharp run-up and the stock is now overvalued.
Other metals and mining industry bellwethers scheduled to report earnings in coming weeks are
U.S. Steel
(X) - Get United States Steel Corporation Report
, on Jan. 25;
Nucor
(NUE) - Get Nucor Corporation Report
, on Jan. 27;
ArcelorMittal
(MT) - Get ArcelorMittal SA ADR Report
, on Feb. 8; and
Newmont Mining
(NEM) - Get Newmont Goldcorp Corporation (NEM) Report
, on Feb. 24.
U.S. Steel's shares are up 1.8% at midday, to $53.28, while Nucor is up 1% to $44.24. ArcelorMittal gained 1% to $35.62, and Newmont is up 1% to $44.29.