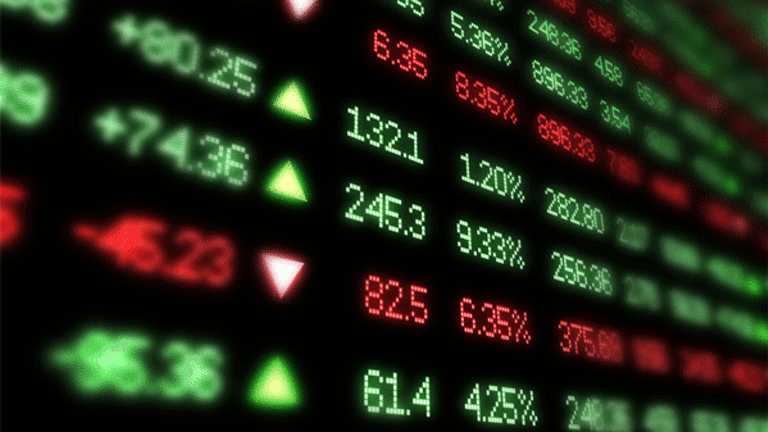 For Gold, Everything's Coming Up Roses
A plethora of bullish developments push the precious metal to a fresh 25-year high.
Updated from 1:04 p.m. EDT
Gold bugs' only problem on Monday was trying to determine which of a myriad of bullish factors best explain yet another move to fresh 25-year highs. The usual suspects -- inflation, geopolitical tensions, and a weak dollar -- were all present after a three-day weekend.
Most visibly, crude oil topped $70 a barrel amid heightened concerns about Iran's nuclear ambitions. Crude finished the session on a gain of $1.08 at $70.40 a barrel.
Gold for June delivery surged $18.70, or 3.1%, to $618.80 an ounce, off an earlier 25-year high at $619.30. Other metals followed gold's lead, with silver rising 51 cents to $13.36 an ounce, off a 22-year high of $13.38. Copper finished up 7.95 cents at $2.895 an ounce, after hitting yet another all-time high at $2.935.
Ali Larijani, Iran's National Security Council Secretary, said Western requests that Iran stop its nuclear-enrichment program are "illogical," according to Iranian news agency
ISNA
.
The standoff between Iran, the world's fourth-largest producer of crude oil, and Western countries has sparked concern over supply disruption. Crude oil prices are at levels unseen since last September when Hurricane Katrina disturbed Gulf Coast production.
Gold's surge so far this year has been fueled both by rising geopolitical tensions, as the precious metal serves as a safe haven, and by the inflationary pressures from surging energy prices, as gold also acts as a hedge against inflation.
Other metals have mostly followed gold's lead, but with their own twists. Silver has been surging even more amid expectations that a soon-to-be-launched exchange-traded fund (ETF) will boost demand for the metal. The fund, much like the
streetTRACKS Gold
(GLD) - Get Free Report
ETF, should make investing in the commodity easier for retail investors.
Copper, meanwhile, has reached new highs amid continued signs of global economic growth.
China reported first-quarter GDP growth of 10.2% on Friday, which sent copper sharply higher while U.S. markets were closed, according to Nell Sloane, metals analyst at NSFutures.com. "It certainly feels like the flow of money toward all metals is accelerating," she wrote in her daily commentary.
Gold and metals, which are dollar-denominated, also received a boost Monday from dollar weakness. A weak greenback normally boosts the value of dollar-denominated commodities, as it takes more dollars to buy the same amount of goods.
The dollar index, which measures the U.S. currency vs. most key world currencies, fell 1% Monday. The drop came after a
Wall Street Journal
article on Friday suggested that the
is not committed to hiking interest rates beyond May 10.
Markets are also eagerly awaiting the release of the minutes from the Fed's March 28 meeting, due Tuesday, which might provide clues about the intentions of central bankers.
Gold bugs have long speculated that a sharp slowdown in the U.S. economy will weaken the dollar this year, further boosting the precious metal's value.
Those theories appeared validated after more bearish news from the U.S. housing market. The National Association of Home Builders said its housing market index dropped to 50 in April, its lowest level in four and a half years.
So far, the dollar has remained supported by the Fed's 15 successive rate hikes since June 2004. But once the Fed stops, the dollar will have to weaken to rebalance the soaring U.S. current account deficit, gold bugs believe.
What has kept the dollar afloat to date has been continued inflows of foreign capital into U.S. assets -- providing the "funding" of the current account deficit. On that front, the dollar received support on Monday after a report showed foreign investment into U.S. assets had
increased in February.
But China, which has become the largest holder of foreign currency reserves in the world, has repeatedly said it wants to diversify its reserves away from dollars. On Monday, Cheng Siwei, vice chairman of the Standing Committee of the National People's Congress, called for a reduction of Chinese purchases of U.S. debt, according to
Bloomberg
.
With all the uncertainty surrounding the dollar, gold bugs believe that the precious metal will increasingly act as a hedge for countries, such as China, which seek to invest a surplus of savings in financial assets.
"The choice of currency in which to hold their surpluses is limited," writes Peter Spina, gold analyst at goldseek.com. "This choice is further restricted by the need to hold the dollar in their reserves with which to buy oil."
Gold should therefore remain a hedge against potential dollar weakness for a long while, according to Spina.
In the meantime, nervousness about the U.S. economy and the Fed's intentions -- together with rising geopolitical tensions, and the surging price of crude oil and gold -- affected the broader stock market on Monday. The
Dow Jones Industrial Average
dropped 0.6% and the
Nasdaq Composite
fell 0.8%.
This weakness, in turn, further boosted the safe-haven attraction of precious metals and the investment attraction of the metals miners stocks.
"We've got inflation with oil at $70 and copper and zinc boosting input costs on the one hand, and a slowing housing market on the other," says Amaury Conti, an equity trader for Austin Calvert & Flavin, an investment adviser based in San Antonio, Texas. While Chinese growth remains very strong, "looking at everything that's on the table, hard assets are still a very good place to be," he says.
Meanwhile, the stocks of metals miners finished sharply higher on Monday, with many hitting new all-time highs. The Philadelphia Gold and Silver index rose 4.3%, while both the Amex Gold Bugs index and the CBOE Gold index advanced 4%.
New Orleans-based
Freeport McMoran
(FCX) - Get Free Report
, which is expected to report earnings on Tuesday, advanced 2.6% to $65.19, an all-time high close.
The stock also got a lift after news that Indonesian president Susilo Bambang Yudhoyono refused to give into the demands of protesters who want to close a huge ore-mine operated by Freeport. Protesters say the mine is polluting the environment while Freeport is not sharing any profits with local people, according to the
Associated Press
.
Amongst the biggest gainers,
Kinross Gold Corp
(KGC) - Get Free Report
rose 6.3%,
Glamis Gold
(GLG) - Get Free Report
rose 4% and
RandGold Resources
(GOLD) - Get Free Report
advanced 5.7%.
South Africa's
Gold Fields
(GFI) - Get Free Report
advanced 3.5% to $24.00 after flirting with its 52-week high of $24.17. Canada's
Goldcorp
(GG)
rose 3.3% to $30.98 after hitting a 52-week high at $31.12. Britain's
Rio Tinto
( RTP) gained 2.9% at $223.19 after touching a 52-week high at $224.40
Chemicals group
Engelhard
(EC) - Get Free Report
, which uses precious metals to manufacture its products, still rose Monday after Germany's
BASF
( BF) said it would extend its $4.9 billion unsolicited offer for the New Jersey company by two weeks. Engelhard gained 0.2% to $39.42 and BASF rose 0.5% to $78.
In keeping with TSC's editorial policy, Godt doesn't own or short individual stocks. He also doesn't invest in hedge funds or other private investment partnerships. He appreciates your feedback;
to send him an email.