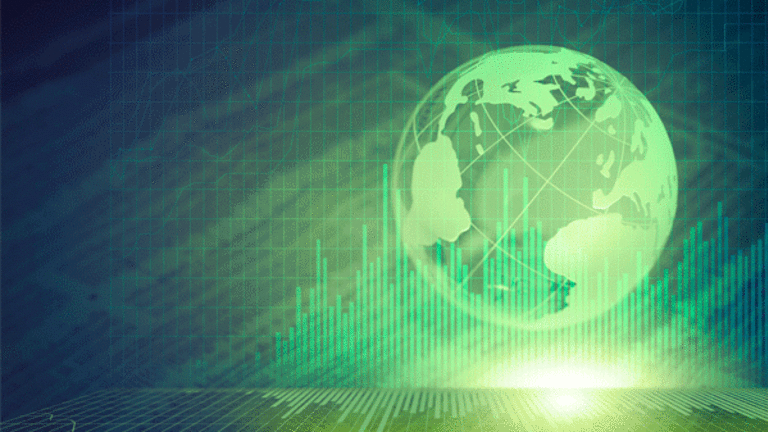 Dodd Frank Victory as MF Global Avoids Contagion
For the Dodd Frank Act derivative reforms, MF Global's peril and a muted market reaction is a gain.
For the Dodd Frank Act derivative reforms, MF Global's peril and a muted market reaction is a gain.
NEW YORK (
) --
MF Global
(MF)
struggles will not bring the financial system to its knees, signaling the benefits of the major derivatives overhaul prompted by the Dodd Frank Wall Street Reform Act.
Shares in the New York-based MF hit new lows below $1 Friday after ratings downgrades by
Fitch
and
Moody's
put the company's debt to junk status -- its bonds fell as low as 35 cents on the dollar.
The firm's fate may also be in question. The
Wall Street Journal
reports firms such as
Goldman Sachs
(GS) - Get Report
,
State Street
(STT) - Get Report
and Australia-based
Macquarie
are circling for a possible fire sale takeover of the commodities broker.
But despite the possibility that MF may go under or be gobbled up before the end of this weekend, markets are not in a free fall similar to the panics when
Bear Stearns
and
Lehman Brothers
faced a similar fate in 2008.
That is because although MF operates as a broker in the derivatives markets -- where financial contagion can spread like wildfire -- the firm mostly trades exchange traded derivatives moved through a securities "clearinghouse." Think of the clearinghouse as a financial "green zone," where trading counterparts don't hold each others credit risk on their books and profit and loss are exchanged daily, instead of building over time.
It means MF Global's trading counterparties like other large brokers and banks aren't mortally exposed to a bankruptcy filing. That's a big difference from the swaps markets where Lehman operated and where trades are still being resolved in a multi-year bankruptcy process.
On its website, MF Global celebrates that it is the leading derivatives trader on the
New York Mercantile Exchange
and the
Comex
, it's also one of the three biggest traders on the
Chicago Mercantile Exchange
(CME) - Get Report
, London's
IntercontinentalExchange
(ICE) - Get Report
and even Australia's
Sydney Futures Exchange
. Its also one of the 22 dealers authorized to trade new issues of U.S. government securities with the
Federal Reserve Bank of New York
. As such, crisis at a $41 billion sized financial player in markets spanning from Chicago, New York, London, Sydney and Tokyo would be expected to draw ripples of fear through global markets -- but it isn't.
This week the company's shares have fallen over 60% after reporting a loss of $191.6 million and an exposure to European sovereign debt exceeding $6 billion. Its credit ratings have been cut to junk by Fitch, casting doubt on its ability to trade and also potentially creating liabilities for its biggest lenders, which
Bloomberg
reports are
Bank of America
(BAC) - Get Report
and
JPMorgan
(JPM) - Get Report
- both banks have rallied significantly this week on hopes of a resolution to Greek debt and European bank capital issues.
It is MF's major shareholders like
RS Investment Management
,
Fine Capital
,
Pyramis
,
TIAA Cref
and even
Vanguard
who have taken it on the chin.
The difference between MF and Lehman bolsters the case for the reform of derivatives sought in the 2010
Dodd Frank Act
. Chiefly, it's a signal of why regulators like the
Commodities Futures Trading Commission
want to make trades written between two parties like credit default swaps and interest rate swaps standardized, cleared and traded through exchanges - instead of email, faxes and phones.
In fact, MF gained its present day market leadership when its parent
Man Group
bought bankrupt brokerage
Refco
in 2005 after a fraud scandal. Man then spun MF as its commodity trading arm in a 2007 IPO. Recently, MF's even made a push to become a full-fledged investment bank, which accelerated with the hiring of former
Goldman Sachs
(GS) - Get Report
co-head and New Jersey Governor Jon S. Corzine. Still, markets are saying the firm's not too big to fail.
In MF's business of executing trades like buying next year's jet fuel for an airline or making a bet on interest rates in 2012 for a home builder, the company acts as a 'futures commission merchant' executing trades on futures and options markets. In those customer trades, MF holds nearly $7.3 billion of money in the U.S. alone as of an Oct. 2nd filing, roughly 4.3% of all client money brokered under the jurisdiction of the CFTC. The amount's significant and would be a cause for alarm except that the money is held in segregated accounts at clearinghouses that are protected even if MF were to go bankrupt.
Dodd Frank rewires over-the-counter derivatives markets using the model of exchange based markets where MF is a major but unsystematically important player - building safeguards that will hopefully allow a major trader to go out of business without jeopardizing the global financial system and economy, as Lehman did.
It also allows financial players to fairly reap both gains and their potential demise in trading risks, without harmful consequences for others.
The markets muted reaction to MF's plight doesn't mean it isn't in a crisis stemming from poor risk taking. When announcing its downgrade of MF to junk, Fitch explained its rating by saying "the firm's increase in principal and, to a lesser extent, proprietary trading activities has elevated the firm's traditional risk profile. These increased risk taking activities have resulted in sizeable concentrated positions relative to the firm's capital base, leaving MF vulnerable to potential credit deterioration and/or significant margin calls." The company's shares and viability have suffered since cut.
For those who support Dodd Frank and believe financial risk takers shouldn't be free to have their losses subsidized because of fears about systematic risk, the mild market reaction to MF is a welcome sign.
A 2010 press release by the
Senate
said of the need for the Act, "Years without accountability for Wall Street and big banks brought us the worst financial crisis since the Great Depression, the loss of 8 million jobs, failed businesses, a drop in housing prices, and wiped out personal savings. The failures that led to this crisis require bold action."
Of reforms to over-the-counter derivatives modeled after exchange based futures markets, the release went on to say the Act "Eliminates loopholes that allow risky and abusive practices to go on unnoticed and unregulated -- including loopholes for over-the-counter derivatives... It provides the SEC and CFTC with authority to regulate over-the-counter derivatives so that irresponsible practices and excessive risk-taking can no longer escape regulatory oversight."
This week's MF based events are a further signal of the Act's goals and its importance.
The bottom line is as MF, a major derivatives broker came under pressure this week, a lack of spillover fear to other financial players and markets bolsters the case for Dodd Frank Act derivative market reforms, which seek to ensure another Lehman moment doesn't come.
-- Written by Antoine Gara in New York