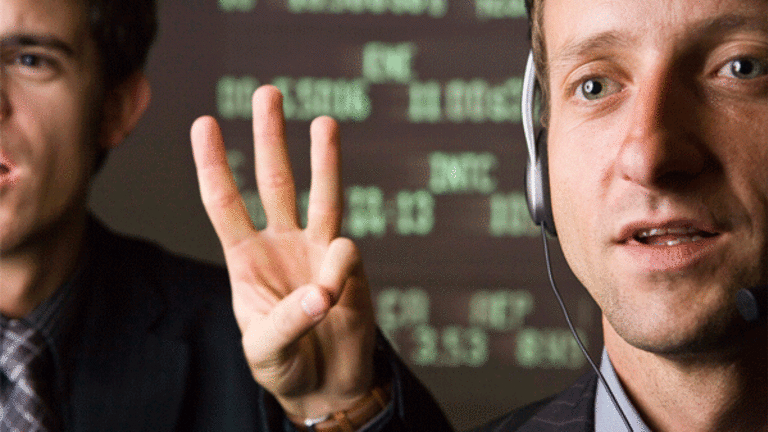 Dippin' Dots Melts: Deals to Watch
The ice cream maker failed to cool off lenders.
NEW YORK (
) --
Dippin' Dots
on Friday filed for Chapter 11 bankruptcy in a U.S. Bankruptcy Court in Paducah, Ky - after struggling to fend off foreclosure efforts by
Regions Financial
(RF)
as a result of a $11.1 million debt.
The inventor of "the ice cream of the future", will draw up a reorganization plan for its finances and operations to continue manufacturing its novelty bead-based ice cream products that are a hit at theme parks, concert halls and stadiums.
In its filing, the company listed assets of $20.2 million and debt of $12 million.
In its earnings Friday,
Plains Energy
(PXP)
said it struck a $600 million dollar sale of shale assets in the Granite Wash to
Linn Energy
(LINE)
, in a move to lower debt and overall interest costs by 40%. Plains said in a statement that it's also struck a deal to sell an additional $185 million of gas assets.
A Plains asset sale along with joint venture sales by
AES
(AES)
and
Anglo American
signal that in volatile markets, some companies are looking at venture and asset sales as a way to grow or raise cash
opportunistically and quickly .
In its Friday earnings announcement, Plains reported a loss of $88.3 million or 62 cents a share as a result of losses on energy hedges and a minority investment in
Freeport McMoran
(FCX)
- in its operations Plains earned 45 cents a share beating analyst estimates surveyed by
Bloomberg
.
Plains shares rose over 6% in early trading to $35.43 a share, the company's stock is up over 10% year to date, beating the
.
In its earnings, Plains CFO Winston Talbert said that with the sales and debt reduction, Plains could lower its interest expense by up to 40%. As of its most recent quarter, Plains held over $3.6 billion of debt, of which Talbert said $2.1 billion is callable in the next 18 months. Talbert said, "With the current low interest rate environment, PXP sees a unique opportunity to reduce its interest costs 30% to 40% by year-end 2012 thereby increasing profitability, shareholder return and cash flow."
On Tuesday,
Marathon Oil
(MRO)
said in its earnings announcement that it
would exit $3 billion in oil and gas investments, while it also completed a $3.5 billion shale purchase from
KKR
(KKR)
.
In a statement, Plains said the assets its selling to Linn are in Texas Panhandle properties and that they "generated total sales volumes of approximately 84 MMcfe per day during the third quarter of 2011 and had 263 billion cubic feet equivalent (Bcfe) of estimated proved reserves."
Plains hired
Barclays Capital
(BCS)
for the sales and
JPMorgan
(JPM)
gave a fairness opinion to Linn Energy on its purchase.
Anglo American
(AAUKY)
said Friday it will pay the Oppenheimer family $5.1 billion to increase its stake in Johannesburg, South Africa -based diamond seller De Beers to 85%.
United Kingdom -based mining giant Anglo American will add to its position by making a further 40% investment in companies CHL and Centhold International Limited, which hold the Oppenheimer family's De Beers interests.
"This transaction is a unique opportunity for Anglo American to consolidate control of the world's leading diamond company," said Anglo American's chief executive, Cynthia Carroll in a statement.
Under agreements between Anglo American, CHL and the Government of Botswana, another investor, Botswana has the right to increase its stake in its De Beers holdings to 25% because of existing pre-emption rights.
Founded in 1917 as a gold mine in East Rand, South Africa with an investment by Sir Ernest Oppenheimer, JPMorgan and
Newmont Mining
(NEM)
, Anglo American is now a leading miner of platinum, diamonds, iron ore, coal, copper, nickel and zinc. In 1999, Anglo American merged with Moroco, and a year later it listed shares on the
FTSE 100
with a market cap of $21.6 billion according to the company's website.
AES
(AES)
Friday in its third quarter earnings said it would sell 80% of its joint venture stake in a Spain -based
AES Energia Cartagena
gas fired plant for $234 million to
GDF Suez
. The company is also working on completing its $3.5 billion purchase of
DPL Energy
( DPL) announced in April. The company expects both deals to close as early as the end of the year.
AES shares rose over 2% to $11.85 in early trading, its shares are down 2.7% year to date.
-- Written by Antoine Gara in New York