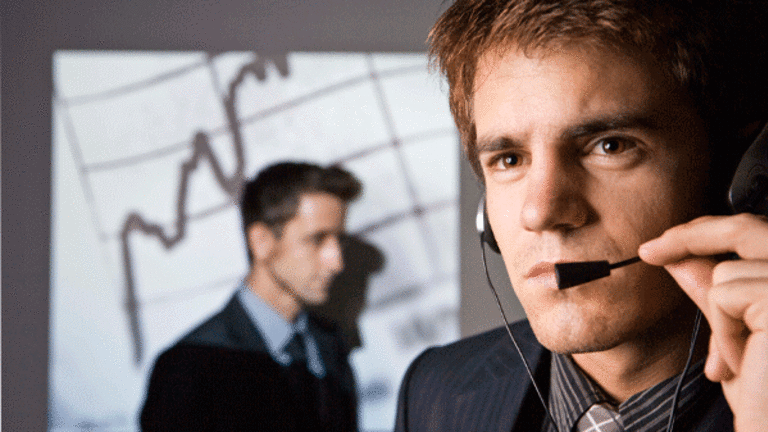 Crude Up on Weather Worry
A storm in the Caribbean could become a hurricane and hit Gulf operations next week.
Updated from 10:19 a.m. EDT
Crude oil futures stayed above $72 Friday on concern that a storm in the Caribbean will become a hurricane and hit petroleum installations in the Gulf of Mexico. The stalemate with Iran over its nuclear program was also supporting prices.
Light, sweet crude for October delivery picked up 15 cents to finish trading at $72.51 a barrel on Nymex. Gasoline gained 2 cents to $1.88 a gallon, and heating oil added 1 cent to $2.02 a gallon.
The energy sector was volatile because the front-month contracts for gasoline and heating oil expire next week, and traders are either on vacation or covering positions ahead of the weekend.
Over the past two weeks, gasoline futures have lost 13% after Goldman Sachs said it would roll the remaining third of its gasoline contracts into other energies this October. The contracts are included in the investment bank's commodities index. Other traders have seized on the news and dumped their positions to get out before gasoline declines further.
Natural gas added 7 cents to $7.15 per million British thermal units on expectations a tropical storm off the coast of Venezuela will pick up speed over the weekend and become Tropical Storm Ernesto, the fifth-named storm of the season. The pickup in prices comes despite robust supplies and mild summer temperatures across much of the country.
"The natural gas market is responding because it knows the inherent vulnerabilities of the complex overall," said Phil Flynn, an analyst at Alaron Trading in Chicago. "Gas is not a storage issue, but it is indeed a production issue. It is all about the storm."
Tropical Storm Debby, meanwhile, was picking up speed in the eastern Atlantic and was likely to become a hurricane, though it should not reach land.
The hurricane season thus far has been a marked change from last year, when 28 named storms and hurricanes formed. This year, there have been only four named storms, including Debby, and no hurricanes. Still, the peak hurricane season began one week ago and runs through late October.
Hurricanes last year tore through the Gulf Coast and shut down much of the region's natural gas and oil production. A year later, 12% of the area's oil output and 9% of natural gas output remains offline.
Although Iran formally replied to the U.N. on Tuesday, the country has refused U.N. inspections of an underground nuclear site and vowed to continue enriching uranium.
The U.S. said Iran's response falls short, but will wait until the end of this month, the U.N.'s deadline for to halt uranium enrichment, to pursue sanctions against the world's fourth-largest crude producer. Germany and France have also said Iran's reply was unsatisfactory. U.N. leader Kofi Annan will visit Iran to convince its leaders to comply with the resolution at an unspecified date.
After a two-year hiatus, Iran restarted uranium enrichment in defiance of the U.N., ostensibly to generate more power for its growing population. The West, however, suspects Iran wants to develop nuclear weapons.
Energy shares were riding the rise in crude futures, with drillers, refiners and service firms climbing 1% to 2% on the Amex Oil, Philadelphia Oil Service and Amex Natural Gas indices Friday. Standouts included
Hess
(HES) - Get Report
,
Rowan Companies
(RDC)
and
Southwestern Energy
(SWN) - Get Report
, each up 2% to 3%.
BP's
(BP) - Get Report
stock was still suffering from its midweek announcement that compressor problems would shave daily production at its Prudhoe Bay oil field in Alaska by 90,000 barrels. Shares were recently slipping 57 cents, or 0.8%, to $68.36.
Exxon Mobil
(XOM) - Get Report
and
ConocoPhillips
(COP) - Get Report
, which each have a 36% share in the field, were faring better, with Exxon inching up 1 cent, or 0.01%, to $70.73, and ConocoPhillips gaining 54 cents, or 0.8%, to $66.44.