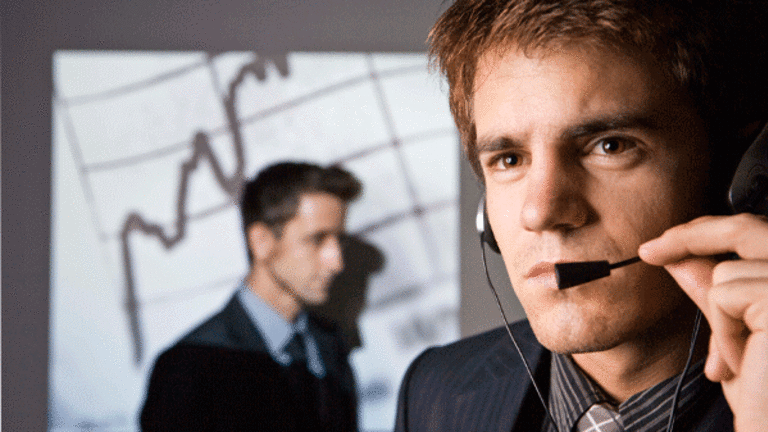 Crude Slips, Energy Stocks Slammed
Oil is now down more than 11% from its Aug. 7 peak amid cooling tensions with Iran and a significant deep-water find in the Gulf.
Updated from 10:16 a.m. EDT
Crude futures tumbled to a five-month low Wednesday amid strong inventory levels, cooling tensions with Iran and a significant deep-water find in the Gulf of Mexico. A lack of hurricanes in the Gulf thus far during the peak hurricane season also drove down prices.
Light sweet crude drooped $1.10 to finish trading at $67.50 a barrel on Nymex. Crude was last this low on April 7 at $67.39.
Lower crude prices and inflation fears were dragging energy shares down, with the Amex Oil and Philadelphia Oil Service Indices each off more than 3%. Among exploration companies and refiners,
Sunoco
(SUN) - Get Sunoco LP representing limited partner interests Report
,
Occidental Petroleum
(OXY) - Get Occidental Petroleum Corporation Report
,
Marathon Oil
(MRO) - Get Marathon Oil Corporation Report
,
Valero Energy
(VLO) - Get Valero Energy Corporation Report
and
Hess
(HES) - Get Hess Corporation Report
were leading declines, down from 5% to 6% each.
Valero and Sunoco's stocks were both slipping after investment bank Citigroup downgraded both stocks from buy to hold in light of falling margins. Citigroup set a new price target of $81, down from $90 for Sunoco for the next year. Valero's price target was reduced from $79 to $65.
Service companies
Weatherford International
(WFT) - Get Weatherford International plc Report
,
Schlumberger
(SLB) - Get Schlumberger N.V. Report
and
Global Industries
(GLBL)
were shedding about 5% each.
The rest of the energy sector took a cue from oil and finished the day lower in New York, with heating oil dipping 2 cents to $1.91 a gallon and natural gas inching down 4 cents to $5.99 per million British thermal units.
Gasoline shed 1 cent to $1.64 a gallon, despite expectations of a draw in domestic supplies last week. Gasoline consumption typically skyrockets during the summer when Americans go on holiday. Analysts polled by
Dow Jones
are looking for a drop of 600,000 barrels last week. Inventories are currently 4% higher than last year.
In the coming weeks, analysts will be focusing less on gasoline, since the peak summer driving season has ended, and will instead be eying supplies of winter heating oil.
Inventories of crude likely dropped by 1.1 million barrels from 332.8 million barrels as refiners increased production of gasoline to meet demand. Still, there is 6% more oil in storage than last year, more than enough to cover any short-term spikes in consumption.
Thanks to low demand and high production, the level of distillates probably rose by 1.2 million barrels. Refinery capacity likely inched up 0.1% to 93%.
Natural gas inventories may have risen by 68 billion cubic feet from last week, according to a
Bloomberg
survey of analysts. At 2.9 trillion cubic feet, supplies are 11% higher than last year thanks to mild temperatures and low cooling demand. Some utilities use natural gas to generate power.
The U.S. Energy Department releases its weekly petroleum and natural gas stockpile reports on Thursday, a day later than usual because of the Labor Day holiday on Monday.
Oil prices have been falling steadily since early August and are down 11% since nearly hitting $77 on Aug. 7. The most recent decline follows the U.N.'s decision to not slap sanctions on Iran for missing a deadline to halt uranium enrichment and a reduced hurricane outlook for this year. The world's fourth-largest crude producer has refused to cut its nuclear program, despite threats of economic sanctions.
Germany and the five permanent members of the U.N. Security Council had been holding off on punitive measures until the European Union's Javier Solana met with the Iranian nuclear negotiator Wednesday in Vienna. However, those talks were postponed for a "procedural matter," an Iranian official was reported as saying by the
Associated Press
.
Western countries have been hesitant to hit Iran with trade sanctions because Tehran has threatened to cut crude exports to the West. But the U.S. administration accused Iran of "playing for time" said Undersecretary of State Robert Joseph on Wednesday,
Dow Jones
reported.
U.N. Security Council members will meet Thursday to discuss their next steps, with Joseph predicting sanctions would be in place by the end of the month.
Royal Dutch Shell's
(RDS.A)
increased production in the Gulf of Mexico and
Chevron's
(CVX) - Get Chevron Corporation Report
deep-water discovery in the Gulf of Mexico were allaying traders' supply fears. Thanks to soaring demand in the U.S. and China, the world now consumes almost 85 million barrels of oil per day. The trouble is there is only 2 millions barrels of spare crude, with much of it from Saudi Arabia.
After jumping by as much as 3% on Tuesday, shares of Chevron were down 1.6% to $65.24.
Devon Energy
(DVN) - Get Devon Energy Corporation Report
and
Statoil ASA
(STO)
, Chevron's partners in the field, also saw their stocks hammered today, down 3% to 4%.
Shell boosted production at its Mars platform in the deep-water portion of the gulf to 190,000 barrels per day, or 20% more than before Hurricane Katrina hit the platform, the company said Wednesday. Before Katrina hit Mars with 80-foot waves and winds over 200 mph, the platform produced 5% of the gulf's oil and natural gas. After sustaining heavy damage, Shell estimated output wouldn't be fully restored until the second half of 2006
On Tuesday, Chevron reported successful tests of a deep-water region in the gulf that is estimated to hold from three billion to 15 billion barrels of natural gas and oil. The field may become the country's largest source of oil and domestic reserves could jump by 50% if there were 15 billion barrels.
Both moves will help improve production in an area still struggling to recover from the effects of Hurricanes Katrina and Rita. A year later, 12% of the area's crude output still remains offline.
"Yesterday's announcement by Chevron and its partners of a major new find in the Gulf of Mexico will go a long way to defusing the peak-oil argument that world output is at or near its highest level," said Michael Fitzpatrick, an energy analyst with Fimat USA in New York. "With temperatures and geopolitical rhetoric both moderating, it's not surprising then that prices have come under pressure as energy looses some of its luster for the speculative interests."
This year's hurricane season has been relatively quiet compared with last year when the Gulf Coast was devastated by hurricanes Katrina and Rita. For the second time in a month, forecasters at the University of Colorado reduced their estimates for tropical storms from 15 to 13. They also now expect five hurricanes vs. seven in their previous forecast.
There were 15 named storms by this time last year, with six of them becoming hurricanes. In 2005, 28 named storms formed in the Atlantic vs. six this year.
The sixth-named storm of the season may pick up enough speed to become a hurricane by this weekend, but forecasters were still unsure whether it would make landfall. Tropical Storm Florence is currently located 800 miles east of the Leeward Islands in the Caribbean, or 2,000 miles southeast of Miami. The storm is expected to pass near Bermuda on Saturday.
While hurricane threats buoyed energy prices early this summer, prices have dropped as those storms fizzled out. Energy prices trade heavily on the movement of tropical storms because they can damage and shut down the gulf's oil and natural gas installations, like they did last year.
"Absent of some weather event, I expect to see prices taper off," said Peter Tuz, vice president of Chase Investment Council in Charlottesville, Va.
In the past year, unit labor costs climbed by 5%, the biggest increase since 1990, the U.S. Labor Department reported Wednesday. Prices could rise as companies try to recoup some of their higher expenses and drive up inflation. Higher prices typically translate into lower demand for crude.