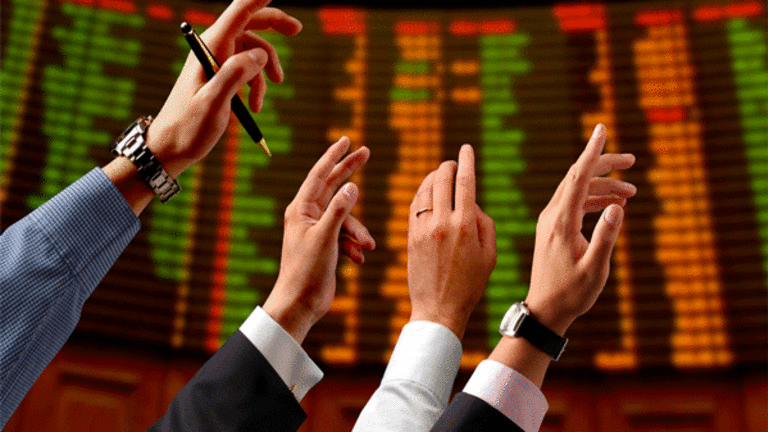 Crude Rebounds as $60 Holds
Oil overcomes a steep climb in gasoline inventories, which are now 9% above year-ago levels.
Updated from 11 a.m. EDT
Crude oil futures rebounded Wednesday as traders shrugged off steep climbs in fuel inventories and focused instead on the prospect that OPEC will shave output.
Light sweet crude ratcheted up $1.95 to $62.96 a barrel on Nymex. Heating oil advanced 5 cents to $1.71 a gallon, and unleaded gasoline added 4 cents to $1.53 a gallon.
Since Monday, speculation the Organization of the Petroleum Exporting Countries will trim output has propped up oil prices. OPEC President Edmund Daukoru has been discussing prices with members and believes "something needs to be done to steady the price,"
Reuters
reported Tuesday.
Analysts believe OPEC would defend $60 a barrel oil by trimming production among their 11-member countries. That move would have repercussions because the group controls 40% of the world's crude.
Crude prices plunged to as low as $60.10 a barrel intraday after the Energy Department reported larger-than-expected increases in distillate and gasoline inventories. But crude came back on a flurry of short-covering; traders were watching to see if crude would break $60, but when it didn't, they bid prices back up.
Gasoline inventories soared by 6.3 million barrels last week, far outdistancing analysts' predictions of a 750,000-barrel increase. Stockpiles jumped courtesy of higher production and imports and are more than 9% above those of the same period last year.
Stockpiles of crude inched down by 100,000 barrels to 324.8 million barrels because refiners made more gasoline. Crude is refined into products such as gasoline and heating oil. The decrease, though, had no large impact on domestic inventories, which are over 5% greater than last year.
Distillates, which include heating oil, climbed by 2.6 million barrels. Refiners are stockpiling the fuel ahead of the winter heating season. Supplies are 15% above last year now.
Thanks to seasonal maintenance, refiners operated at lower capacities last week at 92.4%, down 1% from the previous week. Refineries typically shutter some units in the spring and fall.
With high inventory levels and no hurricanes in the Atlantic or Gulf of Mexico, natural gas for October delivery lost 3 cents to close at $4.20 per million British thermal units. The expiration of the front-month contract also injected some added volatility into natural gas prices today.
There is currently 13% more natural gas in storage than there was a year ago thanks to warm winter temperatures last year. Analysts predict another large boost in stockpiles in the U.S. Energy Department's weekly update on Thursday.
Expectations of warm weather, brought on by El Nino conditions, may also keep natural gas supplies high and prices low. Some electrical utilities are fired by natural gas and use less when temperatures are mild. Low prices convinced independent natural gas producer
Chesapeake Energy
(CHK) - Get Chesapeake Energy Corporation Report
to cut its natural gas production by 6%, or 100 million cubic feet per day, until prices recover, the company said Wednesday.
Low natural gas prices "have more to do with temporarily high natural gas storage inventories....and less to do with any return to a structural oversupply of natural gas," Aubrey McClendon, Chesapeake's chief executive officer, said in a release.
Such a move will likely help boost prices since Chesapeake is the third-largest independent natural gas producer.
Over the past month, oil prices have been volatile, rising and falling on speculation that OPEC will maintain or trim output, hurricane threats, slowing economic growth and the resumption of production at
BP's
(BP) - Get BP p.l.c. Sponsored ADR Report
Prudhoe Bay oil field. Crude prices have shed 12% since the beginning of September.
BP shut down the country's largest oil field in Alaska in early August after discovering pipeline leaks and corrosion, but was able to reopen the western portion that month and has been pumping 250,000 barrels since then. The eastern half was reopened this week and is now producing 100,000 barrels of crude per day. By Saturday, daily production there will be 150,000 barrels.
ConocoPhillips
(COP) - Get ConocoPhillips Report
and
Exxon Mobil
(XOM) - Get Exxon Mobil Corporation Report
, which both have stakes in Prudhoe Bay, said they would begin shipping crude to customers in October. Exxon will begin Oct. 15, while Conoco has set a date of Oct. 31. The oil companies declared force majeure on all its oil shipments from Prudhoe Bay, which frees them from liability from missing deliveries.
The showdown with Iran over its refusal to halt its nuclear program has alternatively stolen the spotlight from other worries. Traders have been concerned that Iran would curb exports to the West if the U.N. imposed a trade embargo on the world's fourth-largest crude producer.
The U.S. has been pushing for sanctions against Iran ever since it missed an Aug. 31 deadline to stop its nuclear activities. The West offered Iran a package of trade incentives, but Iran has thus far ignored them. In February, Iran resumed uranium enrichment ostensibly to produce electricity, though the West believes Iran really wants to build atomic weapons.
But Iran has been more amenable to negotiations recently. European Union and Iranian diplomats met today in Berlin to discuss Iran's proposal to drop nuclear development for 90 days while it negotiates, according to Tuesday's
Washington Times
.
Energy stocks were shrugging off crude's decline and were rising as much as 2% Wednesday. Oil service companies
Global Industries
(GLBL)
,
Schlumberger
(SLB) - Get Schlumberger NV Report
and
Baker Hughes
(BHI)
were leading advances on the Philadelphia Oil Service Index, up about 3%.
Among refiners and drillers,
Repsol
( REP),
Valero Energy
(VLO) - Get Valero Energy Corporation Report
and
Marathon Oil
(MRO) - Get Marathon Oil Corporation (MRO) Report
were posting the largest increases on the Amex Oil index, up by as much as 4%.
Valero, Sunoco and Marathon Oil were climbing after upgrades from Citigroup and Banc of America Securities, whose analysts cited an expected pickup in refining margins. Analysts also said the drop in crude prices compelled many investors to sell the stocks over the past month, making them oversold. Valero was rising 4.1% to $51.68; Sunoco was adding 1.2% to $63.04, and Marathon was climbing 2.8% to $76.06.