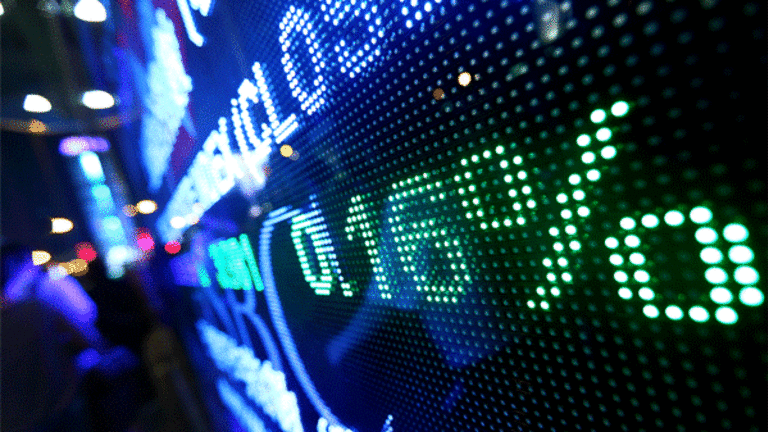 Crude Oil Settles Below $70 for First Time This Year
The June delivery contract for crude oil lost 67 cents, or 1%, at $69.41 a barrel.
The June delivery contract for crude oil lost 67 cents, or 1%, at $69.41 a barrel.
NEW YORK (
) -- Crude oil futures settled below the $70-a-barrel mark for the first time this year, staging a swift reversal after trading as high as $72.52 during Tuesday's session.
Tuesday's session brought a series of unfavorable turnarounds as the euro, U.S. equities and oil futures surrendered earlier gains. The
Dow Jones Industrial Average
finished the session with triple-digit losses at 10,511, after rising as high as 10,719, and other major U.S. indices closed more than 1% lower. The June crude oil contract shed 67 cents, or 1%, to settle at $69.41.
But both crude and stocks came down from their highs near midday as the euro turned lower and the dollar strengthened, gaining 1.1% against a basket of foreign currencies, according to the dollar index.
Late Tuesday, the American Petroleum Institute reported a decline of 794,000 barrels in crude oil inventories in the week ended May 14.
Barclays Capital analyst Costanza Jacazio said recent selling pressure hinges on factors outside of oil-specific fundamental developments.
"Last week offers a good illustration of such price action, with prices falling against a backdrop of strong oil demand data releases from both China and the U.S.," Jacazio said. "In the short-term, market perceptions over possible developments of the sovereign debt crisis are set to remain an important pricing factor, in our view. Yet, with oil market dynamics on a sound trajectory and global economic growth momentum still very strong, we would expect oil prices to find some strong support in the $70 region, barring a significant escalation in the degree of market fear."
Oil-related stocks slumped alongside oil prices. The NYSE Arca Oil index dipped 0.7%, and the Philadelphia Oil Service Sector index declined by 1.6%.
On the
Dow Jones Industrial Average
,
Exxon Mobil
(XOM) - Get Report
lost 48 cents, or 0.8%, at $62.79 and
Chevron
(CVX) - Get Report
shed 88 cents, or 1.1%, to $76.85.
BP
(BP) - Get Report
issued another update Tuesday concerning its attempts to contain the massive oil slick developing in the Gulf of Mexico. According to a company press release, BP said it's collecting some 2,000 barrels of oil a day from a leak site. The firm found some success over the weekend, attaching a long tube to the leak that is helping funnel some gushing oil to an awaiting vessel. Several weeks ago, BP was in control of an offshore deepwater drilling rig that exploded and sunk, allowing thousands of barrels of oil a day to escape into the ecosystem that continues to this day. BP is now estimating total costs to date related to the accident and response at around $625 million.
Meanwhile, effects of the oil slick may be extending far and wide, according to reports. The coast guard collected some 20 tar balls on the coast of Key West, Fla.,
Bloomberg
reported, which suggests parts of the slick may be making their way east. The tar balls are currently being tested to determine if they are, in fact, from the BP leak. BP's stock finished Tuesday's session down by 2.6%, at $45.38.
Also on the Nymex, the June natural gas contract lost 6 cents, or 1.3%, to settle at $4.34 per million British thermal units. June heating oil shed 2 cents, or 1.2%, to settle at $1.96 a gallon and June gasoline finished flat at $2.04 a gallon.
--Written by Sung Moss and Melinda Peer in New York
.