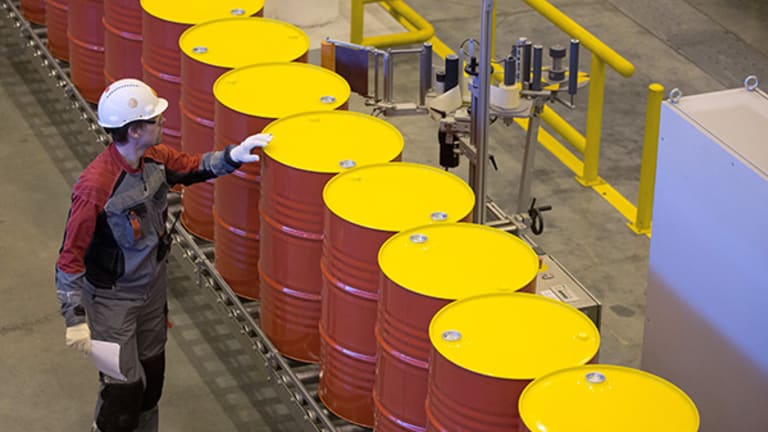 Crude Oil Faces Risks From China, OPEC
The price of crude oil faces global risks, especially if OPEC reneges on its promise to cut production and China begins exporting oil instead of importing the commodity.
The price of crude oil faces global risks, especially if OPEC reneges on its promise to cut production and China begins exporting oil instead of importing the commodity.
The headwinds oil faces extend beyond OPEC and the oil glut with countries such as Russia and China who could influence prices.
OPEC's Production Cut
OPEC's promise to cut down on production in 2017 could keep oil prices range bound, said Jodie Gunzberg, global head of commodities and real assets at New York-based S&P Dow Jones Indices. OPEC once wielded more power, prior to 2004 when its actions could alter prices. The cartel lost control when oil prices hit a high of $140, but fell dramatically to $26 and also when U.S. companies ramped up production.
"They used to be able to control the price of oil easily by changing their spare capacity," she said. "Based on history, there is a high chance that OPEC cheats and keeping prices stable is much harder with non-OPEC, state run countries like Russia."
Reducing production by 1.2 million barrels a day for six months is not a large amount, Gunzberg said. Crude oil prices have responded favorably and surged from $43 to $52.
"We don't know how much of the gain is from the expectation since the cuts have not even started yet," she said.
Another issue that OPEC is facing is keeping high cost producers such as Canada and some U.S. companies from increasing production.
"They don't want high cost producers coming online," Gunzberg said.
Even if OPEC countries renege or China pulls a surprise move, the market would have balanced itself out in 2017 even without the cut, said Bruce Bullock, director of the Maguire Energy Institute at Southern Methodist University's Cox School of Business in Dallas.
"It would change the equation, but maybe not as much as feared," he said. "The OPEC cut moves the balancing process up to early 2017. The major reason is that overall production globally declines about 6% and quicker in shale."
Saudi Arabia is the "most disciplined" country for adhering to production cuts and the rest of the countries will go along with the reduction until "it doesn't work for them," said Bluford Putnam, chief economist for the CME Group, a Chicago-based derivatives marketplace.
Many of these countries such as Libya, Nigeria and Venezuela need the cashflow produced from oil and could retreat from their commitments.
"The big producers like Iran are only promising cuts from previous highs and with Russia, who knows how their foreign policy will develop," he said.
The futures market is showing WTI prices at $52.65 per barrel at 10:30 CT on December 20. The futures maturity curve for WTI peaks at $56.40 per barrel during the fourth quarter of 2017 and it declines gradually to $55 per barrel in the fourth quarter in 2018.
"The futures prices are saying we've got enough growth in the world to keep oil in the $50 to $55 range and the OPEC decision won't generate more than that," Putnam said.
If U.S. Companies Ramp Up Drilling
A reduction in supply will also be affected by the action of U.S. producers who are competing to stay profitable. Coordinating with American companies on the levels of inventory can be a hurdle, Gunzberg said.
"The impact from OPEC may not be there," she said. "U.S. inventories need to go down more before OPEC cuts can drive up prices."
With oil prices skyrocketing, this opportunity "opens the door to eager U.S. producers," said Patrick DeHaan, a senior petroleum analyst for GasBuddy.com, a Boston-based provider of retail fuel pricing information and data. "Just in the past two weeks, 40 rigs have come online."
Many forecasts are demonstrating that the oil markets are balancing the glut in supply faster and even as soon as the first quarter of 2017. This reduction would help shale producers, but if the cuts OPEC promised are not implemented fully, it could drag the producers down again in the short term, DeHaan said.
"There's a lot on the line now, a ceiling of how high prices can go, but if OPEC and non-OPEC cuts don't produce, we could see this rally short-lived," he said.
Only a significant increase in shale production could increase prices. Since their decline in production was not as high as it was anticipated in the downturn, it likely "won't increase as rapidly at $50 to $60 per barrel as it did when oil was at $100," Bullock said. "The increase is likely to be more measured as capital budgets are increased slowly."
U.S. producers will wait to see if oil prices hold above $50 before they increase capital expenditures, which likely will not occur until the second half of 2017, said Rob Thummel, a portfolio manager with Tortoise Capital in Leawood, Kan. which has $13.5 billion under management invested in energy stocks.
"A $50 oil price is the line of demarcation for U.S. producers," he said. "Longer term, we expect the U.S. to be a significant supplier of crude oil to the rest of the world as global demand continue to increase and OPEC producers reach maximum capacity."
China's Impact
The demand for oil in China is not easy to track and neither are its inventories, which could affect prices.
"China presents a special challenge because of a lack of transparency in their numbers," Gunzberg said.
In the past, China has strategically bought oil at low prices like they have done with commodities such as cotton and nickel. If China ceases importing oil and instead exports its stockpile, it could "flood the market with more oil," pushing down prices, she said.
"China might use its own cheaper reserves and we could see demand fall," Gunzberg said. "This could put a ceiling on how high oil prices can be."