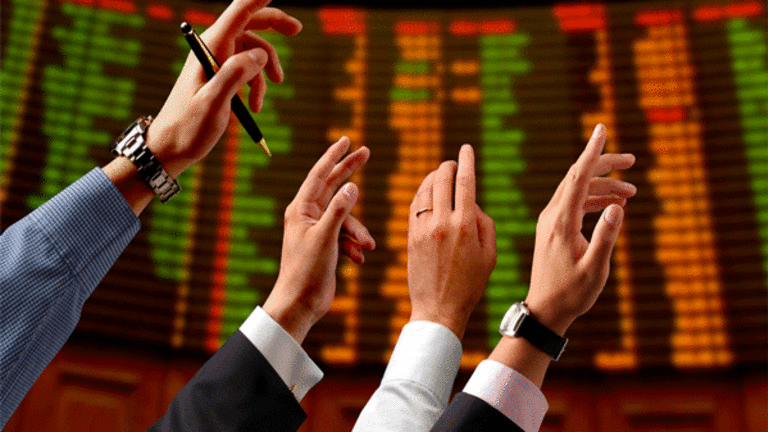 Crude Lifts on Iran Intransigence
Oil prices climb when Iran refutes reports it will halt uranium enrichment.
Updated from 10:17 a.m. EDT
Oil prices jumped Monday after Iran refused to halt uranium enrichment for two months while it negotiated with the West over its nuclear program and
BP
(BP) - Get BP Plc Report
delayed the start in production of a large gulf platform.
The about-face came after Iranian officials said last week they would consider suspending nuclear activities. But Iranian spokesman Gholan Hossein Elham called that move "just a misconception,"
The Associated Press
reported.
Iran, however, was still open to negotiation, the country's vice president said Monday, but would cut U.N. inspections of its nuclear development sites if the West imposed sanctions.
French President Jacques Chirac urged the U.N. to drop its threat of sanctions against Iran before the start of the U.N.'s General Assembly meeting this week. The five permanent members of the U.N. Security Council plus Germany will also be discussing possible sanctions against Iran for missing an Aug. 31 deadline to suspend nuclear activities.
Iran, the world's fourth-largest crude producer, restarted nuclear development after two years to ostensibly produce more electricity for its growing population. However, the West believes Iran is really attempting to build atomic weapons. Prices for crude have risen and fallen in recent weeks on the progress of Iran's negotiations with the West over its nuclear program.
BP's Thunder Horse platform in the deep waters of the Gulf of Mexico will be resuming production later than expected after tests showed damage to the facility's subsea equipment, the company said Monday. Thunder Horse was damaged by Hurricane Dennis last summer and has been beset with production delays since then.
The platform, which has a capacity to pump 250,000 barrels of oil and 200 million cubic feet of natural gas per day, is now expected to restart in the middle of 2008 instead of early next year. BP has postponed the reopening of the $1 billion platform twice this year.
Shares of BP were rising 0.9% to $65.43, while
Exxon Mobil
(XOM) - Get Exxon Mobil Corporation Report
, which also has a stake in the facility, was climbing 2.7% to $66.36.
Light, sweet crude picked up 47 cents to close at $63.80 a barrel on Nymex. Heating oil added 2 cents to $1.72 a gallon, and gasoline gained 1 cent to $1.57 a gallon.
Oil prices have plummeted back to the same levels they were at last September as threats to global crude supplies drop and stockpiles of natural gas, oil and gasoline build.
Natural gas lost 4 cents to $4.94 per million British thermal units after hitting a high of $5.27 in trading today after hedge fund Amaranth Advisors said it has lost as much as 35% this year thanks to big bets in natural gas prices. Coming into September, the Greenwich, Conn., hedge fund's holdings were up by as much as 22%.
By the end of the day, traders focused again on high domestic supplies, the lack of hurricane activity in the Gulf of Mexico, where up to a quarter of the country's production is located, and mild temperatures nationwide. Some utilities use natural gas to produce electricity.
Hurricane Helene picked up speed and became the second Category 3 hurricane of the season, with winds up to 120 mph. The storm, 1,160 miles east of Bermuda and moving north-northwest at 7 mph, was not expected to make landfall. Although Hurricane Gordon was gaining strength in the Atlantic, it too was not projected to reach land.
Energy shares were gaining as much as 3% on the Amex Oil and Philadelphia Oil Service indices.
Hess
(HES) - Get Hess Corporation Report
,
Occidental Petroleum
(OXY) - Get Occidental Petroleum Corporation Report
and
Valero Energy
(VLO) - Get Valero Energy Corporation Report
were leading advances among drillers and refiners on the Amex Oil Index, up as much as 4%.
Service companies
Cameron International
(CAM)
,
Transocean
(RIG) - Get Transocean Ltd. Report
and
Schlumberger
(SLB) - Get Schlumberger NV Report
were posting the largest increases, up as much as 4% each.