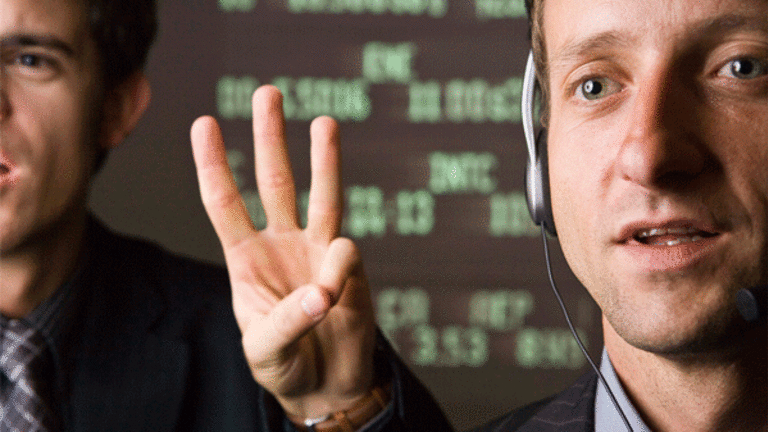 Crude Holds Steady at $61
BP's increased production at Prudhoe Bay is offset by speculation of OPEC production cuts.
Updated from 10:32 a.m. EDT
Oil prices firmed and stayed at $61 Tuesday as traders focused on another gain in fuel inventories and increased production from
BP's
Prudhoe Bay oil field.
Light, sweet crude with a November delivery date gave back 44 cents to close at $61.01 a barrel on Nymex. Trading of the front-month contract was volatile, with prices hitting a high of $62 after the head of OPEC said oil prices should be stabilized.
"Something needs to be done to steady the price. That's all I can say," OPEC President Edmund Daukoro told
Reuters
after a meeting in Nigeria.
The rest of the energy complex was mixed, with heating oil rising by 1 cent to $1.65 a gallon and unleaded gasoline inching down by 1 cent to $1.49 a gallon.
Natural gas added 5 cents to $4.52 per million British thermal units after sinking to two-and-a-half-year lows over the past week. Brimming stockpiles and no hurricane activity in the Gulf of Mexico, where as much as 25% of the country's oil and natural gas is produced, helped temper prices.
Brimming supplies and the promise of more overrode speculation about OPEC's next move. This month, oil prices have shed 12% on slower economic growth, little hurricane activity in the Gulf of Mexico and the U.N.'s refusal to slap Iran with sanctions.
BP expects to resume production in the eastern portion of the country's largest oil field in Alaska within a week. Already, the company is producing around 100,000 barrels of crude from that section and is expected to add another 50,000 barrels,
Bloomberg
reported. Total production from both sides is expected to be 400,000 barrels.
The oil giant, which shut down the field in August after discovering pipeline corrosion and leaks, wasn't expected to kick-start output until later this year. The field's western half was reopened shortly after the closure and has been producing about 250,000 barrels per day.
For the sixth straight week, gasoline supplies likely rose as demand and the vacation season wind down. Analysts in a
Bloomberg
poll expect gasoline inventories to rise by 750,000 barrels last week. Gasoline demand typically peaks in the summer, when millions of Americans go on vacation.
Distillates, which include heating oil, probably jumped by 2.1 million barrels in the U.S. Energy Department's weekly petroleum update, due Wednesday. Refiners are increasing their production of distillates for the winter heating season.
Supplies of crude, which is refined into gasoline and heating oil, was projected to fall by 1.7 million barrels. Even if crude supplies decline, inventories are currently 5% above the same period last year.
At the same time, refining capacity likely dropped by 0.9% last week as refiners started seasonal maintenance.
A break in the impasse with Iran over its nuclear program also helped drive down prices. The Iranian President said Monday that he would be open to talks over his country's nuclear program.
The U.N. has threatened Iran, the world's fourth-largest oil producer, with sanctions for missing an Aug. 31 deadline to stop enriching uranium. But the international body has not made good on its threats because Iran has threatened to hit back by slashing its crude exports and hiking oil prices.
Iran has proposed halting uranium enrichment for three months during negotiations with European diplomats, the
Washington Times
reported Tuesday. Tehran is said to complete the deal today or Wednesday, but wants to keep the details under wraps.
On Monday, crude prices rebounded from six-month lows after the OPEC chief said he has been speaking with other members about prices since mid-September. He did caution, though, that it would take more than one day of declines to trim output. Although members have not given an exact price they would be happy with, Daukoru said prices around $60 were "reasonable."
"We are already talking among ourselves in the OPEC fold," said Daukoru Tuesday,
Reuters
reported. "The price is very low and it's not good for investors."
Analysts believe the 11 member countries would defend $60-a-barrel oil and readjust their output if oil fell below that price. Such a move would have a large effect on the energy markets because the group controls 40% of the world's crude.
"I think that OPEC was trying to leave output unchanged but the market called their bluff. If oil is below $60 a barrel they will most likely be forced to act," said Phil Flynn, an energy analyst at Alaron Trading in Chicago. "Well, if not to act to at least threaten to act and a threat just might be enough to get us through this time of seasonal oil demand weakness."
Energy shares were moving 2% higher on the Amex Oil and the Philadelphia Oil Service Indices.
Sunoco
(SUN) - Get Sunoco LP representing limited partner interests Report
,
Valero Energy
(VLO) - Get Valero Energy Corporation Report
and
Marathon Oil
(MRO) - Get Marathon Oil Corporation Report
were rising the most among drillers and refiners from 3% to 4%.
Oil service company
Schlumberger
(SLB) - Get Schlumberger N.V. Report
saw its stock perk up 84 cents, or 1.5%, to $57.88 after the chief executive officer told analysts Tuesday he expects annual revenues to grow by 15% to 20% beyond 2010.