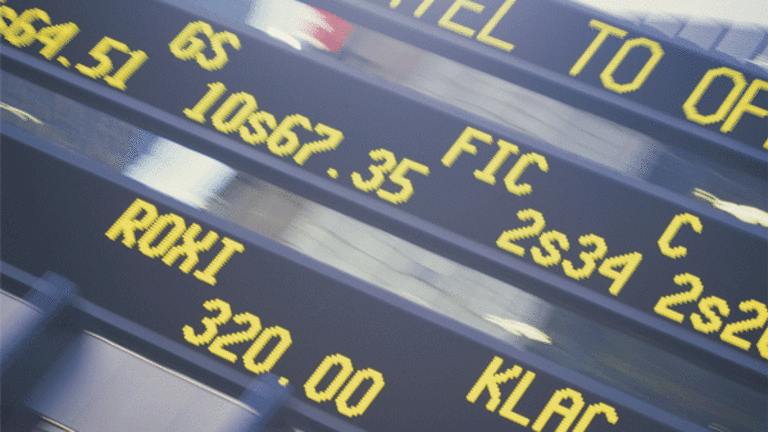 Crude Fuels Metals
Gold approaches $600 and copper hits an all-time high intraday, thanks in par, to oil's inflationary implications.
Updated from 12:48 p.m. EDT
Fueled by rising energy prices, metals rallied Monday, with gold, silver and copper leading the charge.
Copper finished up 8.45 cents, or 3.4%, at $2.547 a pound, after touching an all-time high of $2.560 intraday. Copper got a lift after data from the New York Mercantile Exchange showed supply of the metal was down by 592 tons as of late Friday.
Silver gained 22.5 cents, or 1.9%, to $11.74 an ounce.
Gold for June delivery closed up $7.60, or 1.2%, at $594.30 an ounce, after earlier touching a 25-year high of $596.80. The latest move took place as crude oil prices shot higher amid continued jitters about Iran's nuclear ambitions. Over the weekend, Iran tested a new underwater missile in the Persian Gulf waters, which oil tankers cross on a daily basis.
Crude oil finished up $0.11 at $66.74 per barrel, after flirting with $68 earlier in the session. As crude oil finished off its highs, metals -- including gold -- also eased into the close.
"The key driver for gold right now is crude and its inflationary implications," says Charles Nedoss, gold analyst with the Peak Trading Group. "Crude is putting fire under gold."
The precious metal has benefited from its capacity to serve as a safe haven amid geopolitical tensions and as a hedge against inflation amid soaring energy prices.
The next challenge for gold bugs remains the psychologically key $600 level. Gold charged through $500 late last year and mounted an uninterrupted climb to $580 until late January. After a setback, which led to a test of the $540 level, gold has been resuming its climb toward $600 in recent weeks.
"We're going to $600," says Tom Hartmann, a broker with Altavest, a full-service futures and foreign exchange brokerage firm. "But whether we go much beyond will depend on outside factors" such as energy prices and geopolitical tensions.
Monday's move also was fueled as new money came into the market at the outset of the second quarter, according to Hartmann. But given the rapid move over the past week, he expects some resistance around the $610 level.
The bullish uptrend helped gold buyers overlook early strength in the dollar on Monday.
The greenback had received an early bid, especially vs. the yen, after a disappointing business sentiment survey in Japan. The dollar also rose amid expectations that U.S. economic reports later this week, especially Friday's employment report, will boost the case for more rate hikes by the
Federal Reserve
.
The dollar has traditionally moved inversely to the price of gold, which, like most commodities, is dollar-denominated. But gold continued to rally last year, in spite of a strong dollar, amid a rally in most commodities.
The dollar weakened later in the session Monday following weaker-than- expected U.S. manufacturing data for March. But once again, the move had little impact on gold.
Similarly, news that the European Central Bank had sold 57 tons of gold did little to halt the precious metal's advance Monday. Other central banks -- mainly China's, Russia's and others from petroleum exporting countries -- are waiting for any breaks to add to gold positions, which would serve as a hedge against a falling dollar, according to Hartmann.
Many of the world's central banks hold huge dollar reserves. "They want to make sure they're in now
before an expected decline in the dollar," Hartmann says.
In recent months, gold has also risen in tandem with silver, thanks to the expected launch of a silver exchange-traded fund (ETF). The fund, much like the
streetTracks Gold
(GLD)
ETF, wouldn't require investors to buy physical amounts of the metal. But it must be backed by reserves and therefore increases demand.
While the silver ETF is waiting to clear regulatory hurdles, passion for both silver and gold is expected to continue, according to Hartmann. But after the launch, "we could see a sell-the-news type reaction," he says.
Among mining stocks indices, the Philadelphia gold and silver index gained 0.8%, the CBOE Gold index rose 1% and the Amex Gold Bugs index finished up 0.5%.
RandGold Resources
(GOLD)
rose 4.3% after reporting that 2005 profits were double those for 2004.
Other big gainers also included
Glamis Gold
(GLG)
, up 1.5%, and
Harmony Gold
(HMY)
, up 2.8%.
Newmont Mining
(NEM)
fell 1.4% after Goldman Sachs downgraded the stock to in line from outperform. At the same time, Goldman analyst Oscar Cabrero upgraded
Barrick Gold
(ABX)
, which rose 1.8%, to outperform from neutral. Goldman Sachs has an investment banking relationship with Barrick and has done noninvestment banking services for Newmont, in which it makes a market.
"Despite Newmont's attractive valuation under increasingly robust gold fundamentals, we believe Barrick's potential multiple expansion provides a more compelling risk/reward outcome, as synergies from its merger with Placer Dome start to materialize," Cabrero wrote.