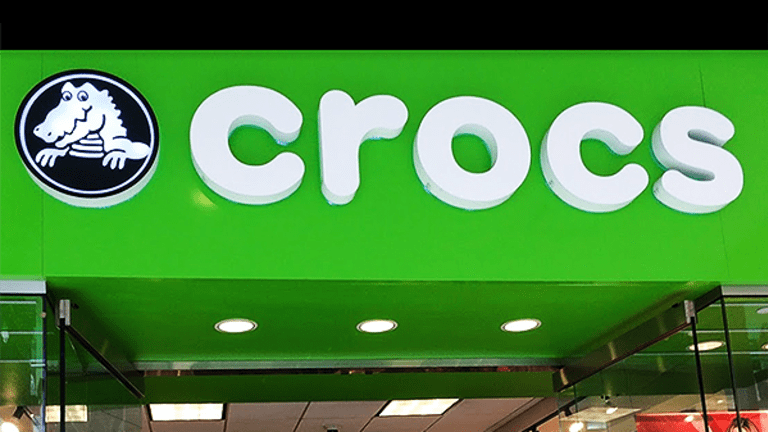 Crocs Upgraded to 'Hold' from 'Sell' by Our Quant Ratings Team
The stock is still a risky buy, despite a bevvy of improvements for the company.
TheStreet's Quant Ratings service has laced up a "C- Hold" rating for Crocs Inc.  (CROX) - Get Report  , upgrading the stock from a previous "D Sell" recommendation.
"The primary factors that have impacted our rating are mixed -- some indicating strength, some showing weaknesses, with little evidence to justify the expectation of either a positive or negative performance for this stock relative to most other stocks," our Quant Ratings team wrote in a new research note on the footwear company.
On the positive side, Quant Ratings cited CROX's 14.3% improvement in earnings per share in its most recent quarter compared to the same quarter a year ago. Quant Ratings also found that the company's debt-to-equity rating is very low at 0.01, suggesting "very successful management of debt levels." Finally, our team noted that the company's return on equity had a sizable increase when compared to the same quarter the year prior, "a signal of significant strength within the corporation."
However, Quant Ratings also cited CROX's poor share price, which is down some 36% when compared to a year ago. Due to that downward trajectory (among other concerns), our team feels the stock "is still not a good buy right now."
Click here to sign up for Quant Ratings, where you can read our full report on CROX or more than 4,000 other stocks that our service rates in real time every market day.
(Our Quant Ratings service assesses stocks using a proprietary computer model that runs a variety of factors through quantitative and technical analysis. Ratings do not necessarily reflect the opinions of Jim Cramer or other columnists, who may use different criteria to grade stocks.)
This article was written by a staff member of TheStreet.