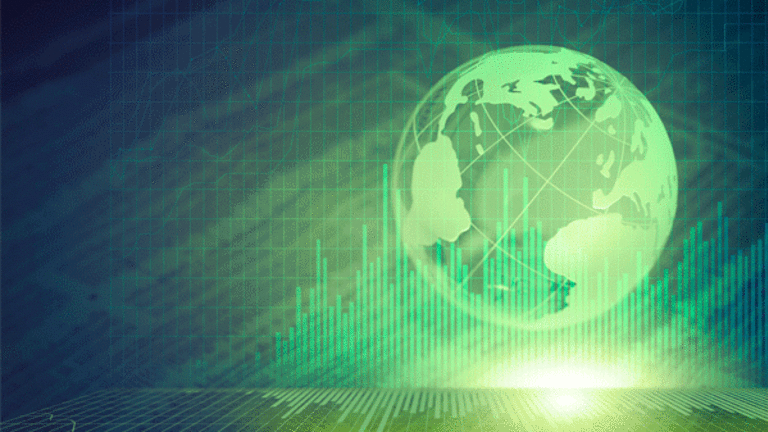 Cotton, Sugar Prices Pop: Market Bits
Cotton, sugar and rice prices gained Thursday, but coffee fell, while remaining pricey.

NEW YORK (TheStreet) -- Cotton for May delivery spiked after the release of official U.S. export sales numbers.
Cotton for May delivery popped 3.5% to $2.09 a pound.
The government reported sales of 331,100 running bales, up noticeably from the previous week and the prior 4-week average -- largely attributable to China and India. The countries imported 116,700 and 150,200 running bales of cotton, respectively.
"Official U.S. cotton export sales for last week were a real "eye-popper," said veteran cotton analyst Mike Stevens. He said most traders were bracing for cancellations and buybacks.
Stocks with cotton exposure, such as apparel were trading mixed, with
Gap
(GPS) - Get Report
rising 2.3% to $22.52 and
Wet Seal
(WTSLA)
falling 1% to $3.59.
Raw sugar prices rebounded as traders covered their short positions.
Sugar for May delivery rose 3.3% to $27.45 cents a pound.
"It fell down from 30, so it deserves a little bouncing," PFGBEST Research analyst Robin Rosenberg told
TheStreet.
The commodity was down 2.1% the day before as India approved the export of 500,000 tons of sugar, easing supply concerns.
Coffee prices slipped slightly as the markets try to regain "equilibrium" following the tumultuous trading environment over the last weeks, Rosenberg said.
Coffee for May delivery fell 1% to $2.66 a pound, but overall prices remain high. The commodity has soared 85.9% over the past 12 months.
Maxwell House maker
Kraft
( KFT), Folgers and Dunkin' Donuts maker
J.M. Smucker
(SJM) - Get Report
and
Starbucks
(SBUX) - Get Report
have all raised their packaged coffee prices. Starbucks CEO Howard Shultz blames the rising input costs on coffee speculators, though Rosenberg asks, "Mr. Shultz, don't you hedge your company's risk?"
"Speculators make up just a portion of the trading population. The sole purpose of commodity exchanges is to allow users and producers to hedge their risk exposure," he said in a report.
Rough rice futures were rising on ongoing expectations of stronger demand from Asia following the massive earthquake and tsunami that hit Japan.
Rough rice for May delivery rose 0.9% to $14.18 per 100 pounds.
"When the tsunami hit Japan and other Asian grain producing countries it brought a lot of saltwater inland. When this water recedes or evaporates, it will likely leave salt deposits, making the land unusable for farming," MaxYield Cooperative Grain Solutions Team Leader Karl Setzer, CTA explained.
Experts believe it will take up to three years for this land to again be usable for grain production.
On Thursday, other big Asian rice consumers were hit by a large earthquake. The 6.8 magnitude earthquake struck Myanmar and could be felt in Thailand and Vietnam.
The euro was gaining against the greenback even after Portugal's minority government collapsed after a key austerity package to curb the country's mounting debt was rejected by the opposition.
The euro was up 0.6% at $1.4179.
"The resilience of the euro in the face of seemingly incontrovertible evidence that Portugal will need to get assistance and that very same program and approach has not been enough to stabilize the Greek and Irish situation is amazing," said Marc Chandler, Brown Brothers Harriman Global Head of Currency Strategy, in a report.
Chandler believes the euro was stronger despite headwinds because the European Central Bank has strongly indicated that it will hike interest rates at its April 7 meeting. Furthermore, European loan facilities and liquidity remains adequate, unless, of course, Spain comes "under attack."
Thirty Spanish banks were downgraded by Moody's Thursday, but the largest banks --
Banco Santander
( STD),
Banco Bilbao Vizcaya Argentaria
(BBVA) - Get Report
and
Caixa
-- maintained their credit ratings.
Treasury bonds were falling as the government announced the auction of $99 billion of notes and equities advanced.
The CRT trading desk said the U.S. treasury was auctioning $35 billion in two-year notes, $35 billion in five-year notes and $29 billion in seven-year notes. The 2-year note fell 2/32, lifting the yield to 0.678%, while the 10-year note was falling 14/32, raising the yield to 3.394%. The 30-year bond fell 20/32, pushing the yield up to 4.48%.
Fitch on Thursday cut Portugal's long-term foreign and local currency issuer default ratings to A- from A+ and placed it on a watch negative list on the possibility of further cuts.
>>Search for Highest Dividends by Rate or Yield
-- Written by Andrea Tse in New York.
>To contact the writer of this article, click here:
Andrea Tse
.
>To follow the writer on Twitter, go to
.
>To submit a news tip, send an email to:
.
Copyright 2010 TheStreet.com Inc. All rights reserved. This material may not be published, broadcast, rewritten, or redistributed.