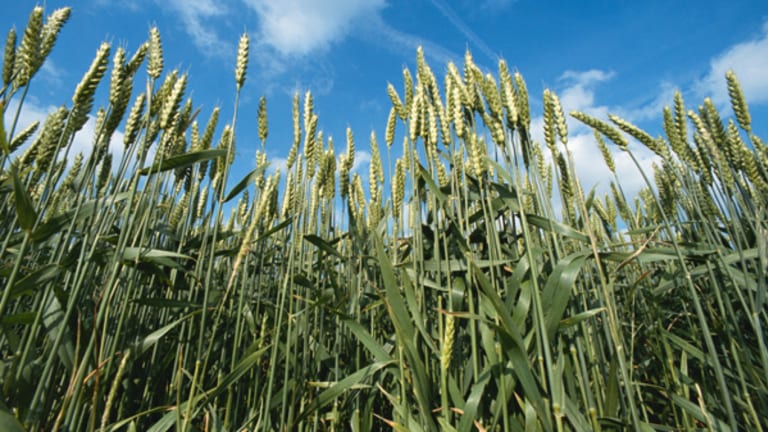 Copper Leads Metals
Amid supply concerns, the base metal is outshining its precious counterparts.
Updated from 1:15 p.m. EDT
Gold continued to climb toward $600 an ounce Wednesday, but it was copper's turn to make the headlines as the base metal touched a new all-time high.
Copper traded up to a record $2.60 a pound during the session before closing at $2.596 for a gain of 6.05 cents. Supply constraints, highlighted by a bullish note from Credit Suisse, helped fuel the move in copper and most metals, including gold.
Gold also closed higher, drawing support from higher oil prices.
A drop in U.S. gasoline inventories pushed up May crude 87 cents to $67.10. With gold trading in tandem with oil in recent times, gold for June delivery rose $1.90, or 0.3%, to $592.50 an ounce. Gold touched a 25-year high of $596.80 on Monday.
Elsewhere, silver, which touched a 22-year high of $11.815 an ounce on Monday, dropped 2.5 cents to $11.705.
With copper setting an all-time high, the base metal was attracting more attention than its precious counterparts.
Copper, used in everything from construction to electronics, is up 85% since late 2001 amid surging demand from China, tight supplies and ongoing production disruptions.
"With stock drawdowns gaining momentum in most of the metals and with consumers likely to be gearing up ahead of the summer slowdown, physical demand should be gaining momentum," wrote William Adams, an analyst at BaseMetals.com. "This, and ongoing concerns over supply are likely to underpin prices, so unless some external event upsets the funds, the upward trends are likely to keep prices on the rise."
A miners' strike is affecting a
Grupo Mexico
copper mine in northern Mexico. Its workers, who demand higher wages, have united with striking steelworkers this week, and both are calling on President Vicente Fox to intervene,
Reuters
reported.
With copper prices rising 25% so far this year, "unions are eager to share in the higher profitability levels of the industry," the metals and mining group at Credit Suisse wrote in a research note.
Chilean workers at key copper producing companies such as
Codelco
,
BHP Billiton
(BBL)
and
Falconbridge
( FAL) are all pressing for higher wages and this could lead to strikes this year, the analysts say.
On Wednesday, the group raised its price forecast for copper to $2.24 from $1.90 a pound for the first quarter and to $2.17 from $1.80 for 2006. In conjunction, Credit Suisse raised its 2006 earnings forecasts for
Phelps Dodge
( PD) to $9.15 per share from $7.50 previously. It also lifted its price target to $100 from $85. Phelps Dodge closed up 3.5% at $87.58.
Credit Suisse analyst David Gagliano also lifted his 2006 forecast for aluminum to $1.02 per pound from 90 cents previously. Aluminum advanced 1.45 cents to $1.1465 on Wednesday.
Gagliano lifted 2006 earnings forecast for
Alcan
(AL)
to $4.25 from $3.90 previously and his price target on the stock to $54 from $50. Alcan rose 4.6% to $49.67 on Wednesday.
Ditto for
Alcoa
(AA)
, whose 2006 earnings forecast was lifted to $2.16 from $1.75 and price target was raised to $37 from $35. The stock rose 2.6% to $31.67.
Gold Bulls Abound
Continuing on the same supply theme, the analyst also boosted his 2006 forecast for gold to $570 an ounce from $469 previously and lifted his price targets on gold miners
Newmont Mining
(NEM)
,
Freeport McMoran
(FCX)
and
Barrick Gold
(ABX)
.
Newmont gained 2.9% to $53.23 on Wednesday. Credit Suisse lifted its 2006 earnings forecast to $1.60 per share from $0.55 previously and its price target to $65 from $60.
Freeport rose 3% to $64.10. The firm lifted its 2006 earnings forecasts to $4.63 per share from $3.15 previously and its price target to $70 from $66.
Barrick advanced 3.3% to $28.84. Its 2006 earnings forecasts were raised to 1.39 per share from $0.82 previously while its price target was lifted to $30 from $26.
This helped the mining stock indices to advance further. The Philadelphia gold and silver index and the Amex Gold Bugs index both gained 2.0%, while the CBOE Gold index rose 1.9%.
Credit Suisse has, is, and expects to provide investment-banking services to all the stocks mentioned in the report. In addition, it makes a market in the securities of Phelps Dodge, Newmont, and Freeport McMoran.
Among other big gainers,
Hecla Mining
(HL)
advanced 5.9%,
Agnico Eagles Mines
(AEM)
rose 3.5%, and
Glamis Gold
(GLG)
gained 2.8%.
Gold also received some support overnight after a bullish call from Australian brokerage house Hartleys. Speaking at the 2006 Gold Conference in Perth Wednesday, Hartleys strategist Martin Pyle predicted that gold will rise above $700, without providing a specific time frame.
"The heated price environment is directly linked to increasing global inflation," Pyle said, according to
Platts
. "Central banks are starting to take pre-emptive actions to raise interest rates in order to try and curb inflationary expectations."
But, Pyle went on, the rise in gold is telling central bankers they haven't done enough, which promises more upside for gold in the medium term.
On Tuesday, a slew of
Federal Reserve
speakers said that U.S. inflation remains well contained, which had "disheartened" some gold bulls, according to Nell Sloane of NSFutures.com.
But Wednesday, a strong report on the non-manufacturing sector of the U.S. economy and comments from Treasury Secretary John Snow helped temper those views. Snow said that the upcoming March employment report on Friday should show "some good numbers."
Another Fed speaker, Kansas City Fed President Richard Hoenig, signaled that the Fed was nearly done with raising rates in a speech Wednesday. The comments helped send the dollar to a two-month low vs. the euro, providing more support for gold and other dollar-denominated metals.