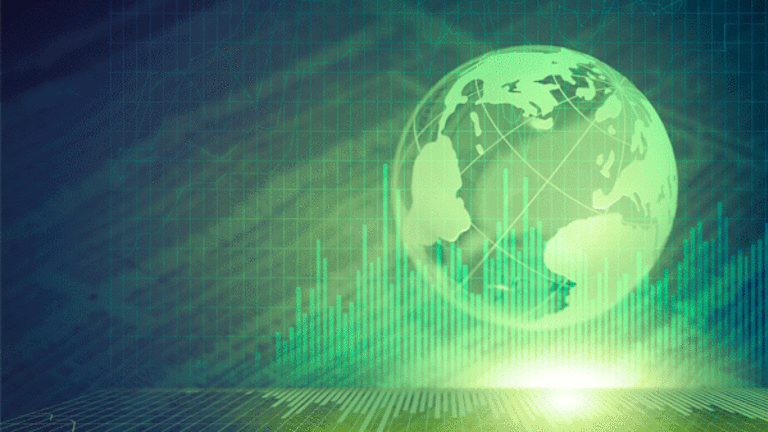 Copper Cracks, Gold Stumbles Again
The ongoing correction in the metals markets takes another bite.
Updated from 11:50 a.m. EDT
A copper meltdown dragged other metals lower Thursday, amid concerns over slowing global growth, talk of Chinese selling and a firmer dollar.
Gold and silver recovered half their losses by the close, as the dollar lost some of its initial gains, but most metals still ended the day sharply lower.
Copper for July delivery lost 15 cents, or 4%, to close at $3.47. It earlier fell as low as $3.34, or 7.7%, reaching the limit allowed by the Nymex and causing trading of the metal to be halted for 15 minutes.
Among other metals, gold for August delivery fell $15.50, or 2.4%, to $633.50, recovering from an earlier drop to as low as $625.70. Silver for July delivery lost 55 cents, or 4.4%, to $11.90, after falling 7.3% to $11.53.
Selling in copper started overnight in China amid talk that China's State Reserves Bureau was planning sales of its old stocks,
Reuters
reported, citing traders in Shanghai.
But according to Jon Nadler, investment products analyst at bullion dealer Kitco, the selloff is just another part of an ongoing correction that has hit metals and commodities since mid-May.
"I don't see China selling that much that it would alter the supply and demand equation," Nadler says. "But I think some big funds that still had some money to pull off the table saw this and thought 'Gee, why not?'"
After reaching an all-time high above $4 a pound in early May, copper has dropped 15%. Gold, which had reached a 26-year high of $730 last month, is also down 15% from its peak, and silver has dropped 17%.
Commodities and global financial markets have been rocked in recent weeks amid concerns that central banks are lifting interest rates to curb growth and inflation pressures, notably from soaring commodities prices.
As a metal with a common industrial use, copper is more directly affected by swings in economic expectations. The metal started seeing some weakness on Tuesday, after news of a drop in U.S. consumer confidence as measured by the Conference Board.
On Thursday, weaker-than-expected reports on the manufacturing and housing sectors for May fueled concerns over slowing U.S. growth.
Adding cause for concern on the inflation front, the Institute for Supply Management's manufacturing survey revealed a jump in the prices paid by manufacturers as commodities prices surged.
Stronger-than-expected inflation data and hawkish comments from
Federal Reserve
officials last month have convinced the market that the central bank will hike interest rates again in June.
After the close of the metals market Wednesday, Wall Street again lifted its expectations of a June rate hike after the Fed released the minutes of its May 10 meeting, at which it hiked its key rate by 25 basis points to 5.0%.
In the minutes, FOMC members discussed everything from holding the rate steady to raising it by 50 basis points. This latter possibility had market players raise the odds that the Fed will hike in June to 74% from 56% previously, according to Miller Tabak. These odds were roughly unchanged on Thursday.
Expectations of at least one more hike again supported the dollar and hurt dollar-denominated commodities early on Thursday. A stronger greenback pressures the price of dollar-denominated commodities such as gold, as it takes less of the currency to buy the same amount of gold.
But as the market weighed slower growth vs another rate hike, the Dollar Index, which tracks the greenback against a basket of key currencies, was recently unchanged, after rising 0.5% in morning trade.
Precious metals in particular have benefited from expectations that the dollar will resume a multiyear decline once the Fed stops raising interest rates.
But "it's a wait-and-see game here," says Nadler. "The dollar still has problems, but there's a lot of uncertainty over Fed policy and growth going forward."
Volatility and uncertainty were keeping gold from reacting to normally supporting factors, such as geopolitical tensions. On Thursday, Iran dismissed a U.S. request to halt its nuclear enrichment program as a precondition for holding talks over Tehran's nuclear ambitions. Several months ago, while gold was amid its latest bull-run, such a factor would have sent its price sharply higher.
But not in the current correction phase. "It serves to remind investors, in case there were any doubts, that
gold can be a two-way market," Nadler says.
Nor did gold, which also works as a hedge against inflation, get a boost Thursday from an early rise in crude oil prices. Crude oil eventually traded lower and was recently losing 89 cents at $70.40 a barrel after U.S. inventory data.
Yet few gold bugs are ready to throw in the towel as they believe the precious metal remains in one of its biggest bull-runs in history.
"I've been looking for gold to settle into a $625-$675 trading range before any new significant up move can occur," writes Peter Grandich, gold analyst and editor of the Grandich Letter. But first, "we may need to shake out weak longs by testing $575-$600."
Grandich believes the bull run in precious metals such as gold, silver, platinum and palladium will eventually resume but that the "top bell" has been rung for copper.
Shares of metals miners were also falling sharply in recent action. The Philadelphia Gold and Silver index was recently down 1.5%, the Amex Gold Bugs index was down 1.4%, and the CBOE Gold index was down 1.5%.
Among the biggest decliners,
Harmony Gold
(HMY) - Get Harmony Gold Mining Company Limited Report
was down 3%, and
Gold Fields
(GFI) - Get Gold Fields Limited American Depositary Shares Report
was down 3.6%.
Inco
(N)
was recently up 0.4% after its board on Wednesday formally rejected
Teck Cominco's
$15.35 billion hostile bid for the company.
Teck Cominco's move is believed to be an effort to derail Inco's plan to acquire
Falconbridge
undefined
for $17.3 billion.
Likewise, Falconbridge's board has agreed to the Inco takeover and has rejected an offer from Swiss copper giant
Xstrata PLC
, Falconbridge's largest shareholder, to buy the rest of Inco's shares.
Citigroup metals analyst John Hill believes the Inco-Falconbridge deal will eventually prevail, but still expects further bids to emerge. Falconbridge, whose stock was recently up 0.1% at $50.13, has been trading at an 8% premium to Inco's offer and at a 4% premium to Xstrata's offer, he notes.
Hill also expects a wave of metals-mergers to soon spread to such areas as aluminum.
Alcan
(AL) - Get Air Lease Corporation Class A Report
was recently up 0.2% after rising 2.8% Wednesday when media reports suggested it was the next takeover target in the hot metals arena. The company denied any plans to merge, according to
Reuters
.
AK Steel
(AKS) - Get AK Steel Holding Corporation Report
was recently up 3% after the Middletown, Ohio company announced it would cut its health care costs by changing the health benefits it provides its retirees.
Meanwhile, the newly launched
Market Vectors-Gold Miners
(GDX) - Get VanEck Gold Miners ETF Report
exchange-traded fund, which tracks the performance of the Amex Gold Miners Index, was down 1.8%.
Copper producer
Phelps Dodge
(PD) - Get PagerDuty Inc. Report
was down 1.6% and
BHP Billiton
(BHP) - Get BHP Group Limited American Depositary Shares (Each representing two) Report
was down 2.1%.
ETFs tracking the metals themselves were also falling. The
iShares Silver Trust
(SLV) - Get iShares Silver Trust Report
was down 5%, and the
StreetTRACKS Gold Trust
(GLD) - Get SPDR Gold Shares Report
was down 3%.