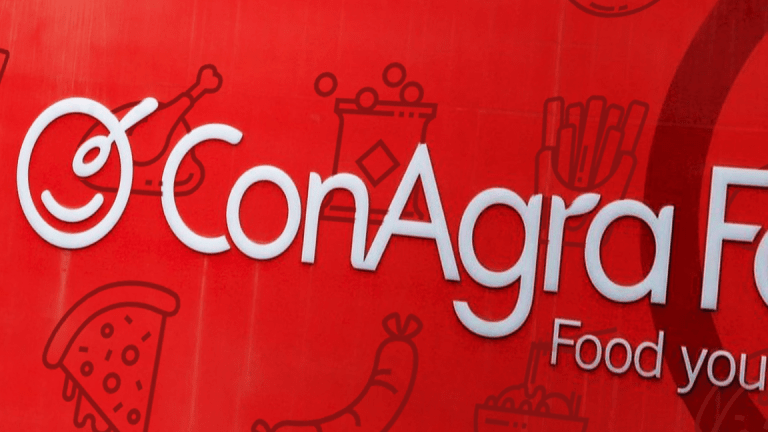 Conagra Snaps Up Pinnacle Foods in $8.1 Billion Cash-and-Stock Deal
Conagra Brands will pay $8.1 billion for Birds Eye and Mrs. Butterworth's owner Pinnacle Foods in the latest packaged foods sector merger that could ignite speculation of a move from Warren Buffett-backed Kraft Heinz.
Conagra Brands Inc. (CAG) - Get Free Report  confirmed Wednesday that it will acquire Pinnacle Foods Inc. (PF)  , which owns the Birds Eye and Mrs. Butterworth's brands, in a cash-and-stock deal that values the company at just over $8 billion. 
Conagra said Pinnacle Food investors will received $43.11 in cash and 0.6494 shares of Conagra stock for each share held, indicating an implied per share deal price of $83 each. In cash and stock terms, the deal is worth around $8.3 billion, while the inclusion of debt takes the overall tag to $10.9 billion, the companies said. Conagra said it will continue to pay its 85 cent quarterly dividend and noted that Pinnacle will do the same until the deal, which it said was unanimously backed by both boards, is ultimately closed. 
"The addition of Pinnacle Foods' leading brands in the attractive frozen foods and snacks categories will create a tremendous opportunity for us to further leverage our proven innovation approach, brand-building capabilities, and deep customer relationships," said Conagra CEO Sean Connolly. "With greater scale across leading, iconic brands, an unwavering focus on driving profitable growth, and a strong balance sheet and cash flow, we are creating a tremendous platform to drive meaningful shareholder value."
Conagra shares were seen 7.66% lower from their Tuesday closing levels in pre-market trading in New York, with an indicated opening bell price of $35.30 each. Pinnacle Foods shares slipped 5.32% to $62.25 each. 
Conagra said the cash portion of the deal would be financed by $7.3 billion in debt and around $600 in stock and asset sales, and noted that Pinnacle Foods shareholders would own around 16% of the combined group once the deal is completed. 
Chicago-based Conagra also posted its fiscal fourth quarter earnings report Wednesday, which showed a Wall Street-beating bottom line of 50 cents a share on just under $2 billion in sales for the three months ending in May. 
The group said it sees 'standalone' sales in the current quarter to grow between 2% and 2.5%, a figure that translates into adjusted diluted earnings of between 46 cents and 49 cents per share.