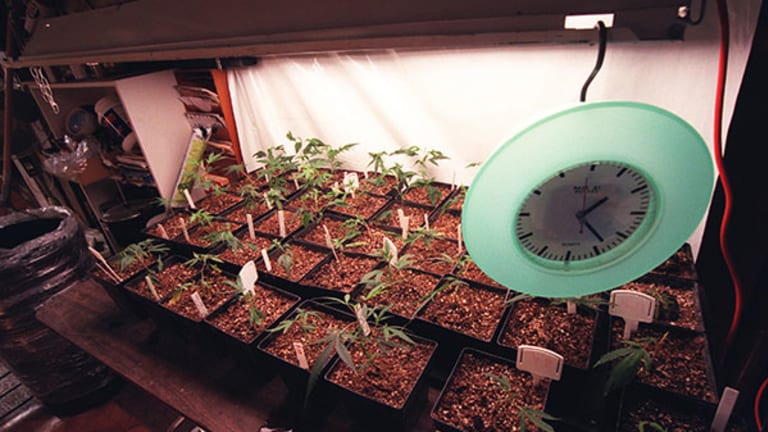 Canadian Marijuana Market More Mature, Outperforms U.S. Market
The Canadian marijuana market is poised for growth as the number of registered patients continues grows and as licensed producers find innovative ways to create value for its shareholders.
The Canadian marijuana market is poised for growth as the number of registered patients continues grows and as licensed producers find innovative ways to create value for its shareholders.
The Canadian marijuana market is poised for growth as the number of registered patients continues to grow at rapid pace and as licensed producers continue to find innovative ways to create value for its shareholders.
"The Canadian marijuana market and legislation is light years ahead of the United States," said Jason Spatafora, co-founder of Marijuanastocks.com and a Miami-based trader and investor known as @WolfofWeedST on Twitter. "In the public markets, Canada is different for one glaring reason, they legalized medical marijuana on the federal level. This has allowed licensed producers of cannabis to take their companies public in a meaningful way compared to the U.S. companies that still won't touch the plant directly."
The potential for better returns is in Canada's nascent cannabis industry as their medical market is well-regulated and institutional buying has sparked a rally in the overall sector.
"The U.S OTC market is still a retail investor based market with very little institutional support at all," he said. "This is why the U.S. market is a trader's market while the Canadian market is an investor's market."
The current options for mainstream investors in this budding sector in the U.S. are limited to a handful of companies listed on the Nasdaq, including GW Pharmaceuticals (GWPH) - Get Report , a U.K.-based biotech company with a cannabis-based epilepsy drug; Insys Therapeutics (INSY) , a Phoenix company known for its cancer pain management drug but is developing a cannabis-based drug for the treatment of epilepsy; Cara Therapeutics (CARA) - Get Report , a Shelton, Conn.-based clinical state biopharmaceutical company that develops and commercializes pain relief drugs; and Zynerba Pharmaceuticals (ZYNE) - Get Report , a Devon, Pa.-based company focused on developing and commercializing synthetic cannabinoid therapeutics.
The Canadian medical cannabis industry is growing quickly, and as of August 30, Health Canada said there were 91,178 eligible medical cannabis patients and projects there will be more than 450,000 medical cannabis patients by 2024, which would make it a $1.7 billion market, said Michael Berger, a former Raymond James energy analyst and founder of Technical420, a Miami-based company that conducts research on cannabis stocks.
"Canada is poised to become the first G8 country to legalize recreational cannabis when it announces this expected change in the spring of 2017," he said. "This is a significant development and it has created a great opportunity for companies as well as investors because by 2018, the legal recreational cannabis market should be generating over $10 billion a year and will serve over three million people."
The outcome of the November state elections was a catalyst for the cannabis industry with the approval of recreational use in California, Massachusetts, Maine and Nevada, while Arkansas, Florida and North Dakota adopted medical marijuana laws, but the impact may not be known for awhile, said Berger.
"The U.S. seems to have taken a backseat to Canada, but we will continue to monitor its cannabis sector very closely as it will continue impact the global cannabis movement," he said. "GW Pharmaceuticals recently de-listed its U.K. symbol and is keeping its U.S. one. This company is one of the most attractive investment opportunities as its deep product pipeline will continue to deliver catalysts to shareholders."
Investing in both the U.S. and Canadian markets might prove to be strategic since California has created countless investment opportunities, primarily due to its population being exponentially larger, said Berger. California has 38 million people while Canada has 35 million.
On the private side, investments remain strong in both countries, said Spatafora. Canada will likely pass recreational marijuana next year and U.S. investors "already entrenched in medical and recreational states will need to scale production to meet demand," he said.
Canadian Companies More Liquid
Some of the heavyweights of the Canadian marijuana industry include Canopy Growth (TSX: CGC) (OTC: TWMJF), Aurora Cannabis (CSE: ACB) (OTC: ACBFF) and Organigram Holdings (TSX: OGI) (OTC: OGRMF), said Spatafora who is bullish on the overall Canadian marijuana market.
The clear advantage of the Canadian market is because there is more liquidity. The lack of any public U.S. companies that "touch the plant" means investors are limited to allocating money to private companies, said Denis Arsenault, CEO of Organigram, a Canadian licensed medical cannabis producer.
"Investing in private companies is not overly attractive for a small investor," he said.
Access to capital is also critical as well the availability of large production facilities to improve operating procedures, said Arsenault. In the past six months, Organigram raised $73 million and has two major expansions in preparation for recreational marijuana to be legalized.
"I do not see opportunities currently in the U.S. market for investors, as liquidity and ability to raise capital are two of the main foundations for investment decisions," he said.
Liquidity is obvious in companies such as Aurora Cannabis, a licensed producer of medical marijuana whose market cap has risen to over CAD $500 million and has a cash position of CAD $50 million, according to the company's latest quarterly report.
The company said it is currently shipping over 200,000 grams a month from its 55,200 square foot indoor production site in Mountain View County, Alberta and producing up to two dozen different strains of marijuana without the use of pesticides, said Cam Battley, executive vice president of Aurora .
"Our intention is to establish massive scale, with the highest production quality along with the lowest per-gram cost of production," he said.
Aurora's expansion plans include the 800,000-square feet construction of a high technology greenhouse in Leduc County, Alberta and is estimated to produce over 220,000 pounds of cannabis.
The company is "one of the fastest growing" licensed medical cannabis producers in Canada, said Spatafora.
"One thing to know about them is that they recently did a private placement for $20 million and ended up being over-subscribed by a few million dollars," he said.
Canopy Growth is the largest legal medical marijuana producer in Canada and it has been one of the most attractive investment opportunities in the cannabis sector since going public in 2014, Spatafora said.
The grow technologies and infrastructure support could be the next niche sector of the industry to gain institutional investor interest. The rally in marijuana producers will continue and valuations will start to "reach overbought levels, causing institutional investors to search for value elsewhere in the marijuana market," he said.
Other Canadian Stocks
Arcturus Growthstar Technologies (AGS) is an indoor plant growth technology company whose patented vertical farming technology generates yields up to ten times greater per square foot of land when compared to traditional plant production methods, Spatafora said.
"We believe this company could be on its way to becoming a leader in the marijuana technology and infrastructure support niche," he said. "Their experienced management team focuses on leveraging cash flows to make very selective and accretive acquisitions while developing and scaling their existing portfolio."
Another attractive company is Emblem Corp., which produces pharmaceutical grade marijuana, and is going public on Friday trading as EMC on the TSX. The company offers investors leverage to both the legal cannabis market but also the cannabis pharmaceutical market, said Berger.
"The company is led by a management team that has a proven track record of building successful multi-billion dollar companies, including President John Stewart, and will lead the launch of cannabinoid-based medications in customary pharmaceutical dosage forms such as liquids, gel caps, oral sprays and inhalers," Spatafora said. "Stewart has launched 11 new products, including OxyContin, and was the CEO of Purdue Pharma, the largest privately held pharmaceutical company in the world." 
Successful management teams is what makes Canadian producers stand out and maintain their growth. Too many companies in the U.S. do not adhere to their original business model and instead "change directions every six months," Spatafora said.
"These management teams have done what many companies in the U.S. have been unable to do by executing on a business model that has stayed the course," he said.