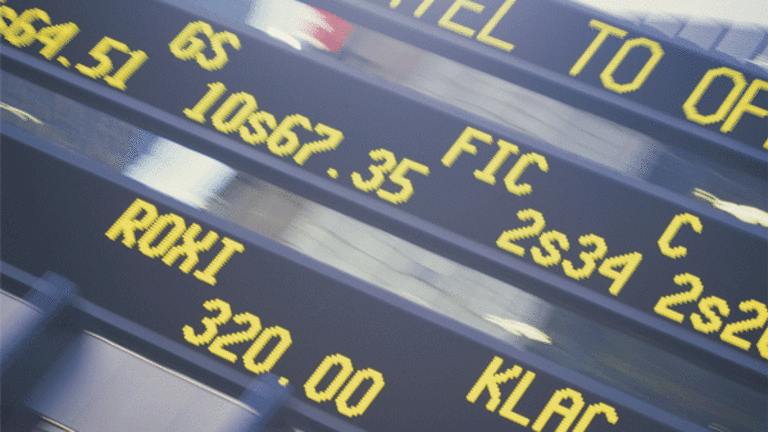 Battered Gold Fails to Lift
A record trade deficit does little to hurt the dollar or help the yellow metal.
Updated from 11:29 a.m. EDT
Gold's failure to convincingly break through psychologically important resistance at $600 an ounce Thursday sparked another bout of short-selling as investors shrugged off worse-than-expected economic news and a botched terrorist raid in the Middle East.
Even Commerce Department data showing that the U.S. chalked up a record $68 billion July trade deficit, worse than the forecast $65 billion, could only spark a limp early-session lift for bullion and a mixed response from the currency markets.
After reaching a short-lived intraday high of $607, benchmark contracts for December delivery of bullion closed down $2.90 at $594.40 an ounce on the Comex division of the New York Mercantile Exchange. The dollar was buying 117.94 yen, up from 117.59 yen Monday, but it was losing against Sterling, with one British pound buying $1.8735 compared with $1.8643 a day earlier. The euro was recently at $1.2692 vs. $1.2702 late Monday.
Gold tends to move inversely with the U.S. dollar.
"There was a lot of
short-selling Monday that returned to the market just moments before the session closed Tuesday," says Carlos Sanchez, an analyst at New York-based specialty consulting firm CPM Group, "It's bearish that prices didn't close above $600 an ounce, but bullish that they didn't fall all the way to $580," the likely zone for the next major support level.
He still expects to see a rally that could follow the pattern exhibited by the metal in June, when spot prices sprang back from a low of $567.25 an ounce on June 14 to hit a high of $671.50 on July 17. Sanchez warns that investors should anticipate increased metal price volatility during the days to come.
A telling sign that the tone has turned bearish was when a botched terrorist raid on the U.S. embassy in Syria failed to boost gold. The absence of "safe-haven" buying only added to the negative technical outlook.
Other news shows the European Central Bank system stepped up its pace of bullion selling as holdings of gold and receivables dropped by 114 million euros, or about 7.5 tons, last week, compared with 28 million euros in the prior period. That means the bank still has about 150 tons of potential selling available in its quota, under the terms of a multilateral sales agreement that expires Sept. 26. The ECB is not, however, obliged to reach the full allowance.
Some observers blame Monday's selloff on the ECB trying to offload even more metal as the central bankers rebalance their reserves. In the absence of major news, investors, who hold more gold than all central banks combined, will no doubt remain skittish to such suggestions.
Countering the bearish effect of the ECB sales was information that South Africa, the world's largest producer of gold, saw production drop by 7.2% in the year to July, according to new government data. Statistics for the three months ending in July saw a seasonally adjusted jump in output of 2.4%.
Lower quantities of mined metal reduces the amount of bullion sold and is generally considered a bullish sign.
Shares of the bullion exchange-traded funds
streetTRACKS Gold Shares
(GLD) - Get SPDR Gold Shares ETF Report
and
iShares Comex Gold Trust
(IAU) - Get iShares Gold Trust Report
were down 0.2% and 0.3% respectively.
The gold-miner complex took another beating with the Amex Gold Miners Index shedding 1.7%. Shares of
Kinross Gold
(KGC) - Get Kinross Gold Corporation Report
, were managing to beat the late-day softness with shares gaining 1.1% lately.
Stock in
Gold Fields
(GFI) - Get Gold Fields Limited American Depositary Shares Report
was slipping even before the selloff in bullion, as traders reacted to news that the company was buying
Barrick Gold's
(ABX)
50% stake in the South Deep mine in South Africa. Shares were recently down 2.8%.
Separately, Barrick also announced that it had acquired 52 million shares of
Pioneer Metals
representing 81% of the float and that it will continue to offer 1 Canadian dollar per share for the remaining 19% through Sept. 22, extending the existing time limit by a week. Shares of Barrick were losing 0.7%, lately.
In the base metals, copper traders were also on the run with the contract for December delivery of the metal retreating 4.5 cents at $3.375 a pound on the Comex, despite modest morning strength.
"We think we could see a little more selling emerge after another day or so of sideways action," notes Edward Meir in a daily market roundup for the commodity broker Man Financial.
Shares of copper giant
Phelps Dodge
(PD) - Get PagerDuty Inc. Report
were losing 0.3%. That leaves the stock down over $10 from last Monday's recent high of $94.78
British-based miners
Rio Tinto
(RTP) - Get Reinvent Technology Partners Class A Report
and
Anglo American
(AAUK)
stood out among the complex, each gaining about 1% on the back of a strong British pound.