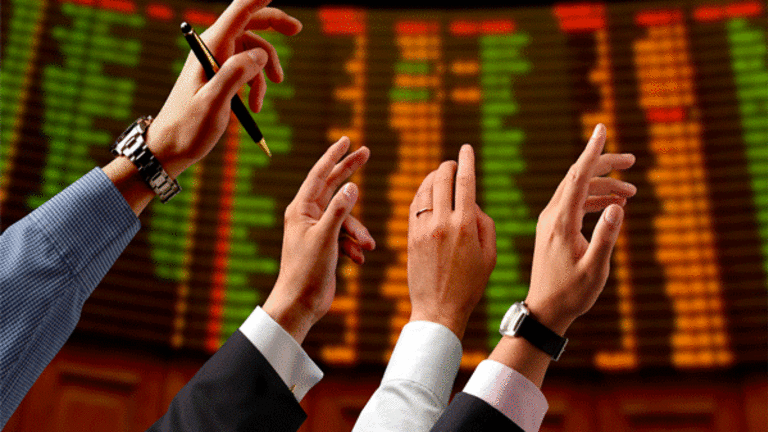 Publish date:
Bankruptcy Watch: 5 Risky Energy Stocks
Here are a group of energy stocks that the Altman Z-Score looks upon with a skeptical eye.
Here are a group of energy stocks that the Altman Z-Score looks upon with a skeptical eye.

NEW YORK (TheStreet) -- Among energy companies, services stocks are among those whose fortunes are most deeply tied to the general economic activity that drives demand.
With forecasts pointing to continued robust economic growth out of China and various emerging market economies, the Philadelphia Oil Services Sector Index has soared 61% since the the trough of the recession in 2009.
TheStreet
Ratings Team says that energy demand could grow
decades, with demand so robust that it almost outstrips supply.
However, generalizing where these economically-sensitive stocks could be going in the forseeable future would be a mistake, given the diversity of their locations and growth strategies.
"I think the way to look at these companies ... is by being specific about the location of their reserves and their operation," says Abudi Zein, vice president at energy data services provider Genscape.
Another useful way to screen for the best -- or the most poorly situated services companies -- is by utilizing the Altman Z-Score, a formula developed by New York University professor Edward Altman in 1968. The Altman Z-Score measures several aspects of a company's financial health to forecast the probability of it going bankrupt in the coming year. Since its inception, the formula has been 72% accurate in predicting corporate bankruptcies, according to
Investopedia.
Vote: Where will oil prices finish in 2012?
Generally, companies with a Z-Score higher than 3 are considered safe with little danger of bankruptcy, while those with a score of 1.81 or lower are considered distressed and more likely to go bankrupt. Anything in between is a grey area. The formula, again, is by no means an absolute measure of the company's health, but serves as a very useful screening tool.
Using the Altman Z-Score,
TheStreet
has honed in on three services companies that may be at risk of distress -- all of them happen to be drillers. The formula also helped
TheStreet
identify an independent producer who could be at great risk of falling into distress despite its appealing revenue growth. Also, the Z-Score led to the identification of blemishes in one of North America's largest integrated companies. Analysis of these stocks by
TheStreet
Ratings team, also in the following pages, details the risky stories behind these companies.
Here then, are a group of energy stocks that the Altman Z-Score looks upon with a skeptical eye ...
Transocean
(RIG) - Get Report
Altman Z-Score, Trailing 12 Months:
1.27
"If you're doing deep, offshore work such as Transocean, you're not in very good shape," says Abudi Zein, vice president at energy data services provider Genscape. Part of this, he explains, has to do with the financial and legal ramifications of the tragic, 2010 Gulf of Mexico oil disaster in which the company's
BP
(BP) - Get Report
-leased Deepwater Horizon drilling rig became a centerpiece for the tragedy. But the other part of it, says Zein, is the growing exploitation of abundant shale oil right here, on land, in the U.S. "The boom in shale oil ... makes offshore less attractive," he commented.
Indeed, offshore drilling has often been associated with high capital costs and high risks, and the Gulf of Mexico oil spill has served to only further validate these views. With the great abundance of shale oil on U.S. land, many oil producer customers are now opting to ease some of their dependence on offshore drillers such as Transocean. This comes at a time when Transocean could use a boost to its earnings. In two of the past four quarters, the offshore contract drilling services provider has reported losses, while rivals such as
Diamond Offshore Drilling
(DO) - Get Report
and
Noble
(NE) - Get Report
have staged a gradual increase in their earnings as the global offshore drilling environment becomes friendlier again. Transocean on the other hand, has been suffering through costly upgrades of old fleets. It also recently suffered from the cancellation of a big contract. TheStreet Ratings team says that Transocean's third-quarter earnings per share declined 118.18% compared to a year earlier, hurt by revenue weakness.
The team also said that the company's gross profit margin of 31.3% has been "lower than what is desirable" and net profit margin of -3.20% is "significantly" below the industry average.
Last October, Transocean assumed about $800 million in debt and spent $1.4 billion in cash as part of its acquisition of Aker Drilling, from which it gained two ultra-deep water rigs.
Transocean's quick ratio is now 1.25, according to
which indicates that the company has the ability to cover short-term cash obligations. However, the team notes its liquidity has fallen from last year, signaling deteriorating cash flow. Even though the company has a low debt-to-equity ratio of 0.53, it's higher than that of the industry average, say the analysts, indicating the Transocean may need to do a better job of managing debt levels.
With an Altman Z-Score below 1.81, Transocean could be a stock in distress. TheStreet Ratings analysts say that the offshore driller's return on equity significantly trails that of both the energy equipment and services industry average and the S&P 500. "Return on equity has greatly decreased when compared to its return on equity from the same quarter one year prior," they say. "This is a signal of major weakness within the corporation."
Weatherford International
(WFT) - Get Report
Altman Z-Score, Trailing 12 Months:
1.72
With an Altman Z-Score of 1.72, there are signs that Weatherford International is at risk of facing distress in the coming year.
Data from TheStreet Ratings team also supports this notion. The team says Weatherford's debt-to-equity ratio of 0.77 is basically low, but still high relative to its peers. This means that the company may need to do a better job of managing its debt. Also, with a weak quick ratio of 0.86, the company may have trouble covering its short-term cash obligations, said
Also, while Weatherford's third-quarter gross profit margin of 35.1% is strong, it actually decreased from the same period a year ago. Net profit margin of 5.6% fell behind the industry average.
"This company has reported somewhat volatile earnings recently," said TheStreet Ratings analysts.
In the past year, Weatherford shares have declined nearly 30%, weighed by heavy debt from international spending and ugly headlines about its ongoing bribery case and revelation of accounting errors. This, as the company continued to feel the reverberations of a pullback in customer spending during the recession in 2009. Last year also presented a fresh round of production challenges for its customers, who were impeded by the widespread political uprisings in North Africa.
Still, prospects for this relatively smaller driller, who has had to take on giants such as
Halliburton
(HAL) - Get Report
,
Schlumberger
(SLB) - Get Report
and
Baker Hughes
(BHI)
, could be improving to a point where the positives begin to outweigh the negatives, say TheStreet Ratings team. In the third quarter, Weatherford's net income increased 101.1% to $190.36 million from the same quarter a year ago, as revenue grew over 33% and exceeded the industry average. Earnings per share grew to 25 cents a share from 13 cents as net income growth greatly exceeded the S&P 500 and the energy equipment and services industry.
Standard & Poor's analysts believe "the strong growth in U.S. land activity," in part spurred by the shale oil boom, "fits well with Weatherford's capabilities" and should boost the company's earnings. About 70% of its North American revenue is derived from oil production.
"Given stubbornly high crude oil prices in the $80 per barrel to $100 per barrel range, we think 2012 could usher in higher activity levels in Canadian heavy oil plays, where Weatherford has a material presence," they continued in a report.
S&P analysts believe that Weatherford's painful experience of building out its international footprint will pay off eventually and become a long-term growth driver for the company, especially through the key-producing regions including Brazil, Russia, Iraq and the Middle East. In the last few years, the company has invested billions of dollars in intellectual property and acquisitions around the world to catch up with its larger competitors.
While the company continues to face potential distress, unprofitable contracts are expiring soon and the financial impact of its bribery case is becoming clearer and clearer, which should help lighten some of the burden it's been feeling. At the same time, Weatherford is making substantial efforts to pay down its debt, with the goal of selling as much as $1 billion in noncore assets this year.
Ensco
(ESV)
Altman Z-Score, Trailing 12 Months:
1.32
Offshore contract drilling services provider Ensco recently completed the most expensive drilling deal in a decade to buy its former rival, Houston-based Pride International, for about $7.2 billion cash and stock -- producing the world's second-largest offshore driller. Determined to secure the deal and have Pride all to itself, Ensco even sought out Citigroup and Deutsche Bank for a $2.75 billion bridge loan to fund part of the cash portion of the deal. At that time, Ensco had just suffered the heartbreak of losing its bid for Scorpion Offshore to
SeaDrill
(SDRL) - Get Report
, and wasn't about to let something like that happen again.
The purchase, Standard & Poor's analysts described, was "somewhat rich," but should be "transformative" for Ensco.
Indeed, the Pride acquisition may have been one of the best decisions that Ensco has ever made. Some analysts are predicting that it could help Ensco triple its revenues. Pride not only boosts Ensco's fleet to more than 70 rigs from 50 rigs, it brings the company powerful exposure to deep-water drilling and the fast-growing markets of Brazil and Africa, which could also act as a buffer against the still fuzzy permitting conditions in the Gulf of Mexico. Standard & Poor's analysts say that deep water drilling will be very important for Ensco going forward, possibly making up 43% of its contract drilling revenues in 2012.
Ensco has traditionally fallen behind rivals in its exposure to oil prices. But with its new, deep water drilling fleet, it will now have the opportunity to catch up, say Canaccord Genuity analysts. Oil prices, they note, will likely remain stronger than gas prices for some time to come.
Of course, with the benefits of the acquisition also comes increased risks, namely that Ensco has become too big for its own good. Now owning about 9% of the world's rig fleet, there might not be much more opportunity for growth spurts at the company. There might also be some self-cannibalization. Some of the rigs could end up competing against each other, corroding revenue generation, Canaccord Genuity analysts note. Cannibalization of this kind may have been among the reasons that Transocean and Noble had experienced lower-than-average valuation multiples in 2009 and 2010 before the Gulf of Mexico tragedy, add the Canaccord Genuity analysts.
Since the acquisition, Ensco has reported quarter-over-quarter increases in earnings per share growth. The company had said when it initially announced plans to acquire Pride that the combination would be immediately accretive to earnings. But year-over-year, earnings per share has decreased in the most recently reported quarter, down to 88 cents in the third quarter from 92 cents, even as revenue growth impressively exceeded the industry average and leapt by 113.8% from the same period a year ago. "This growth in revenue does not appear to have trickled down to the company's bottom line, displayed by a decline in earnings per share," says
analysts. Another observation that TheStreet Ratings team has made of Ensco since it acquired Pride is that the company's liquidity has been weak, declining from a year ago. With a Quick Ratio of 0.90, Ensco may have trouble covering short-term cash needs, say the analysts. And while its debt-to-equity ratio of 0.48 is low in and of itself, it's still high when compared with the industry average, meaning that Ensco may need to manage its debt more carefully, says TheStreet Ratings team.
Despite all its potential, according to its calculated Altman Z-Score of 1.32, the company faces the risk of distress in the coming year.
Ensco reports fourth-quarter and full-year earnings on Feb. 23.
Chesapeake Energy
(CHK) - Get Report
Altman Z-Score, Trailing 12 Months:
0.84
In other energy stocks, one in particular has drawn the distaste of Argus Research analyst Philip Weiss, who says he's "not surprised" by Chesapeake's low Altman Z-Score of 0.84.
One of his primary concerns is management's display of a lack of commitment toward reducing debt, as Chesapeake's near-term cash needs continue to grow and a 2012 budget funding shortfall becomes of increasing concern. "In our view, management will continue to give acreage acquisition a higher priority than debt reduction," says Weiss, pointing out that the company has not kept up with promises to slow down spending, drilling as well as issuing new equity. The company has in the past announced plans to reduce spending by 25% from 2010 to 2012, but "we have heard such proclamations before, only to see management reverse course," says the analyst.
Weiss also finds the company's "aggressive accounting policies" and "earnings quality" to be another area of "concern."
Chesapeake, who focuses on discovering and developing unconventional natural gas and oil fields onshore in the U.S., recently saw Weiss lower his 2012 earnings per share guidance for the company to $1.85 from $2.50 on predictions of weaker natural gas prices, partially offset by rising oil prices.
On Monday, Chesapeake said it was seeking to raise as much as $12 billion from asset sales and joint ventures -- including the possible sale of all its oil and gas fields in the Permian Basin of Texas and New Mexico -- to cope with a cash shortfall amid rising debt and decade-low natural gas prices. The company said it expects to raise roughly $2 billion in the next 60 days from advanced sales of output in Texas and Oklahoma.
While its risks have been underscored by the Altman Z-Score and analysts such as Weiss, researchers such as the
believe that Chesapeake's strategies, with its fine collection of assets, have led to compelling growth in recent quarters, with revenues "leaping" 54.1% in the third quarter from a year ago and "greatly" exceeding the industry average.
Suncor
(SU) - Get Report
Altman Z-Score, Trailing 12 Months:
2.07
Suncor Energy is in the Altman Z-Score grey area between the distress zone of 1.81 and the safety threshold of 3 as this leading oil and gas producer moves closer and closer to its debt ratio target range.
Standard & Poor's analysts say that Suncor is a low-risk stock, noting that proceeds from its oil sands partnership with
Total
(TOT) - Get Report
should help the company achieve its debt to capitalization ratio target in the range of 20% to 25%. The company has been able to lower net debt to C$6.9 billion from C$13.4 billion at the end of 2009, thanks to proceeds from the sales of C$3.5 billion in non-core assets in 2010 and another C$3 billion last year to date.
The company's net operating cash flow has increased 46.84% to $2.56 billion in the fourth quarter from last year, according
In addition, its cash flow rate "vastly" surpassed the industry average in that period, it says.
After merging with Petro-Canada in Aug. 2009, this integrated oil and gas producer became one of the largest energy companies in Canada, focusing on Alberta's vast oil sands, with complimentary operations in refining and marketing.
"With the Petro-Canada merger ... the new Suncor continues to be an integrated company focused on oil sands, but we see a stronger asset base and growth opportunities," say Standard & Poor's analysts.
TheStreet Ratings team notes that while Suncor's net income growth in the fourth quarter exceeded that of the oil, gas and consumable industry average, it was less than that of the S&P 500. Shares have underperformed the index, declining 14.99% from its price level one year ago. While this shouldn't necessarily be interpreted as a negative, as it could be one of the factors that may help make the stock attractive down the road, TheStreet analysts says it's still too soon to buy this stock.
-- Written by Andrea Tse in New York.
>To contact the writer of this article, click here:
Andrea Tse
.
>To follow the writer on Twitter, go to
.
>To submit a news tip, send an email to:
.
Copyright 2011 TheStreet.com Inc. All rights reserved. This material may not be published, broadcast, rewritten, or redistributed.