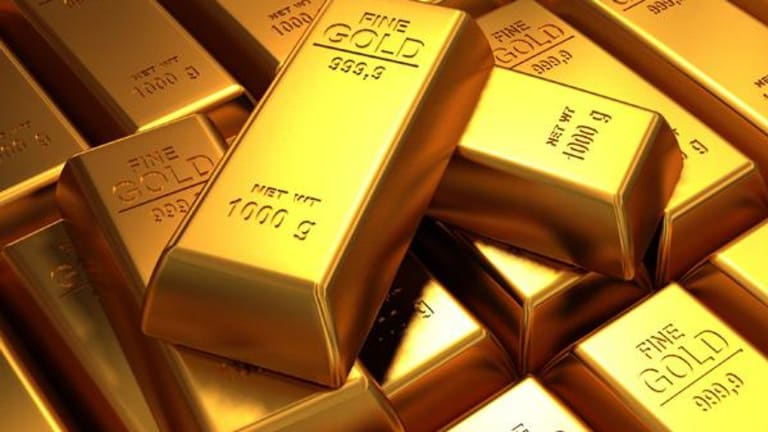 As the Inflation Beast Rattles Its Cage, Run, Don't Walk, to Gold
After years of dormancy, the specter of inflation is emerging as a real threat. These investments in the precious metal make more sense than ever.
We have all seen the tawdry marketing pitches: Portfolio-destroying inflation is around the corner because of reckless government spending and unsustainable debt, so stock up the bomb shelter and buy gold.
But here is the twist: The perennial gold bugs are about to get vindicated. Inflation really does pose a threat.
It is smart to be skeptical of the Federal Reserve bashing by so-called hard money zealots who constantly preach doom and gloom. But the latest data suggest that the inflation beast is stirring from its long slumber, which means that the classic inflation hedge of gold is on the verge of a sustained rally.
Two gold investments that warrant investor attention are Goldcorp (GG)  and SPDR Gold Shares (GLD) - Get SPDR Gold Shares ETF Report .
First, however, let's look at the inflation danger and what is causing it.
Inflation is running at a meager 1% and has been extremely low for years, prompting investors to forget how inflation can ravage their financial security. But consider this: After 20 years, inflation averaging the Fed's target of 2% would slash a dollar's buying power to 67 cents.
The Fed this month said that it expects inflation to rise to at least 2% next year, as the temporary effects of past declines in energy and import prices fade and the labor market continues to strengthen.
Wages are rising, unemployment is falling, and the Commerce Department reported that the U.S. economy grew by an unexpectedly robust 2.9% in the third quarter.
President-elect Donald Trump's plans to massively boost defense and infrastructure spending, combined with wide-ranging tax cuts, also are stoking fears of inflation.
His surprise election has sparked a surge in the bond yields, the dollar and U.S. stocks as traders expect accelerating economic growth, greater stimulus and relaxed regulations.
The ICE United States Dollar Index, which gauges the dollar against six other currencies, on Wednesday rose to its highest level since April 2003. The dollar is soaring largely because Wall Street is betting that the Fed will increase interest rates at a faster pace to fight inflation.
The time to purchase inflation hedges is now, before the rest of the investment crowd belatedly tries to get in on the action and pushes up their prices. Greater uncertainty from a more bellicose foreign policy under Trump also spells upside for the Midas metal, a traditional safe haven during geopolitical turmoil.
The Financial Forecast Center predicts that gold prices will reach $1,356 per ounce by April, a more than 10% increase.
But that is on the conservative side. The strategists at bullion bank UBS predict gold at $1,400 per ounce by the end of this year, which would represent a gain of nearly 14%.
Conventional wisdom dictates that portfolios should contain at least 5% to 10% of gold as protection against downturns and fluctuations. As this aging bull market undergoes its seventh year, expect at least moderate corrections in the global equity markets in the coming months.
Those seeking greater potential upside than an exchange-traded fund can offer, should consider Goldcorp, one of the world's fastest-growing gold miners. During past inflationary environments, gold mining shares rose faster than the inflation rate.
Based in Canada, Goldcorp is a gold miner with development projects and operations throughout the Americas.
Mining is a capital-intensive endeavor, which makes it vulnerable to the fickle nature of gold prices. However, Goldcorp's management has been conservative about taking on debt and has maintained a strong balance sheet.
Goldcorp boasts one of the lowest all-in production costs of any primary gold producer in the world.
David Garofalo, Goldcorp's chief executive and president, recently said that the company is targeting a low debt-to earnings before interest, taxes, depreciation and amortization ratio of below 1 by 2018.
Goldcorp shares trade at about $13.50. The average analyst one-year price target is $26.06, which would represent a whopping gain of 92%.
Those who are more comfortable with a fund, should check out SPDR Gold Shares, the largest gold ETF backed by physical holdings of bullion.
SPDR Gold Shares is the most popular bullion ETF, as well as the most liquid physically backed gold offering available. Launched in 2004, SPDR Gold Shares was the first gold ETF available in the U.S.
The ETF seeks to replicate the performance, net of expenses, of the price of gold bullion.
---
A blistering financial storm is about to hit our shores. When it hits, weak companies and their investors will be washed away. You need to put yourself on solid ground. And that doesn't just mean changing your investment allocations or loading up on cash. I'll show you how to protect yourself and prosper when you click here.
John Persinos is an investment analyst at Investing Daily.
At the time of publication, he owned none of the stocks mentioned.
Persinos appears as a regular commentator on the financial television show Small Cap Nation. Follow him on Twitter.