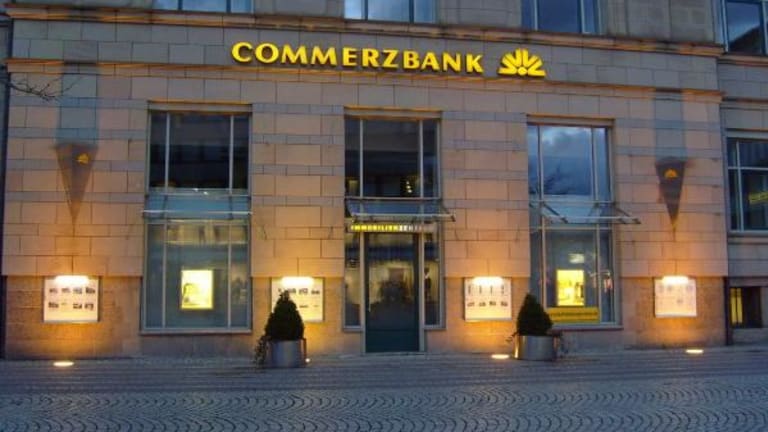 Commerzbank Tops German DAX on Report of Merger Interest From Italy's UniCredit
Commerzbank shares rise the most in nearly three months after a report suggests a possible merger with Italy's UniCredit
Commerzbank AG (CRZBY)  shares rose to the top of the German market Thursday after a report suggested Italy's UniCredit SpA (UNCFF)  is interested in a merger.
News agency Reuters, citing sources it didn't identify, reported late Wednesday that UniCredit, Italy's biggest bank, had made early approaches to authorities in Germany in order to sound out support for a merger between the two lenders once UniCredit's ongoing turnaround is complete. The move was necessary, Reuters reported, given that the German government owns a 15% stake in Commerzbank after rescuing it in the wake of the global financial crisis of 2008.
Commerzbank bank shares rose 4% to €11.23 in early trading in Frankfurt, the biggest gain since July 3. The stock, one of the top sector performers in Europe, has gained nearly 55% so far this year, outperforming both the 8.65% advance for the Stoxx Europe 600 Banks subindex and a 19.25% decline for its domestic rival, Deutsche Bank AG (DB) - Get Free Report .
UniCredit shares gained about 1.3% in the first 30 minutes of trading in Milan, changing hands at €17.70 each and giving the bank a market value of just under €40 billion ($47.5 billion).
The stock has gained nearly 10% over the past three months as investors slowly return to the recently capitalized lender following the December launch of a financial and commercial overhaul that included a $13.6 billion sale of new shares to shore up its balance sheet.
The group blew past analysts' forecasts in its last fiscal quarter, reporting revenue of €4.9 billion and net income of €945 million. It also trimmed its nonperforming loan exposure by 4.15% to €53 billion and boosted its common equity tier 1 capital ratio by 72 basis points to 12.8%.
Commerzbank, by contrast, booked an €807 million restructuring charge in the three months through June for job cuts spurred by its digital overhaul. The charge, which drove a larger-than-expected quarterly loss, is less than the €1.1 billion Commerzbank initially expected to spread over two years, largely because of previous layoffs, staff turnover and savings through transfers and replacements, the lender said in June.
The company announced it would fire some 9,600 employees in September 2016 when executives introduced the Commerzbank 4.0 plan, a four-year initiative to buoy profits by focusing on two core segments, corporate and consumer clients, and automating much of its operations.